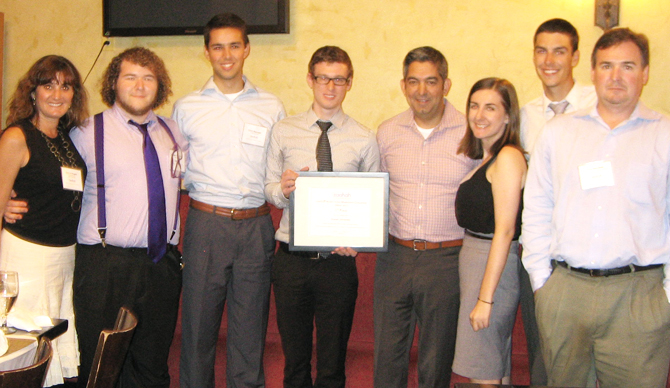 LeBow Undergrads Win National Case Competition
Seven undergraduate Drexel LeBow students won first place in the Scholastic Achievement Award market research campaign competition. Students Logan Levenson, Rachel Kobol, Chris Baccash, Michael Wade, Zachary Schaeffer, Taylor Barsamian and Jill Weingarten took home top honors in the national competition, during which students used an operational budget of $3,000 to form an organization that analyzed, developed, implemented and assessed Philadelphia-based startUP Productions' new social search Web site, zaahah.
Delivered in partnership with EdVenture Partners, the competition was designed to expose participants to various business issues, provide an opportunity for team based critical thinking and problem solving and assist in the development of leadership, organizational and communication skills. LeBow created a course to prepare the participating students for the event, which was taught by Dana D'Angelo, clinical professor of business, and Andy Macaleer, adjunct professor of business. The class included 11 students, and the team of seven represented the entire class at the competition.
"This particular project, the client and its products, were able to encompass multiple areas all at once that LeBow stands for: experiential learning, entrepreneurship, technology, leadership and overall business acumen," D'Angelo says. "The students gained valuable experience themselves but also added their own value with ideas and strategy that supported the client's goals. It is ideal win-win. I am delighted we all had the opportunity to participate."
A dozen universities participated in the competition, including Johns Hopkins -- which also won first prize in another category -- the University of Chicago, and the University of New Mexico.