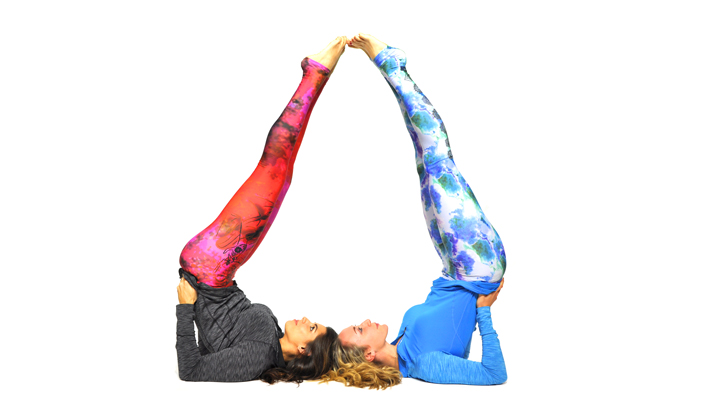 Yoga Pants With a Purpose
A pair of LeBow students have quite possibly created the world's most virtuous (and stylish) line of yoga pants.
Ashley Revay and Erin Moffitt recently launched their startup, Chakra Fitwear, and are utilizing Kickstarter to raise the funds necessary for the production of colorful, printed women's yoga pants made from recycled plastic bottles. Both are seniors and entrepreneurship majors – Revay is also majoring in accounting, and Moffitt in legal studies. Their friend Calla Michaelides, who is also a senior and is enrolled in Westphal's fashion design program, designed the pants.
"We strive to set an eco-friendly, socially responsible standard for future generations," says Revay. "By choosing recycled plastic bottle material over an alternative such as cotton, we are saving valuable resources and eliminating harmful substances from our clothing."
Revay adds that while many people seem to prefer cotton over synthetic materials, most people don't know that there may be pesticide residue on their cotton. "Cotton is one of the most pesticide-intensive crops in the world. Our fabrics don't contain harmful pesticides and won't irritate your skin."
In addition, Chakra's pants also help to conserve water, utilizing 90 percent less water in the manufacturing process than similar pants made from virgin polyester.
Another virtue: The pants are 100 percent made in the U.S.A.
Be the first to own a pair: Chakra Fitwear is taking pre-orders through Kickstarter, where they need to raise $80,000 to make the production of their first line a reality.
Chakra Fitwear's Kickstarter campaign
Photo gallery of Ashley, Erin and Chakra Fitwear's prototype yoga pants