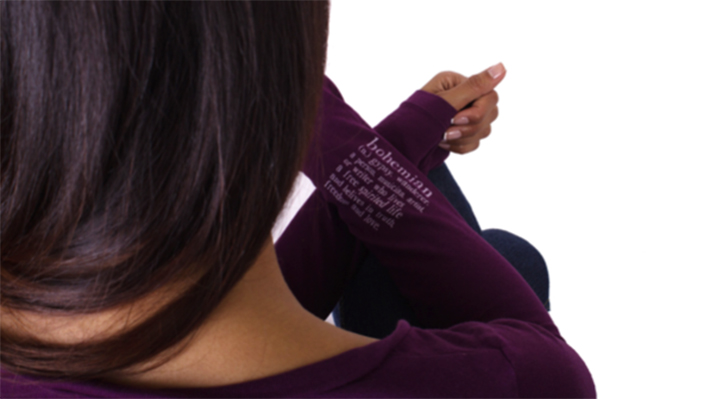 Alumna Launches Inspirational Clothing Line
LeBow alumna Hindi Jain '10, an International Business and Marketing major, has launched a Kickstarter campaign for her clothing startup called the Words Collection. Her introductory line features yoga and loungewear with meaningful messages "delicately placed where tattoos would be, creating an enchanting visual impact with a much deeper, energizing meaning."
The Words Collection will be constructed of high quality fabrics in responsible factories that employ highly skilled craftsmen, Jain says. This startup was inspired by her recent journey to India and the craftsmen she met there, who, she emphasizes, are highly skilled. "They share the same rich generational heritage as the more-often talked about craftsmanship often associated with Europe. This globally inclusive awareness project not only brings meaningful clothing to market, but is also helping to rebuild jobs and lives." She projects that the Words Collection could create up to 500 jobs in India and 30 in the U.S.
"By wearing these clothes, you stand for our campaign: 'No Titles. No Borders. World Citizens.' This collection creates a statement for young women that we can do any and everything with the right motivation, skills and network of amazing supporters," Jain says.
As a Drexel student, Jain co-oped as a design assistant for Depeche Mode, a private label for Ann Taylor, Tablots and Chicos. "I really built my foundation in corporate design there," she says. She also completed a marketing co-op at toy company K'nex, as well as an ad sales co-op at Reader's Digest magazine.
"Drexel's co-op program was a game changer for my career. It really helped me to understand what career path was best suited for me, and gave me the tools to hit the ground running in my first job out of college." Since graduation, Jain has worked in global merchandising for fashion corporations Ralph Lauren and BCBG MaxAzria.