Jeffrey Levine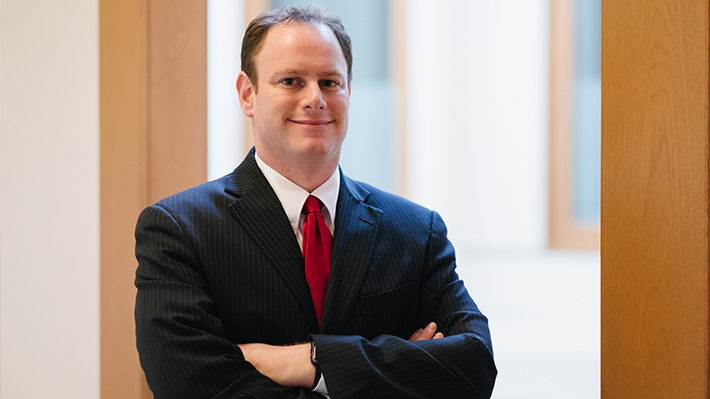 Jeffrey F. Levine joined the Department of Sport Management in 2018. His primary research areas, which he has published on in major journals and presented on at various conferences, include (1) legal and policy aspects of sport, and (2) sport for development and peace. Dr. Levine graduated from the University of Michigan with a bachelor's degree in Sport Management and Communications, received a Juris Doctor from Tulane University Law School with a certificate in sports law, and was awarded his doctorate in sport management at the University of Louisville, with an expertise in sport policy. Professor Levine has been quoted in print and broadcast media on a variety of issues related to sport, law, and policy. Prior to academia, Dr. Levine worked in the business and legal segments of the sport industry, as well as in private law practice. In addition to law practice, Professor Levine has worked for organizations such as the Arizona Coyotes, Cleveland Cavaliers, Miami Dolphins, Fiesta Bowl Committee and the University of Michigan Athletic Department. Faculty stops include positions at Southern Illinois University, Northwestern University, Concordia University, Texas A&M University – Corpus Christi, and serving as an adjunct professor at several law schools.
Twitter: @JFLevine
Education:
Ph.D., Sport Management, University of Louisville
J.D., Sport Law, Tulane University Law School
B.A. Sport Management and Communications, University of Michigan
Specialization:
Sports Law
Sports Policy
Sport for Development and Peace
Non-Profits in Sport
Selected Works
Articles
Cintron, Alicia M., Levine, Jeffrey, and McCray, Kristy L., Preventing sexual violence on college campuses: An investigation of current practices of conducting background checks on student athletes. Journal of Legal Aspects of Sport (Forthcoming)
Levine, Jeffrey, Cintron, Alicia M., and McCray, Kristy L., Legal Implications of Conducting Background Checks on Intercollegiate Student Athletes. Marquette Sports Law Review (Forthcoming)
Cintron, Alicia M., Levine, Jeffrey, and Hambrick, Marion E., A case study of the National Hockey League: The question of expansion. Case Studies in Sport Management 5 (Jan 2016): 17-23.
Presented Research
Levine, Jeffrey, Schmidt, Samuel H., and Staurowsky, Ellen J., University responses to athlete activism at college campuses: Legal and political issues, Sport and Recreation Law Association Conference: Philadelphia, PA, (Mar 2019):
Levine, Jeffrey, and Menaker, Brian E., In a precarious position: The shrinking legal protections of minor league baseball players, Sport and Recreation Law Association Conference: Philadelphia, PA, (Feb 2019):
Levine, Jeffrey, and Cintron, Alicia M., Conducting background checks on student athletes: Legal implications and policy recommendations, Sport and Recreation Law Association Conference: San Antonio, TX, (Mar 2018):
Levine, Jeffrey, Hanna, Chris D., and Kobritz, Jordan I., The NCAA at a crossroads: Is the concept of institutional control outdated, Sport and Recreation Law Association Conference: San Antonio, TX, (Mar 2018):
Mueller, Erika, and Levine, Jeffrey, Sport as a human right: Empowering individuals with disabilities through sport and sustainable international capacity building, Ali Center Athletes and Social Change Forum: Louisville, KY, (Apr 2016):
Levine, Jeffrey, Rice, Peterson, and Brady: Analyzing "the Trilogy" in light of the NFL Commissioner's discipline authority, Sport and Recreation Law Association Conference: New Orleans, LA, (Feb 2016):
Levine, Jeffrey, and Hanna, Chris D., The whistleblower dilemma for athletic departments and university employees., Sport and Recreation Law Association Conference: Charlotte, NC, (Mar 2015):
Levine, Jeffrey, Moorman, Anita M., and Kobritz, Jordan I., Is the unlimited authority of the NFL Commissioner no longer in the the "Best Interest" of the game, Sport and Recreation Law Association Conference: Charlotte, NC, (Mar 2015):
Svensson, Per G., and Levine, Jeffrey, Examining athletic department policies and procedures through the lens of OCR's Guidelines on Sexual Violence, Sport and Recreation Law Association Conference: Charlotte, NC, (Feb 2015):
Levine, Jeffrey, Utilizing sport as part of the Capabilities Approach of development to accomplish social change, Ali Center Athletes and Social Change Forum: Louisville, KY, (Mar 2014):
Editorial Board Service
Member – Journal of Issues in Intercollegiate Athletics, Editorial Board (2018)
Education
BA Sport Management and Communications - University of Michigan Ann Arbor, MI USA 2004
JD Sports Law - Tulane University Law School New Orleans, LA USA 2008
PhD Sport Management - University of Louisville Louisville, KY USA 2018