Stanley Ridgley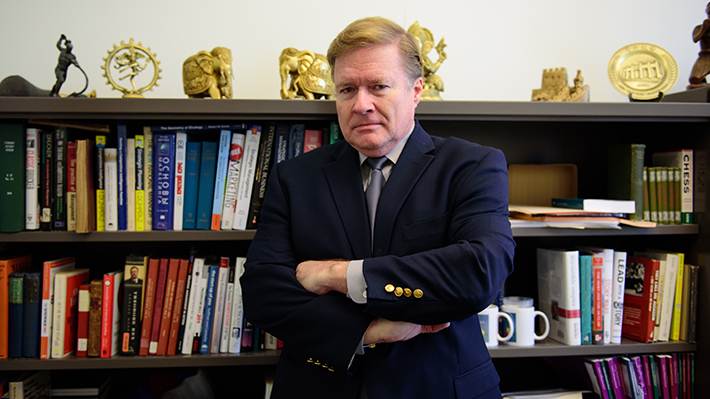 Dr. Stanley K. Ridgley, PhD, IMBAis Associate Professor of Management at Drexel University's LeBow College of Business. He holds a Doctorate and Masters in International Relations from Duke University and an International MBA from Temple University. He has also studied at Moscow State University and the Institut de Gestion Sociale in Paris. Dr. Ridgley is a former Military Intelligence Officer and served five years in West Berlin and near the Czech-German border, where he received the George S. Patton Award for Leadership from the 7th Army Academy in Bad Toelz, West Germany.
Ridgley brings to bear the most powerful instructional techniques from one of America's great business schools and combines them with the lessons of military leadership and high strategy learned on the front lines of the Cold War as a Military Intelligence Officer. Dr. Ridgley helps students and executives tap potential, realize strengths, and imbue themselves with confidence.
Areas of Expertise
Business Communication
Cognition and Strategy
Competitive Intelligence
Determinants of Firm Performance
Global Management
New Markets in Emerging Countries
Russian Business Culture
Editorial Board Service
Member – Vestnik of Udmurt University: Sociology, Political Science, International Relations, Udmurt State University, Izhevsk, Russian Federation (2017)
Member – Vestnik of Udmurt State University, Udmurt State University, Izhevsk - Russia (2018)
Education
BA Journalism - University of North Carolina Chapel Hill, NC USA 1977
N/A Russian - Defense Language Institute Monterey, CA USA 1983
PhD International Relations / Strategy - Duke University Durham, NC USA 2000
MBA International Business - Temple University Philadelphia, PA USA 2005

Awards
2005 Musser Award for Leadership (Temple University)
1992-1993 Robert Wilson Instructor of Political Science (Duke University)
1984 George S. Patton Award for Leadership (United States Army 7th Army Academy, Bad Toelz, Germany)

College News
Undergraduate students from Drexel LeBow and other Drexel colleges spent their summer tackling business challenges during their international consulting residency course.
Three Drexel LeBow professors embody the tradition, the challenges and the potential of the West Philadelphia neighborhoods that Drexel President John A. Fry is looking to transform.