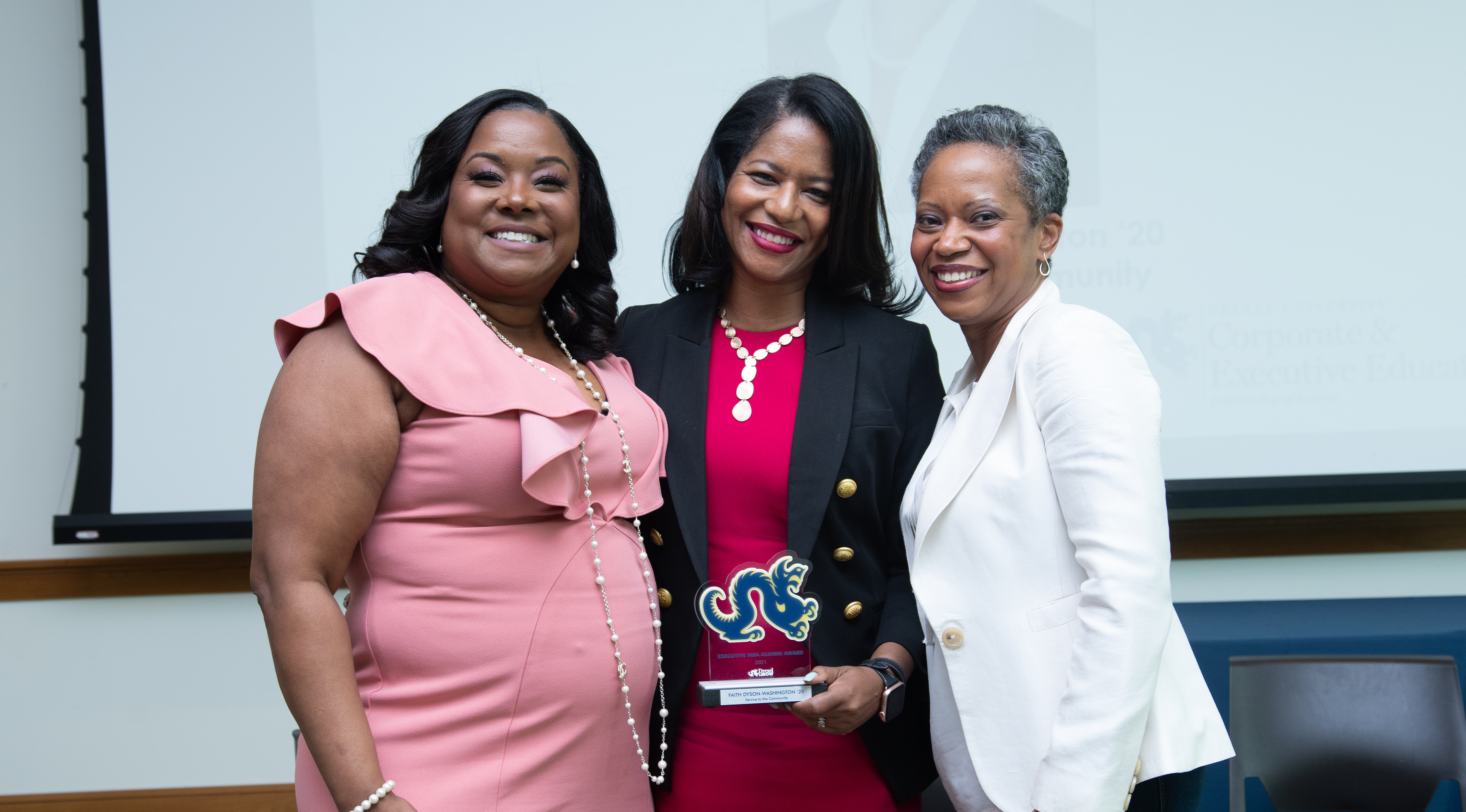 The EMBA Alumni Board built the EMBA Alumni Awards to recognize the accomplishments of our fellow alumni, showcase the continuous value of our education, and demonstrate, in real ways, the strength of our ever-growing network. We are seeking nomination(s) for alumni who meet the criteria listed below.
Award Categories and Criteria
Entrepreneurship
An alum who has taken the plunge and successfully started their own business; success in this case means that they are passionate about their growing business; nominees should have personal financial interest in the business and be in leading management roles.
Service to the Community
An alum who, through their volunteer service or paid work, has made exceptional contributions to the betterment of their community or to the circumstances of others.
Service to the Profession
An alum whose work has brought them recognition within their field, or whose work has significantly contributed to the advancement of their profession.
Service to the Alma Mater
An alum whose efforts on behalf of EMBA/LeBow College of Business/ Drexel University have enhanced the stature of the institution and education of its students through voluntary or professional associations with the University.
Thank you very much for your participation. If you have any questions about the reception or nomination, please contact Antoinette Brock at embaalum@drexel.edu.
Past Recipients
2021

Joseph Rosato (2010) — Service to Alma Mater
Faith Dyson-Washington (2020) — Service to the Community
Pamela Saechow (2020) — Entrepreneurship

2020

Michael J. Gallagher (2000) — Service to the Community
Angela Jones (2000) — Service to the Profession
Rahul Kasat (2015) — Entrepreneurship
Karla Trotman (2015) — Service to Alma Mater

2018

Karen Jehanian (2000) — Service to the Alma Mater
Michael Paris (2016) — Service to the Profession
Leona Thomas (2010) — Service to the Community
Steve Washkalavitch (2015) — Service to the Board

2017

Adam Holt (2004) — Entrepreneurship

2016

Robert Plotkin (1999) — Entrepreneurship
Anahi Santiago (2010) — Service to Profession

2015

Justin Ettelson (2001) — Service to Alma Mater
Samuel Gosselin (2007) — Entrepreneurship

2014

James Espino (2010) — Service to Alma Mater
Carol Zachary Smith (2012) — Service to Community

2013

Judd Newman (2010) — Service to Profession
Dennis Paris (2013) — Service to Community

2012

Cynthia Conway (2007) — Service to Alma Mater
Peter Gilligan (2006) — Service to Profession
David Hill (2010) — Entrepreneurship

2011

Frank Anastasi (2010) — Service to Profession
Rusty McCarty (2010) — Entrepreneurship
Larissa Milne (2006) — Service to Alma Mater
Helene Pierson (2000) — Service to Community
Robert Srubar (2004) — Service to Alma Mater

2010

Bryan Charnock (2005) — Service to Alma Mater
Andrew Purcell (2009) — Entrepreneurship

2009

Chris Carroll (2008) — Entrepreneurship
Ron Kumor (2007) — Service to Profession
Anne Matlack (2000) — Service to Alma Mater

2008

Mary Caraccioli (2008) — Service to Community
Louis Evangelista (2001) — Service to Community
Anne Holiday (2000) — Entrepreneurship
Adam Holt (2004) — Service to Alma Mater

2007

Pete Ault (2006) — Service to Alma Mater
Brian Dunleavy (2005) — Entrepreneurship
Holman Gutierrez (2005) — Entrepreneurship
Rick Lee (2005) — Entrepreneurship

2006

Gary Bramnick (1999) — Service to Alma Mater
Brigid O'Neill (2005) — Service to Community
Manal Morsy (2002) — Service to Profession

2005

Jason Kaye (2005) — Service to Community
Kathy Kiernan (2000) — Service to Community
Jeff Coursen (1999) — Service to Profession

2004

Christine Kurz (1999) — Service to Alma Mater