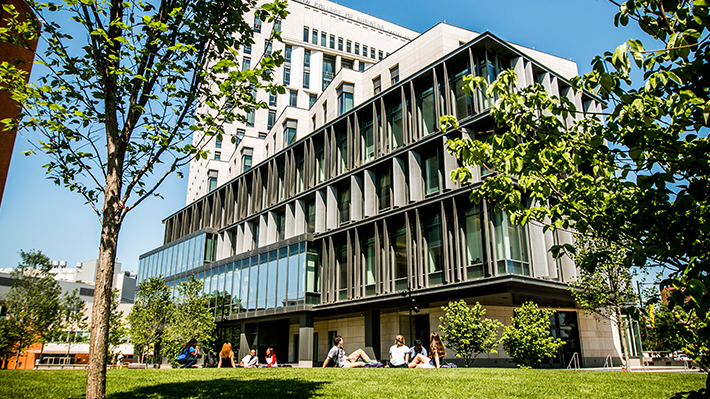 The 12-story, 177,500-square-foot home for LeBow College of Business is located at the heart of the Drexel University campus, at the intersection of Woodland Walk and Market Street, where it forms a gateway to Drexel and a backdrop to the historic statue of A. J. Drexel (Moses Ezekiel, 1904). The diagonal massing of the lower floors follows Woodland Walk and combines with the new Papadakis Integrated Sciences Building (Diamond & Schmitt, 2011) to energize the University's central quadrangle. The building's tower will mark the LeBow College and Drexel campus from all directions while the open, glassy Market Street façade will showcase the College's student activities to passersby.
The building's organization unites the school's various constituencies around a five-story-high atrium ringed by classrooms, student lounges, events spaces, and offices. The atrium is immediately accessible from main entrances at the three corners of the building. An open stair within the atrium leads to a 300-seat auditorium and 100-seat lecture hall one floor below and to a divisible multipurpose room and additional classrooms above. The building's upper floors contain faculty offices interspersed with seminar rooms and group study rooms. The top floor houses the Dean's suite and a boardroom and conference suite that opens to east- and west-facing terraces.
The building's warm masonry and glass exterior reflects the emerging vocabulary of the next generation of Drexel buildings. Sophisticated solar shading devices allow maximum transparency between the inside and outside while supporting the building's high environmental aspirations.
Key Building Features
Five-story atrium
Finance trading lab with Bloomberg Terminal Room
300-seat auditorium
160-seat event space
100-seat lecture hall
45-seat faculty seminar room
Four 45-seat computer classrooms
Three 60-seat classrooms
Two 50-seat classrooms
Two 45-seat Executive MBA classrooms
Two 24-seat classrooms
Special areas for experiential learning simulations and business consulting
Videoconferencing capabilities
Integrated teaching technology in all classrooms
Recording studio to support LeBow College's online programs
Extensive areas for students to gather socially and for collaborative study, including student collaboration rooms, two quiet study areas, and 3,500 square feet of student social space
EMBA Alumni Lounge for the exclusive use of EMBA alumni
Behavioral Studies Lab
Starbucks
Green Globe certifiable, meeting worldwide sustainability standards
Weekday Access
Monday through Friday, Gerri C. LeBow Hall is open and accessible to the public from 7 a.m. to 9 p.m. Beginning at 7 p.m., the two entrances on the east side of the building (Paul Peck entrance) are locked and only accessible with a valid DragonCard. Both west side entrances (Quad and Market Street entrances) remain unlocked until 9 p.m.
From 9 to 10 p.m., all visitors must have a valid DragonCard to access the building from any entrance. The building is closed to all students and visitors from 10 p.m. to 7 a.m.
Weekend Access
Saturday - accessible from 7 a.m. to 10 p.m. only to people with a valid DragonCard.
Sunday - accessible from 7 a.m. to 10 p.m. only by DragonCard to LeBow students only.
Address
Gerri C. LeBow Hall
3220 Market Street
Philadelphia
,
PA
19104
United States
Rooms