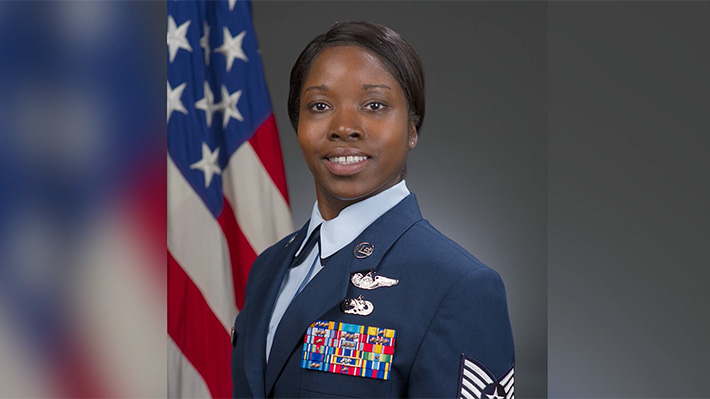 Sarah Lockley, '22
Executive MBA
Determination has driven Sarah Lockley, EMBA '22, throughout her life and professional career. It was a trait she learned and honed at an early age from both of her parents, who are United States Army veterans. She followed in her mother and father's footsteps, spending 14 years serving her country from coast to coast in the United States Air Force. Lockley, who had an aptitude for leadership, then set out to take on a new challenge and in 2019, transitioned into the corporate world, becoming a field service engineer for Flow International.
"I have a passion for leading and helping people with their professional and personal development," said Lockley.
To do that at the next level, Lockley decided to continue her pursuit of learning and personal growth by enrolling in Drexel University's LeBow College of Business Executive MBA program. LeBow's EMBA program offered her a unique learning experience with leading faculty and a variety of industry partners that aided her in taking her lessons directly from the classroom to the real world.
"The information we received was invaluable," said Lockley. "Drexel really taught me the management side of business that I didn't learn in the military. Now I can take the leadership skills I learned in the Air Force and add them to the managerial skills, life lessons and corporate policies that I learned at Drexel and mesh them together to become the best manager and leader I can be for my corporation."
Within the 18-month EMBA program, Lockley saw a return on her investment well before graduation.
"I got a leadership and management position and that was a big goal I set for myself when joining Drexel," said Lockley. "I really believe this program propelled me to where I am now."
In August of 2021, Lockley became regional program manager with Amazon. Now she finds herself in the position that she always wanted to be in, providing positive influence, development, and inspiration to her company, colleagues and team members.
"Everything I learned in the program I have taken back in some form or another, if not professionally, then personally," said Lockley.
In addition to taking the next step in her professional career, Lockley found immense value in building relationships within her cohort.
"Networking in this program is huge; you meet people from all different parts of the world," said Lockley. "The connection and camaraderie with my classmates is something I really wanted, and these are relationships I want to develop."
Through the EMBA program Lockley has acquired a new network of like-minded individuals and advanced her career. Though she graduated with her EMBA degree in 2022, she will forever remain a part of the Drexel family, taking with her all the skills needed to lead and succeed.
"Now that I've done this, what are my next steps … what can I do next, it's a feeling of empowerment," said Lockley.