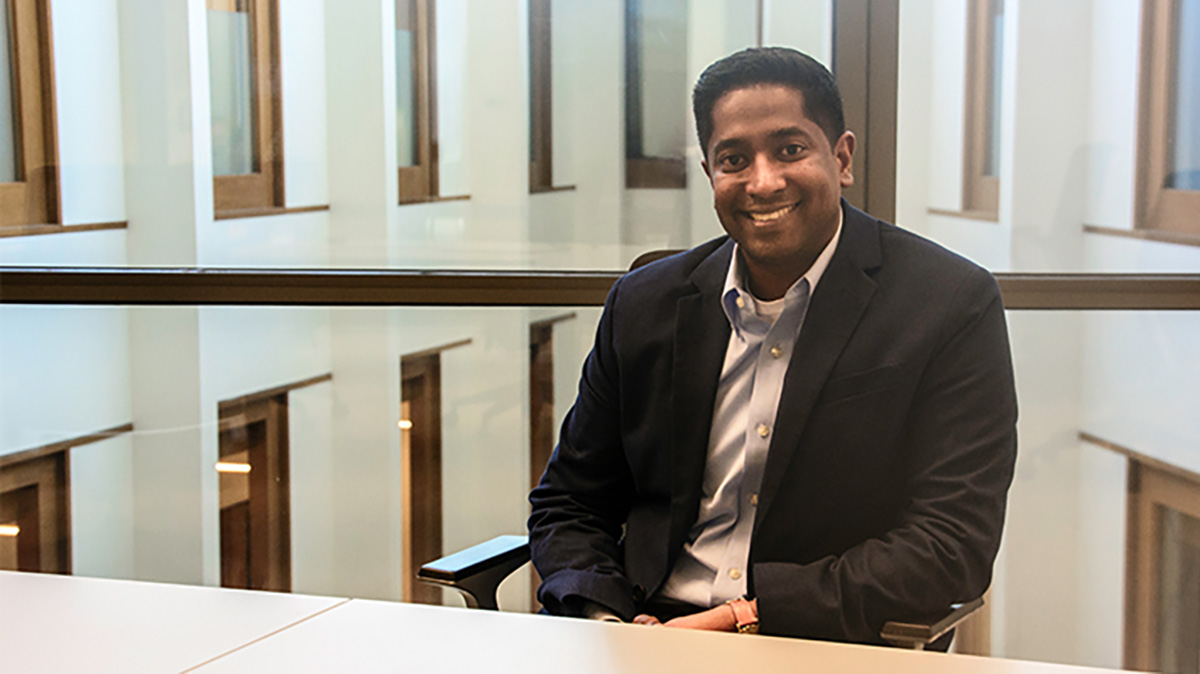 Rob Nedumakel, '18
Executive MBA
Rob Nedumakel has watched the newest addition to the Philadelphia skyline – the Comcast Technology Center – spring up next door to his office at the Comcast Center in Center City.
From that vantage point, he can also look down John F. Kennedy Boulevard to Drexel's University City campus, where he completed his undergraduate degree in computer engineering and where he's currently in his second year of the Executive MBA program. These two Philadelphia institutions – Comcast and Drexel – have undoubtedly helped shape the career of this 39-year old native Philadelphian.
His current studies at LeBow are a throwback, in a sense: he minored in business administration alongside his studies in engineering. "Engineering is a different mindset – really detailed, and with more focused attention," he says. "Business classes, to me, just made sense to me from a day-to-day, real-world perspective."
Rob worked as a contractor for a tech company after graduation, then later went on to PwC in an IT Audit role for systems and process controls testing, all the while keeping Comcast in mind. "I knew it was in Philly and that it was up-and-coming, and I wanted to get in there somehow," he says.
Upon making the move to Comcast, he worked in the corporate audit function focusing on technology, which he says allowed him to get a sense of the landscape of the whole organization and its different service lines. After nearly ten years and working in various engineering roles, he began to explore graduate programs, including the Drexel EMBA.
"I was at a point where I thought, 'What can I do to improve myself or to prepare myself for the next level?'" he says. "I could tell there was a lot of innovation happening within the EMBA program. They were up to date with technology, with class structure and with doing things remotely."
Soon after starting at LeBow, Rob moved into a new role at Comcast: supporting security for Comcast Business' Enterprise Class customers. It's an area of growth within the company, and even with the combined demands of family and education, he felt excited to take it on: "You can't wait for things. When there's an opportunity, you have to go for it, and things will fall into place."
Rob has found the greatest reward in the program through making connections with the EMBA cohort, as well as through classes with adjunct professors Francis LaMay and John Cooke and Associate Clinical Professor of Management Suresh Chandran: "His Business Problem Solving course was the first time when it all came together for me: everything from sales and marketing, to production, to forecasting, to revenue and pricing. The dynamics of how all those things are interworked is something I never fully understood previously."
As he works to apply classroom teachings in his work at Comcast, he also hopes to see more deep connections between his alma mater and his employer. "The innovation that Drexel is doing and that Comcast is striving for are literally walking distance apart. It seems like a great fit for it to expand even further."
As Comcast moves into its second building – "There's a lot of excitement around it, and I know people are looking forward to jumping on board there" – and expands its footprint in Center City Rob is eager to see what the future holds.
"The ownership and leadership have the vision to constantly grow and to support not just the employees but the customers as well. Being from Philly, I can't think of any other company to be at," he says, adding: "Drexel's right there, too – it's a good pairing."