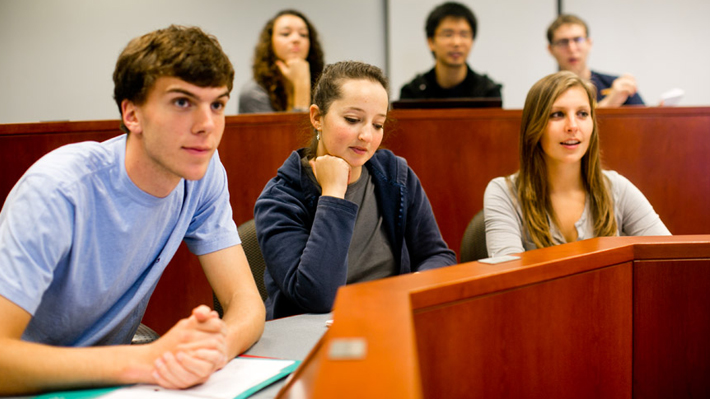 Undergraduate Economics Degrees
The study of economics equips students to understand how businesses, households and governments interact to determine the success or failure of firms and the well-being of individuals. It also enables students to uncover cause and effect, so that they can make sound decisions, not only in finance and banking but also in public health, policymaking, global relations and many aspects of everyday life.
From evaluating how a change in healthcare may impact a hospital's population to examining a grocery store's ability to change produce prices, economics helps people solve social problems and make sound business decisions. Thus, the skills of economists are highly sought by both industry and government.
Why Major in Economics?
Students who seek a degree in economics will find they have a wide range of possible career options. Because economic principles inform business decisions and public policy, students with economics degrees are prepared for diverse positions in business, non-profits and government. While most economics programs are housed within colleges of liberal arts, our School of Economics' unique home in the LeBow College of Business sets our graduates apart, as they are readily able to take electives in business in addition to courses in other colleges. LeBow teaches economics as an applied discipline, enriched and solidified by the experiential learning opportunities of the Drexel Co-op program.
Our undergraduate programs include a Bachelor of Science in Economics and a Bachelor of Arts in Economics, both of which offer coursework in economics within the context of a general scientific and humanities curriculum.
Learn more about admissions requirements or apply now.
Median Co-op Hourly Salary:

$19

Top Co-op Recruiters:

CHUBB (formerly ACE USA)
Comcast Corporation
Goldman, Sachs & Co.
PECO, an Exelon Company
Susquehanna Int'l Group LLP

Top Graduate Schools:

University of Chicago (MBA)
Columbia University (PhD)
London School of Economics (MS)
Princeton University (MS)
University of Arizona (PhD)
University of Maryland (MS)
University of Michigan (JD)

Average Starting Salary:

$70,800

Full-time employment data reflects the class of 2020. Co-op data reflects academic year 2019-2020.