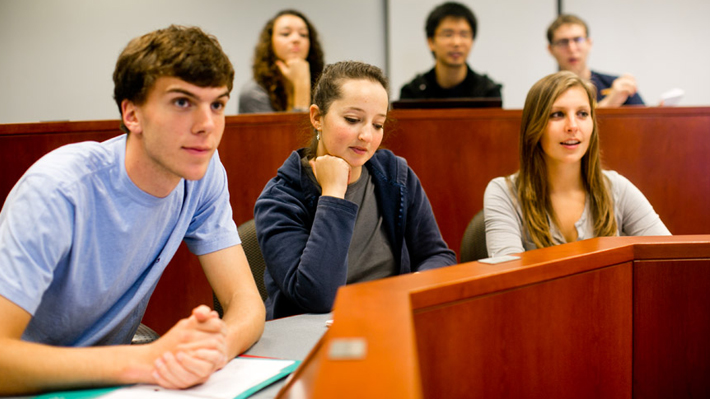 Economics
When businesses are looking to make major decisions, to whom do they turn? Very often the answer is: Economists. Economists analyze the behavior of production, distribution and consumption of goods to evaluate the impact of decisions on the success of businesses, households and governments. The study of economic principles enables discovery of cause and effect, and it enables people to make sound decisions, not only in finance and banking but also in public health, policymaking, global relations and nearly every aspect of everyday life. From evaluating how a change in healthcare may impact a hospital's population or a family's budget, to examining a grocery store's ability to change produce prices, economic methods produce sound decisions and the skills of economists are sought by every industry.
Why Major in Economics?
Students looking to have a wide range of possible career options may pursue a degree in Economics. Because economic principles inform all the other business disciplines, students with economics degrees are equipped for diverse positions in business and in government. While most economics majors are housed within colleges of liberal arts, our School of Economics' unique home in the LeBow College of Business sets our graduates apart, by the business foundations they receive and by our emphasis on economics as an applied discipline, enriched and solidified by the experiential learning opportunities of our co-op program.
Our undergraduate programs include a Bachelor of Science and a Bachelor of Arts in Economics, both of which combine coursework in economics and the functional fields of business administration within the context of a general scientific and humanities curriculum.
Learn more about admissions requirements or apply now.
Average Co-op Weekly Pay:

$680

Top Co-Op Recruiters:

CHUBB (formerly ACE USA)
Comcast Corporation
Goldman, Sachs & Co.
PECO, an Exelon Company
Susquehanna Int'l Group LLP

Top Graduate Schools:

University of Chicago (MBA)
Columbia University (PhD)
London School of Economics (MS)
Princeton University (MS)
University of Arizona (PhD)
University of Maryland (MS)
University of Michigan (JD)

Average Starting Salary:

$67,250

Full-time employment data reflects the class of 2018. Co-op data reflects academic year 2017-2018.