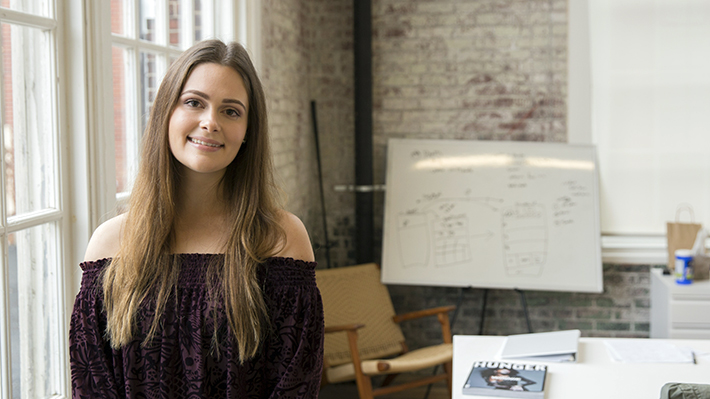 Emily Dean, '20
BS in Business Administration (Business Analytics; Marketing)
Engaging in research as part of the STAR Scholars program the summer after her freshman year made a lasting impact on Dean, but it was her first co-op that helped her clarify her future career path.
Under the mentorship of Chen Wang, PhD, she explored the concept of consumer curiosity through the completion of her own research project on consumer behavior. Dean researched viewership, social media activity and IMDB ratings of the popular TV show American Horror Story.
Throughout the process, Dean most enjoyed unfolding an idea and finding each complexity that came with it.
"The STAR Scholars program taught me the importance of questioning information from all possible perspectives. With every question answered, I would generate three more."
This research provided her the opportunity to present at a conference at Elon University and during Drexel's inaugural Week of Undergraduate Excellence in addition to the summer STAR Showcase. From this program alone, she learned that she would like to continue to do research in the future.
"I like to challenge myself, and the STAR Program seemed like a great way to test my abilities," she said. "It was the first time I felt like I had done something that academically mattered."
The STAR program also prepared Dean for her first co-op as a Marketing Data Analyst for Free People. In this role, she developed marketing emails, performed subject line testing and completed competitor analyses on a daily basis. Outside of just STAR, she found that the Excel course offered by LeBow was extremely helpful in this role, as she learned a lot about functions, formatting and presentation styles. She also learned a wide range of new technical skills during her co-op at Free People, like using a CRM database to access customer information and writing queries using SQL.
She also learned where her career interests lie. "I learned that I have a huge interest in merchandising – but I had no idea before I started my co-op."
Because of her co-op, Dean has decided to pursue merchandising more intently. Academically, she plans to add a minor in retail or psychology. She is specifically interested in the psychology of fashion.
Dean is actively involved on campus as a member of the American Marketing Association, Delta Phi Epsilon Sorority, Drexel Women in Business and the Undergraduate Business Analytics Club. She also participated in a one-week study abroad trip to Jamaica where she learned about the commerce, culture and cuisine of the island nation.