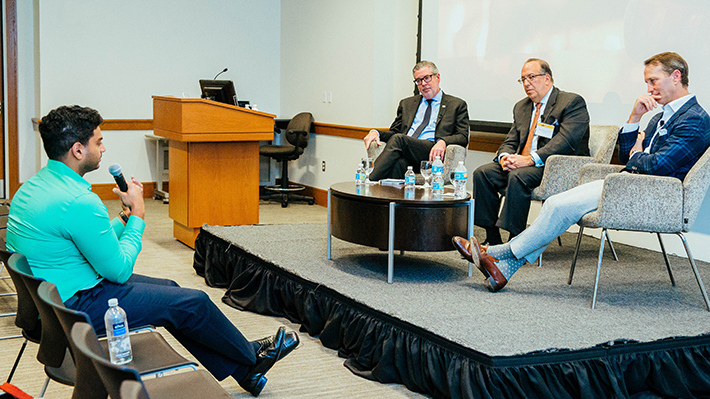 The Art of Being a CFO
Executive Vice President/CFO of Bristol-Myers Squibb, Charles Bancroft '82, and Executive Vice President/CFO of Johnson & Johnson, Dominic Caruso '80, joined Drexel University's LeBow College of Business for an evening of discussion about the evolving the role of a Chief Financial Officer at a global pharmaceutical company. It was moderated by Drexel President John Fry.
President Fry led the discussion before a crowd of about 60 and asked Caruso '80 and Bancroft '82 about their goals as CFOs of large companies. "The ultimate goal is to help people live better lives," Caruso says. He explained that the role of a CFO is constantly evolving, and CFOs always have to think about what they are going to do in the future and how to make it better than what they did in the past.
Bancroft added that it is about understanding the business beyond the numbers, making strategic choices and evaluating the different options. "It's not about how much you're spending, but how much you're investing," said Bancroft. This ultimately boils down to making those choices come to life by using what you invested.
Both Caruso and Bancroft offered some advice to students about how to become a successful business leader. Caruso said getting great grades is a huge differentiator, as is gaining as much experience as possible because it will be valuable in the long run. "Don't have comfort as an objective; step outside of your comfort zone. People who speak up are the ones who stand out," said Caruso. Are you pushing yourself or raising the bar?
Bancroft explained that being a business leader is not black and white, it is situational, and a successful leader lives in a world that is gray. As a final word of advice for people who aspire to be leaders, Bancroft shared that the fundamental aspect of being a CFO is authenticity.
Dominic Caruso became executive vice president and chief financial officer of Johnson & Johnson in 2007. It is the world's largest and most diversified health care company.
Charles Bancroft joined Bristol-Myers Squibb in 1984 and has held positions that increased in responsibilities over the years. In his current role, he is responsible for worldwide finance operations.