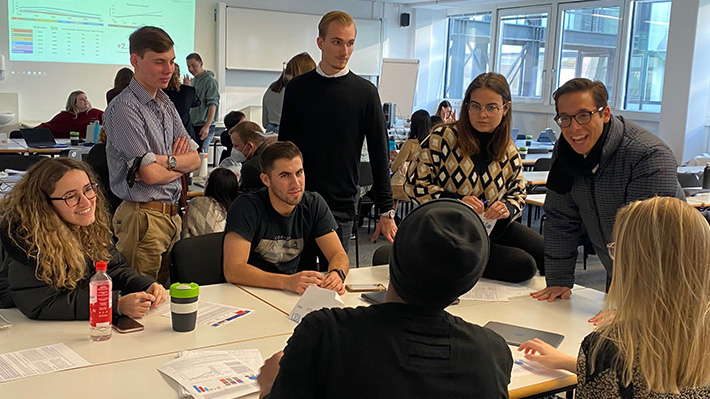 To Berlin and Beyond: The Return of Intensive Courses Abroad
Intensive Courses Abroad, or ICAs, have been a vital part of the LeBow undergraduate curriculum for over a decade. These excursions, led by faculty and one to two weeks in length, flesh out key parts of students' global and cultural understanding, allow students to apply and synthesize coure material and often build on international collaborations introduced through the Global Classroom program, which connects LeBow virtually with students at universities throughout the world. When COVID-19 brought international programs to a halt at Drexel and elsewhere, LeBow's Global Classrooms continued, and students shared with their peers around the world their experiences with remote learning and life during a global pandemic.
So when 18 Drexel undergraduate students boarded a flight to Germany in November 2021, it marked a new phase for LeBow and Drexel: the return of international study experiences, and the first faculty-led study-abroad program since before the pandemic.
Clinical Professor of General Business Dana D'Angelo taught Thinking Abroad (BUSN 350) during fall term and has led numerous ICAs in recent years. She handled much of the logistics, planning and setting of academic goals for the Berlin trip, which was based at the Berlin School of Economics in Law as part of the school's International Week.
"We were the pilot for a return to short-term programs," she said. "It was the first one in 23 months, so there were a lot of eyes on us, and our students really stepped up."
Both the course and the trip were based on the Toolbox for International and Practice-Oriented Online Learning (TOOLIP), a program fully funded by a German Academic Exchange Service grant from the German Federal Ministry of Education and Research. This financial support made it possible for LeBow students, along with D'Angelo, Clinical Professor of General Business Jodi Cataline and Director of Global Engagement Adam Zahn, to travel to Germany, where they researched, collaborated and presented with students from universities throughout Europe on a variety of sustainability topics, such as the economics of sustainability, financing climate issues and the implementation of the United Nations' Sustainable Development Goals. After returning, the students shared their findings with the Drexel community at an Office of Global Engagement forum, "Reflections from Germany: Thinking (A)broad: Sustainability and Responsibility in the 21st Century."
The students were selected from a larger than usual pool of applicants, which D'Angelo said she saw as a sign of pent-up demand for international experiences.
"It was mostly upper-class students this time, and a lot of them had their study-abroad plans cancelled," she said. "Our students have performed so well in these settings over the years, and they showed such professionalism."
Devon Copestick, a fifth-year student majoring in business analytics, marketing and MIS, participated in an ICA to Amsterdam during her first year and was looking for additional international experience after her summer 2020 study-abroad program was cancelled.
"These ICAs have been the highlights of my time at Drexel, and I know I will take the global connections I have made through these trips with me throughout my career," she said.
Paula Ait-Ahmad Cardona, a fourth-year student majoring in accounting, said that her experience in Berlin prompted her to apply for an international assignment through her upcoming co-op position with KPMG.
"Due to scheduling conflicts, I wasn't able to study abroad for a full term, but I'm glad I took the ICA because I made the most of my ten days there," she said.
LeBow's next ICA will take place over spring break as D'Angelo accompanies a student group to the Amsterdam University of Applied Sciences. The remainder of 2022 holds additional planning for ICAs in the Czech Republic in June and Portugal in September, as well as a renewed partnership with FIE, a London-based program, for an ICA and conference in 2023. For more information on any of these upcoming courses, contact Dana D'Angelo at dangeldc@drexel.edu
View student presentations from "Reflections from Germany: Thinking (A)broad: Sustainability and Responsibility in the 21st Century"