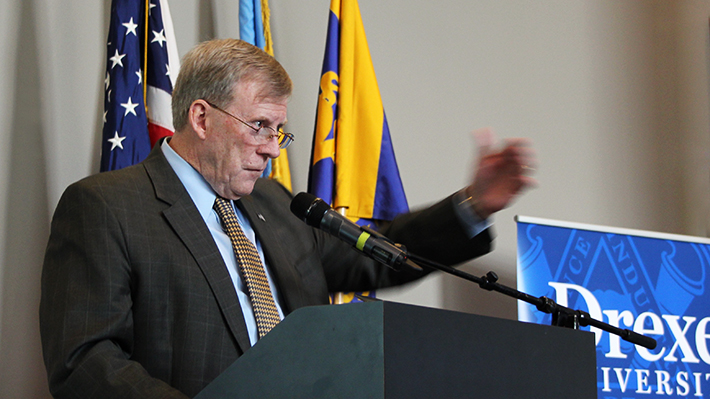 Black Hawk Down Commander Keynotes Veterans Day Tribute
"Be. Know. Do."
The motto serves as the basis of the U.S. Army's leadership model and was the focus of the keynote speech by LeBow alumnus and U.S. Army Colonel Thomas Matthews '72 at Drexel's annual Veterans Day Tribute.
The tribute concluded a week of events honoring members of the Drexel community who have served as members of the U.S. Armed Forces, which began on Sunday with over 100 Dragons participating in the Philadelphia Veterans Parade. A veteran recognition was also planned for later in the evening at the women's basketball game versus Penn State University.
Matthews, who commanded the 1993 Battle of Mogadishu, a mission also known as "Black Hawk Down," spoke about the importance of values, competence and action in leadership.
The battle was the subject of the 1999 book "Black Hawk Down: A Story of Modern War," a compilation of a 29-part series published in the Philadelphia Inquirer, and the 2001 movie directed by Ridley Scott. Matthews served as an advisor to the film during its development.
His remarks applied that leadership model to the Drexel experience, highlighting the values and character necessary for success in military leadership, education and life. One such value he highlighted was courage, which is quite often associated with military service.
"Personal courage doesn't have to be physical," he said. "Often times the challenge to your personal courage is taking a stance or having a position on an issue. It doesn't have to be physical or in combat."
He spoke highly of his time at Drexel, noting a number of his college classmates were in attendance, along with his wife Jesse, also a Drexel graduate. At Drexel, Matthews played on both the lacrosse and football teams and was a member of the Army ROTC while completing his BS in Business Administration in accounting.
Earlier in the day, Matthews was inducted into the Drexel Army ROTC Hall of Fame. Alumni Bennett S. LeBow '60, Tom Masci '68, Jack Stoner '51 and Chuck Vincent '57 joined Matthews in the inaugural class.
According to Lt. Col. Lawrence Camacho, professor of military science and director of Drexel Army ROTC, the Hall of Fame recognizes former Drexel ROTC cadets that "have demonstrated exceptional character and service that embodies Drexel ROTC. Whose evident display of achievement is a hallmark of the leadership that inspires our students to seek a comparable path and thereby contribute to both military and civilian sectors of our society."
Drexel has a long history of military service and support of veterans, from the financing of the military by the Drexel Bank to 125 years of students and alumni engaged in military service. In fact, up until 1969, participation in ROTC was a requirement for all male students.
Since the implementation of the Post-9/11 GI Bill in 2008, Drexel has provided financial support for student-veterans through the Yellow Ribbon program. Unlike many other universities, Drexel does not limit the number of student veterans who enroll or what they study.
Because of this support, Drexel has been recognized among the top military-friendly schools by U.S. News and World Report, G.I. Jobs and Military Advanced Education Magazine.
Members of the Drexel community are also encouraged to continue their support for active-duty military by participating in the Veteran's Task Force's annual care package drive. This year, the task force hopes to collect 125 boxes to send to service members around the country and the world in honor of Drexel's 125th anniversary. Find out more.