The Boss Who's Never Been Promoted
It is not true that Al West never had an office. But relocating his office telephone to the doorway 
so he could spend more time working in the hall than behind his desk? That is true.
Parking his car in the "Loser Lot" at the company he created? Yep.
And it is most definitely the case, calculates the investing website Motley Fool, that if you had invested $1,000 in SEI in 1987, you would have nearly $160,000 today; a similar investment in the S&P 500 would now be worth only about $20,000.
Says 2012 Business Leader of the Year: "I like investments. A lot."
No kidding.
West might be down-to-earth and eschew a reserved parking spot, but he's also the creator and CEO of SEI Investments Co. (NASDAQ: SEIC), a company with $3.7 billion in market capitalization, about $670 billion in assets under management or administration and 7,000 clients, including many of the world's largest financial institutions. New York is a satellite office, as are locations in San Francisco, Toronto, Hong Kong, Johannesburg, Dubai, London and elsewhere. His financial behemoth is headquartered on a 10-building, 93-acre campus that sits 35 minutes northwest of Center City Philadelphia. Workstations are not separated by walls or cubicles, everything (including the receptionist's desk) is on wheels and the décor features one of the largest collections of emerging artists in the United States.
Come again?
"I want the same culture we had when we were young," West explains. "We were all in one room; everybody could see everybody else. It takes people working together to create the best ideas. A single person doesn't create."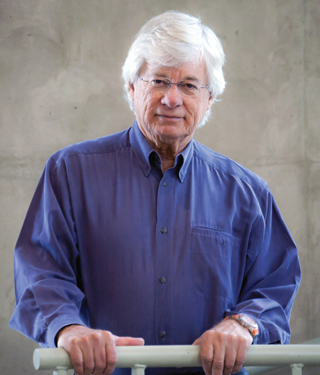 Unless that single person is Al West. Temporarily laid up 20 years ago by a broken leg (he still skis today at age 70), West sat around the house for three months wondering: "How can we do things better?"
But let's not get ahead of ourselves. The SEI story really begins with a 14-year-old Al West noticing that the "snowbirds" in his native Florida needed someone to cut their lawns while they summered up North. Instead of peddling his services door-to-door, he called on a few bank trust officers who were more than willing to connect their high-wealth clients with a summer lawn service. West's colleagues still don't know which is more impressive: a high school student with that kind of marketing savvy or one who knew 
there was such a thing as a bank trust department.
West studied engineering at Georgia Tech. He spent a few months working for an aerospace company (the only time he worked for someone else), before starting at Penn's Wharton School, which won out over Stanford (too far away) and Harvard (bitterly cold winters). West says his Wharton MBA made him a lot smarter, but all he really "knew" upon graduation was what he already "knew" while cutting those lawns: "I want to start a business."
Next up was Wharton's Ph.D. program, which he would have completed except his dissertation was interrupted by this idea: a computer simulation that teaches bank loan officers how to manage their portfolios. He launched SEI in 1968 and by 1970 had sold his product to "about 50 of the top 55 banks, which is when I learned the importance of recurring revenue; actually, the importance of the absence of recurring revenue," he says.
Having exhausted loan departments, West rediscovered an idea from his youth: the trust division. His team wrote a system to automate the entire back office — no more ledger cards — and he traveled the country locking up about 35 percent of the country's trust business. In the 1980s, SEI introduced new asset allocation models; in the 1990s, a wealth management operating 
platform; and in the 2000s, global wealth services. SEI now works with private banks, financial advisors, institutional investors, investment managers and high-net-worth individuals and families.
Fast Company magazine described West's three-month convalescence in 1990 as leading him to this conclusion: "The company had to speed up its reaction time, innovate more quickly, get closer to its customers. And those changes demanded a reinvention. So the CEO returned to work and took a wrecking 
ball to the corporate pyramid. Two of 
SEI's three division heads quit; the third was fired."
It wasn't just the corporate pyramid West attacked. He actually tore down 
the walls.
"Our business lines were fighting with one another," West explains today. "The enemy was inside the company, not outside. I flattened the organization and put everybody into about 90 teams. I truly believe that business is not a zero-sum game. You don't need to compete internally."
There were, however, moments of doubt. "I walked around the pond a long time before I jumped in," he says. But as 
a discipline of management guru Tom Peters' concept of "disruptive innovation," West ultimately decided that "if we don't break it, somebody else will."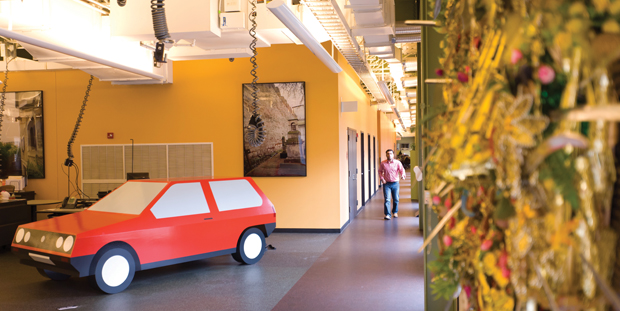 When SEI's renewed growth mandated relocation to a new site, "I decided to build new, and to build something that fit our culture." He picked suburban Oaks, and gave the architects 12 principles, among them: "I don't want it to be a monument; 
I may need to tear it down at some point." And this: "Make it fit within the natural environment."
This is why the 600,000-square-foot headquarters of one of the world's 
largest and most successful financial 
firms features floors made from recycled rubber, exposed plywood, cables hanging from the ceilings, desks that can be 
rolled anywhere, and a computer 
program to help staff locate colleagues. Architecture firm MS&R designed buildings reminiscent of agriculture to 
fit the rural setting and connected them via bridges and underground passages. West's desk is the same as everyone's — including the wheels — and his "conference room" is an open area with 
a table, chairs and the occasional whir 
of a corporate-sized printer and copier.
"There are things that can distract you," West told the Georgia Tech alumni magazine about his one-room-fits-all model. "But you learn pretty quickly not to be distracted. You also learn an etiquette about how not to distract somebody else. If I want to see someone, 
I try to get eye contact. If you don't get 
eye contact, that person's not open 
for business."
West knew immediately that "normal corporate art" was not going to work in his abnormal corporate environment. Enter his daughter, Paige, and her gallery devoted to emerging artists. The collection is avant garde, and it belongs to West, not SEI. West likes "breaking the bounds of art, because we're trying to do the same thing in the investment world," he says. The art is the only thing not on wheels, but it does circulate, often at the suggestion of work teams that do or don't like certain works. Some of the more controversial pieces are displayed in a special hallway where employee compliments and complaints are posted next to the pieces.
"Nobody has to like all of it. I don't like every piece," West says, "but I can appreciate what they are trying to do."
Appreciation for trying to create something is part of the West mantra. 
For example, SEI's website describes 
10 risks to a corporation's survival, including poor planning, naïve reliance 
on technology and the No. 1 risk: complacency.
"The number one thing that causes failure is arrogance, the certainty that you've got it right," West says. "If you're always creating, it's hard to be arrogant. When you're doing something that's not been done before, it's always humbling.
"I'm afraid to be arrogant."
That's an attitude you might not expect from someone as accomplished as Al West, an executive Forbes.com listed among its top "Best Value Bosses."
Until you remember this: It is true that Al West has never been promoted.
Not once.