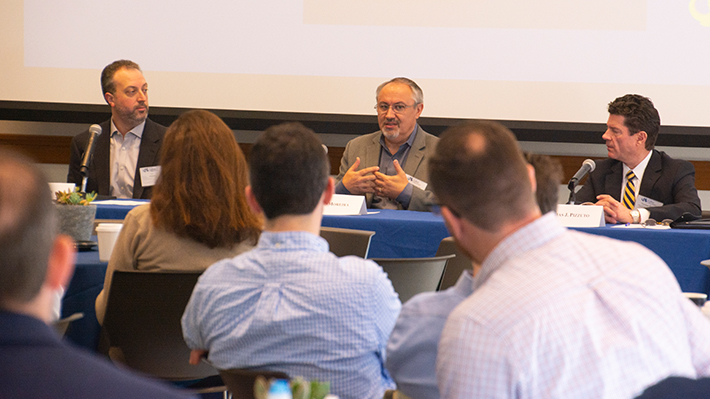 Breaking Down Blockchain with DBSI and Industry Experts
In a wide-ranging panel for business leaders and practitioners, the Drexel Business Solutions Institute hosted a discussion among leading industry experts and LeBow faculty on blockchain.
The panelists – Carlos Moreira, Health Industries Emerging Technology Leader and Partner at PwC and a LeBow alum; Thomas J. Pizzuto, Global Director, Emerging Technology at Johnson & Johnson Supply Chain; and John Evans, Head of Blockchain Technology at Vanguard – all shared their companies' efforts in adopting the technology – or adapting to it.
All stressed prudence and caution; as Moreira put it, "not everything is a nail for blockchain's hammer."
With guidance from Murugan Anandarajan, professor of Management Information Systems and head of the Management and Decision Sciences & MIS departments, the panelists dissected the mania surrounding blockchain, tracing it back to a paper published by a mysterious, pseudonymous author through the cryptocurrency craze with Bitcoin and others. They shed light on the present moment of small steps toward mainstream adoption of blockchain technology and its current and prospective uses.
Evans explained some blockchain basics, calling it "a data structure" and a "distributed ledger" based on a high degree of trust and consensus among users.
Though Evans says that Bitcoin and other cryptocurrencies have gotten the most attention from an investor's point of view, he sees other blockchain applications as having greater impact and longer staying power. "The process optimization and operational efficiency that come with blockchain are just as transformational," he says.
Pizzuto took issue with the notion of blockchain as a "disruptor" that's upending established businesses. "It's on its way to being a general purpose technology," he says. "We may be overestimating the speed at which it will be adopted, but we underestimate the impact that it will have on the economy and on society."
Moreira reflected on the technology's potential in healthcare, with the built-in security measures a natural fit for applications with medical data. "Blockchain has the ability to transform operational efficiency," he says. "It's a panacea or a Holy Grail for what has been the struggle in our sector with waste and frustration."
He later used a video game analogy in describing his own company's efforts. "Where we are with blockchain is more Commodore 64 than Xbox," Moreira says. "We're putting something easy but effective on the blockchain just from an experimentation perspective."
Last week's panel was the second event in the Drexel Business Solutions Institute's Business and Technology series during 2018-19 school year; a panel on Artificial Intelligence on May 16 is still to come.