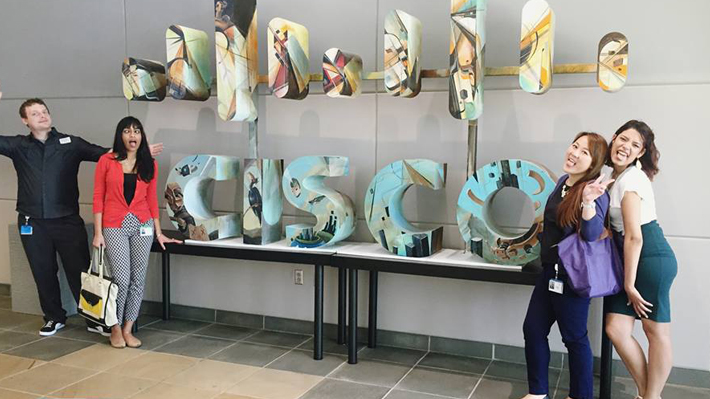 Cassandra Vidal's Cisconian Co-op
Achieving the dream co-op takes hard work, careful planning and well-honed interview skills. Or, in Cassandra Vidal's case, one could break the ice by nearly spilling coffee on the recruiter, apologize profusely and still walk away with a job offer.
Vidal approached her first interview for a marketing co-op with some trepidation; she was a first term general business major who had recently made the switch from engineering. "I was a baby, I knew nothing," she says. "But I figured I'd shoot for the stars."
Despite the close call with spilled coffee, Vidal's interview with a recruiter from Cisco went well and she was offered the co-op – in North Carolina. Vidal hadn't planned on relocating, and while she was excited, there were some nerves associated with moving several states away. She had never lived outside Philadelphia.
Vidal had to adapt quickly to life in Research Triangle Park, North Carolina as her role was to act as an operations liaison between those managing interns and co-ops at Cisco's San Jose location and the team in North Carolina. Her role included planning orientations, booking luncheon speakers, and organizing off-campus social and corporate networking for 20 interns and six co-ops. "It was absolutely terrifying the entire time," Vidal says. "It wasn't until July that I felt like I knew what I was doing."
To cap her experience, Vidal was recruited onto a project to rebrand Cisco's internship and co-op program with the goal of increasing their retention and reach beyond local colleges and universities. She helped design a new social media presence (@cmc_eic) and marketing collateral to be distributed at recruiting events.
The experience was so positive that Vidal switched her major from general business to marketing once she returned to campus. And in addition to the major change, Vidal's time at Cisco served to enhance and focus her studies. "I absorbed everything I learned in class on the off chance I went back to Cisco and now I could use all this new information," says Vidal.
She gives her time at Cisco glowing reviews and the feeling was clearly mutual. Her former manager helped set up a second potential dream co-op at the company's headquarters in Australia. That plan had to be put on hold when Vidal agreed to help provide childcare for her sister's new baby, but Cisco was quick to offer a work-from-home alternative. Her final co-op included experiences in several different departments within the company, but ultimately ended back with the operations team. It felt like a homecoming to Vidal. "It clicked. It just worked."
One month after the co-op ended, Vidal was offered a position following her graduation from Drexel. She'll begin in August. "I bawled," she says. She felt both relief, as she couldn't imagine starting her career anywhere else, and some new trepidation based on relocating more permanently away from her family and native city. Vidal's mother Jacqueline Ortiz, who has been a Drexel staff member in Printing and Mailing for 14 years, and her family joked that she should be going somewhere cooler like Los Angeles or New York, but Vidal defends Research Triangle Park as a "booming area."
Like many soon-to-be graduates, Vidal is consumed with wrapping up her final courses while apartment hunting on the side. She won't have much transition time between Commencement and career, but Vidal wouldn't have it any other way.