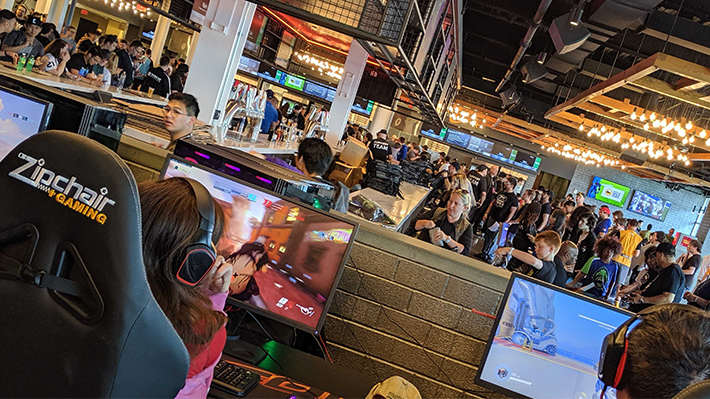 Changing the Game: LeBow's New Esport Business Major
When major professional sports leagues went on hiatus last year due to COVID-19, esports, or competitive video gaming, filled the gap, with competitions featured in primetime broadcasts on ESPN and other major networks. While this emerging sport has been growing in popularity for years now, amassing audiences through streaming sites like Discord and Twitch, 2020 brought it into the mainstream like never before.
To prepare business students to enter this growing field, LeBow has launched the BSBA in Esport Business. The new program of study, housed in LeBow's Department of Sport Business and offered in collaboration with the Westphal College of Media Arts & Design, combines core business offerings with key courses in sport management, game design, and entertainment and arts management.
We asked Jeffrey Levine, JD, PhD, assistant clinical professor of sport business and lead faculty member for the program, to share some key insights into the field of gaming, the new major, and why Drexel is the right place to prepare for a career in esports.
Not Just for Professional Gamers
Success in the esports industry is not solely tied to high scores and leaderboard rankings. While professional players are key components of video game competitions, there is an array of necessary business roles as well, including many that overlap with traditional sports, including marketing, sales, operations, broadcast, legal, finance, community relations and more, Levine says.
"Modern esports has been around for almost 20 years, and yet it's still nascent," he says. "There are tremendous opportunities for esports stakeholders to grow their footprint throughout the ecosystem. While many associate esports with the professional teams or leagues, there are a multitude of opportunities in the grassroots and community, and lifestyle sectors."
An Industry on the Rise
Many esports organizations have operated like startups, with lean teams of individuals serving in multiple roles; however, these organizations are now finding it necessary to scale up and add staff, particularly in business development and community engagement roles to build audiences for individual franchises and the leagues they compete in.
Levine says that he sees "significant investment going into this ecosystem."
"The industry has escalated in value in the last few years based on potential cultivation of new and traditional revenue streams," Levine says. "It's become a billion-dollar industry, in part because it ties together sport, entertainment, leisure and community."
Where Business Acumen Meets Digital Design
Esports franchises and leagues are formed around particular game titles, the rights of which are held by the game developers. Because of this unique arrangement of business and technology, Drexel LeBow's esport business major combines core business skills with classes in digital and interactive design at the Westphal College of Media Arts & Design, where the Game Design & Production major is consistently ranked among the top programs in the U.S.
The next generation of esports industry professionals could have a hand in developing the next major esports franchise, like the new League of Legends or Overwatch, or in negotiating the media contracts that land the sport a more prominent platform with a wider audience.
"Individuals with the proper training and interdisciplinary knowledge are going to be able to craft the policies and make the decisions to guide esport from something on the fringes to a leader in the sport industry," Levine says.
Drexel's Esports Origin Story
Faculty experts from LeBow's Department of Sport Business have had esports on their radar for years, with both Levine and Associate Clinical Professor of Sport Business Larry Cohen teaching courses on the subject. Cohen taught a 2018 course in which students devised a feasibility study on starting a varsity esports program at Drexel, and that course, along with the popularity of the student-run Drexel Electronic Sports & Gaming Association, spurred the development of the new major.
Levine observes that both students and faculty have envisioned a varsity esports team serving as a public facing "front door" for Drexel the way football programs do for other universities. Recently, Levine has taught Esport Business Field Research, an applied research course in which students created a study to examine the motivations of consumers to play and/or watch esports; the foundational course for the new major, The Business of Esports, is scheduled to be offered in spring 2021.
Philadelphia at the Forefront
Esports activity in Philadelphia has been on the rise in recent years. The city is home to the Philadelphia Fusion, a professional Overwatch team owned by Comcast Spectacor. Comcast is currently constructing a $50 million, first-of-its-kind esports arena for the Fusion in the heart of the South Philadelphia sports complex. The recent announcement of The Block, an esports venue and academy launched by competitive gaming network Nerd Street Gamers, adds more action to the city's competitive gaming scene.
Philadelphia is also one of the only cities on the East Coast that's home to a major league esports team and other companies that support the industry. That presence means that technology, infrastructure and potential industry partnerships for co-op and full-time positions are all in place to benefit esport business majors.
Undergraduate students interested in majoring in esport business should contact their academic advisor. For additional information on the major or individual courses, contact Jeffrey Levine, assistant clinical professor of sport business, at jfl82@drexel.edu.