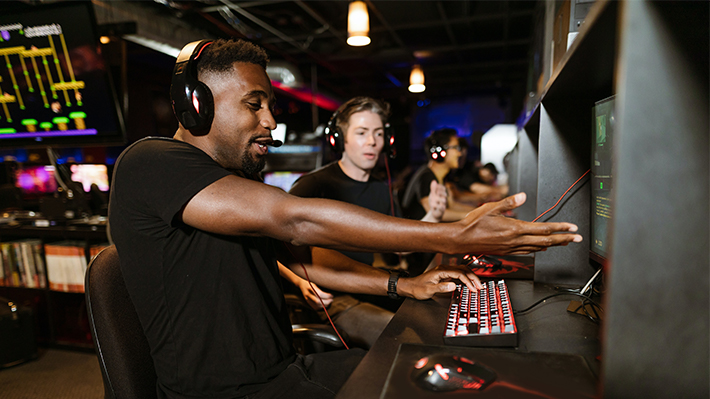 Students Advise Metro Esports on Diversity and Inclusion Strategies
As esports continue to grow in popularity, both in competitive professional leagues and with video game enthusiasts at home, "trash talk" among players has persisted, even extending to online harassment. Industry observers feel this behavior, along with the perception of gaming as a pastime largely for young white males, has inhibited some of the esports industry's potential.
Metro Esports, an esports company based in the Philadelphia suburbs, has set out to change this perception by transforming the field into a more welcoming environment, particularly for underrepresented minorities and the LGBTQIA+ community.
For assistance in making these strides, Metro Esports turned to a class of 20 online bachelor's degree students enrolled in For-Profit Business Consulting (MGMT 370), offered by LeBow's Dornsife Office for Experiential Learning.
Shaon Berry, CEO of Metro Esports, found collaborating with these students to be highly rewarding.
"As a group, their insights, strategies and business recommendations were extremely well-planned and clearly articulated and included a genuine level of passion and authenticity," Berry said.
Guided by two LeBow faculty members — Lawrence Cohen, JD, associate clinical professor of sport business, and Jeffrey Levine, JD, PhD, assistant clinical professor of sport business — students delved into the esports realm, exploring all facets of the industry to provide strategic recommendations centered on customer acquisition, social and digital strategy and inclusivity practices.
The students formed their own virtual cohort as they collaborated on researching how and where online communities grow and develop.
As Cohen observes, the students' contributions will have an impact on a nascent industry and on a vital and much-discussed topic.
"While many of the students were familiar with topics surrounding DEI, most of them were not familiar with esports, and they had to quickly become experts on esports and the DEI issues currently faced in the industry," he said.
Levine notes that Metro Esports' desire to attract and retain a more diverse audience of both players and viewers reflects larger trends within in esports and across industries.
"Building community is paramount in virtually every segment of the esports ecosystem. The students' work to deliver specific, actionable intelligence gave them new capabilities and will help to differentiate them in the job market," Levine said.
Denean Lear, BS general business '21, says the experience of conducting research and analysis with a focus on practical application was tremendously valuable.
"As a Black woman, working on this project gave me the satisfaction of knowing that I, along with my fellow students, professors and the company's CEO, are taking action to find solutions to this important social cause," Lear said.
For-Profit Business Consulting is offered semi-annually to Drexel undergraduates and is one of the core courses in LeBow's academic minor in business consulting. Find out more.