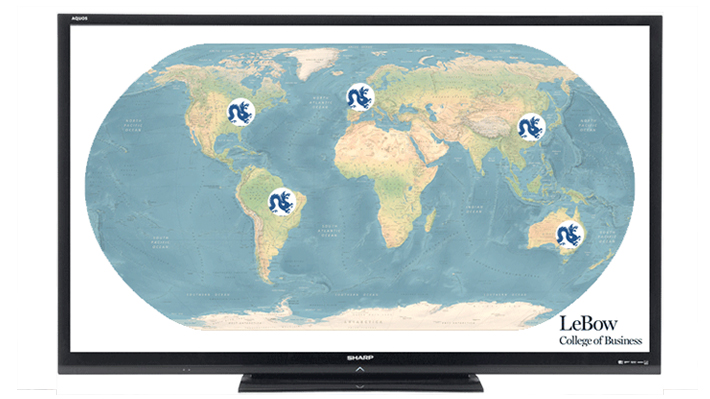 Class of 2013 Gift to the College
For the graduating seniors who will walk down the aisle this Saturday, Commencement is the culmination and celebration of four to five years of hard work and dedication and the beginning of the next chapter of their lives. They've worked hard and earned the accolades they will receive from friends and family. To mark the occasion, the Class of 2013 will present the first ever class gift to the College as a big thank you and a remembrance of this year's graduating class. 
Spearheaded by senior Bradley Ericson, a entrepreneurship and marketing student who will also deliver the commencement address, the gift is an interactive electronic map that will showcase the class members and their achievements wherever they are in the world. The map will digitally display Drexel Dragons where highlighted students are working around the world. Viewers will be able to press in a corresponding area to hear a short video or audio created by the alumni about their careers or recent achievements. Ericson will monitor the content of the display.
The former College Entrepreneur of the Year conceived the idea for the gift after a conversation with Interim Dean Frank Linnehan.
"During the dean's office hours, we were discussing my future plans and career goals, and I mentioned that I wanted to leave my mark on the College as it has provided me so many opportunities. We discussed a few ideas, and I liked the idea of an interactive map. Because it will hopefully be placed in the new building, it will serve as aspiration to the new and current students who can view it. I also see students looking for potential co-ops opportunities from learning about alums and where they work."
Ericson and his close friend, Lorenzo Errico, a graduating marketing student, have organized fundraisers in recent months hoping to raise at least $1,500 for the interactive map. At this time they are still short of their goal. They have set up a fund and a website, www.lebow13.com, for others to contribute to the fund.
Ericson will present Linnehan with a rendering of the map during Commencement.