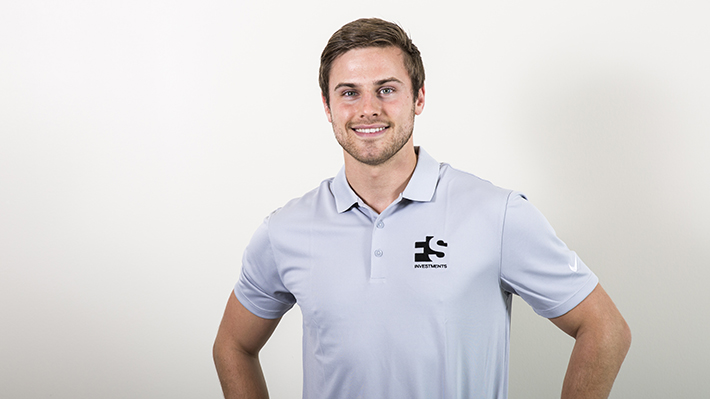 Co-op to Career at the Navy Yard
The Philadelphia Navy Yard is brimming with energy. As heavy industry has given way to innovative architecture and millennial-focused corporate campuses, it's become a highly desirable destination for LeBow's undergraduates.
Nick Gassaway, a 2016 marketing graduate, landed at the South Philadelphia corporate park when he joined FS Investments, a leading alternative asset manager, for his third co-op. Prior to that he had gained work experience with a co-op at PECO and thrived in the start-up culture at ShareMySpace. Gassaway was immediately impressed by how the energy and innovative spirit of a start-up permeated FS Investments, which was founded as Franklin Square Capital Partners in 2007.
Gassaway appreciated how quickly co-ops were immersed in company culture. "I was immediately drawn to the welcoming atmosphere. I was impressed with the two-day orientation, during which new co-ops were given the opportunity to meet senior leaders at the company," he says.
In addition to his co-ops, Gassaway was an active member of the Drexel Marketing Association. He joined as the association's events coordinator and was eventually named president. His roles included planning educational events, fundraising and participating in case competitions.
Despite his varied experience as an undergraduate, he admits that his first co-op in the financial world presented a steep learning curve. In such a tightly regulated industry, ads and external communications are subject to multiple layers of legal review before they can reach the public. In order to ensure that each ad complies with all applicable laws, they sometimes take months to clear review. It's a necessary layer of legal protection, but proved to be a surprise to Nick after his work at a small startup.
"There were so many legal terms that I had to learn. There was a two-day training and a week of instructional videos before I could even start working, just to learn what's going on."
His supervisors at FS Investments were clearly impressed with how quickly Gassaway got up to speed. Before his co-op ended, he was offered a full-time position as a marketing coordinator. He started the position immediately following graduation and now works on a team that oversees marketing to the financial adviser community, including case studies, white papers and mass emails.