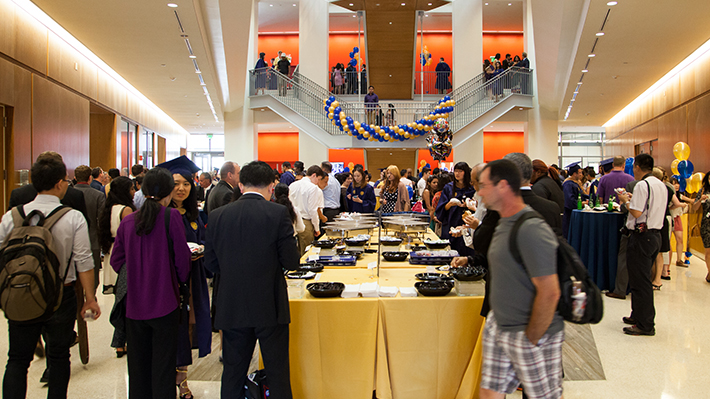 LeBow Graduation Celebration
On June 18 in the Daskalakis Athletic Center, commencement speaker James Nevels told the crowd of graduates in caps and gowns that to give back time is the greatest service one can render. And to enthusiastic applause, he announced that he'd be doing just that by only speaking for five minutes. He followed with a brief, but pointed, message to over 800 undergraduate, graduate and PhD students: "As a LeBow graduate, your problem solving prowess is great, and so is the need." The Swarthmore Group founder challenged those gathered to remember society's less fortunate after they receive their hard-earned diplomas and go on to take jobs, start businesses and build careers.
After the graduates took their walk across the stage, received their diplomas and shared congratulatory hugs with classmates, friends and family, it was time to celebrate and share a toast. Gerri C. LeBow Hall played host to faculty, family, friends and newly minted LeBow alums. The first three floors of the building buzzed with action as everyone shared food, drink and dessert and celebrated well-earned diplomas.
A photo booth in the first floor living room gave everyone a chance to take home an instant memento and a photographer was on hand to capture the celebratory scene. Click through the image gallery (at right) for a look at the festivities.