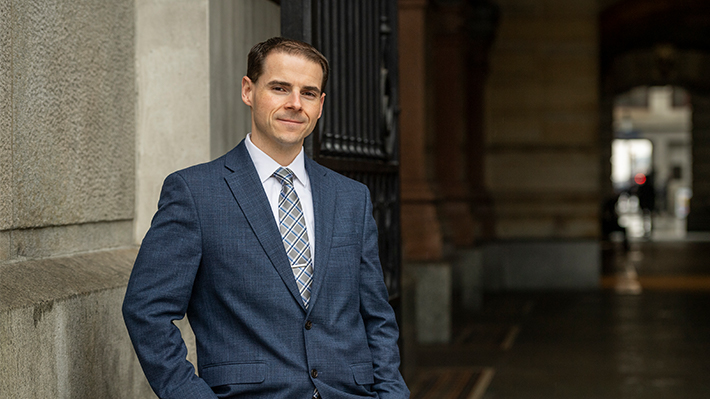 LeBow MBA Alum Applies a New Framework to Improving Outcomes in Public Health
Mark O'Dwyer came to the Drexel LeBow MBA program with an extensive background in behavioral health, first in operating a private counseling practice and now working in the City of Philadelphia's Department of Behavioral Health.
The summer of 2019 brought two significant developments in O'Dwyer's life and career: Starting his current role as Manager of Policy, Planning and Development in the city's Behavioral Health and Justice-Related Services Unit; and being accepted into the Lawrie Advanced Global Leadership Program, an enhanced course of study within the Drexel LeBow MBA program.
Launched in 2018 by J. Michael Lawrie '77, chairman, president and CEO of DXC Technology, the Lawrie program is focused on the private equity industry and specifically, Lawrie's model for assessing the value of companies and organizations. O'Dwyer was the first student to apply Lawrie's model to a public-service setting.
In his work for the city, O'Dwyer is part of an initiative to reduce the incarceration rate of individuals with behavioral health issues and help get them the treatment they need. O'Dwyer says that these individuals are overincarcerated in Philadelphia; that is, they are overrepresented in the prison population compared to the rest of the city's population. Often due to either mental health or substance abuse issues, their behavior is frequently misunderstood by law enforcement and others in the justice system, resulting in their incarceration.
In applying to the Lawrie program, O'Dwyer was seeking an enhanced perspective to help make this goal a reality.
"[Lawrie's] model is all about how to strategically work within an organization to make a plan that's successful," he said. "You have to align assets, finances and the organization's culture, and that's entirely applicable to my unit."
Based on his performance in BUSN 715 Business Consulting Projects — in which O'Dwyer produced a feasibility study of co-living spaces for a Philadelphia real estate firm — as well as an application essay and interview, he and two classmates, Anastasia Jones and Garret Bullard, were selected as scholarship recipients for the Lawrie program. O'Dwyer was the first part-time MBA student to receive the scholarship,
"This program is incredibly powerful for all participants, including part-time students and those who work outside of finance, precisely because of its focus on integrating key MBA principles under a structured framework that businesses can use to assess and create value," said Teresa Harrison, professor of economics. During her time as LeBow's associate dean for academic affairs and programs, and now as Director of the Lawrie Program, she oversaw the selection of Lawrie fellows, including O'Dwyer.
"Mr. Lawrie's intent from the beginning has been to give our MBA students key insights into aligning strategy, assets and culture to maximize firm value and therefore, create a jump start into launching their careers. We are excited by the successes of the Lawrie program and its fellows thus far and look forward to seeing their careers move forward," Harrison said.
During the fall term, O'Dwyer and his classmates took part in a series of workshops led by Lawrie, several of his colleagues from DXC and other prominent executives. Lawrie shared his approach to valuing companies and assets, with wide-ranging contributions on strategy and alignment from his C-level associates.
"The Global Leadership program is designed to give students with expertise, passion and perseverance the opportunity to assume leadership roles early in their career," Lawrie said. "Mark had all of those qualities and was able to apply many of the learnings in the program to his success in the early stages of his career. I'm really pleased when I see a very capable student take the program's content to heart and drive a successful outcome."
In presenting his takeaways from the program, O'Dwyer applied Lawrie's framework to develop a strategic plan for his department to reduce the population of those with behavioral health issues in prison: identifying assets, culture and people; looking for changes needed to be more cost-effective; and planning to fund all components.
"For my department, our value isn't just monetary. Money plays a part, but the ultimate value of our equation is, how many people are we keeping out of jail?" O'Dwyer said. "The more people we can keep out of jail, using the least amount of resources, increases our value equation. I ask everyone in my unit: How can we do this in a way that is logical, efficient and provides the most value for taxpayers in Philadelphia? Because at the end of the day, when we invest in behavioral health, lives are changed, lives are saved, and more services are available for more people."
O'Dwyer graduated from the MBA program this summer and reflected on the new skills at his disposal, as he applies lessons from the Lawrie program and his other MBA courses in his day-to-day work.
"Participating in the Lawrie program has helped me with my confidence to handle challenges and take risks," he said. "I now understand the clinical side, the administrative side, the financial side, the program management side … I feel the sky's the limit in terms of what I want to do."