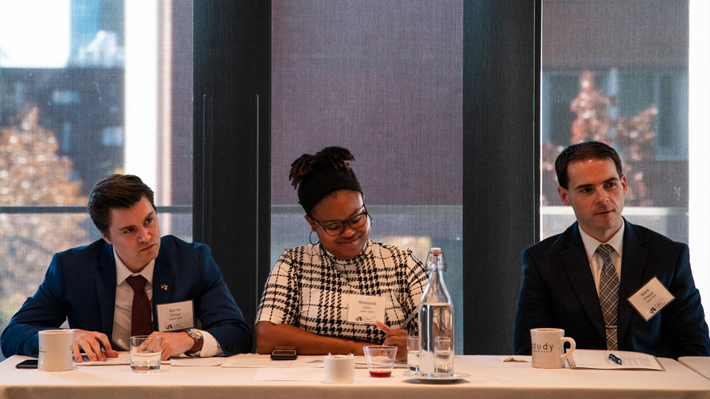 Creating Value Alongside C-Suite Leaders: LeBow Grad Students Gain Competitive Edge in Lawrie Advanced Global Leadership Program
Drexel Trustee and former CEO of DXC Technology J. Michael "Mike" Lawrie '77 has developed his own model for assessing the value of companies and industries. It's served him well across more than three decades of executive leadership in the technology sector, from IBM to DXC to his own consulting firm. In establishing the Lawrie Advanced Global Leadership Program at LeBow in 2018, he aimed to share this model with high-achieving Drexel LeBow MBA students as a way of supporting promising students with scholarship funding, super-charging their studies and placing them on a track toward leadership roles early in their careers.
In order to be considered for the program, interested students enroll in an in-depth consulting course to demonstrate their finance knowledge and overall business acumen. Scholarship recipients and other selected students then participate in a series of modules, through which Lawrie and a team of peer executives deliver lessons in strategy, finance and leadership. Charged with applying Lawrie's model to real-world business problems and to scenarios in their own careers, the students ultimately present their findings to their instructors and the wider LeBow community.
We asked several recent Lawrie program alumni to share their perspectives on the program and its impact on their careers.
Drexel LeBow: What led you to apply to the Lawrie program?
Cory Terzis, MBA '19, enterprise strategy & partnerships manager, 5G Labs, Verizon: It was clear to me that the program provided the opportunity to put into action what we were learning in the classroom. From strategic consulting coursework to panel discussions with Mike Lawrie and his team, the program participants were challenged to take leadership positions and deliver real-world results in live environments.
Anastasia Jones, MBA '20, assistant VP, project manager, Bank of America: I felt the program had a lot to offer in terms of networking, professional development and unique learning opportunities inside and outside of the classroom. Given LeBow's focus on experiential learning, I believed this would be a great opportunity to apply the coursework in meaningful ways.
Garret Bullard, MBA '20, associate, Adelphia Capital Partners: I wanted to maximize the value of my time in grad school, so when I heard about the Lawrie program, I jumped at the opportunity to learn more. After attending an information session and listening to former students speak about the consulting class, discussions with Mike Lawrie and his executive team, I knew it was an experience I couldn't pass up.
Christopher Stroup, MBA '19, financial advisor, Abacus Wealth Partners: I was attracted to the Lawrie program because it offered an opportunity to step out of my comfort zone and challenge myself while completing my MBA. My time at Drexel LeBow was marked by experimentation, and the Lawrie program offered to open new doors both while at LeBow and once my program ended. Having come to LeBow with professional experience as an engineer and with very little business experience, I knew the Lawrie program was going to help fill in professional gaps that would ultimately make me more marketable.
DL: How did your experience in the Lawrie program build on or complement your graduate studies?
Terzis: I didn't know it at the time, but the program prepared me for a unique understanding of boardroom management. The exposure and face time with Mike taught me what was important to a company's leadership, and how to make an impact that drives a company's bottom line. The program took me out of the classroom where my focus was on earning the best grade, and placed me in front of the C-Suite of a Fortune 500 company where I learned the strategies behind making difficult decisions.
Jones: I concentrated in Finance with the hopes of making a career pivot from financial accounting to client-facing roles in wealth management or investment banking. The Lawrie Program was such an impactful complement to my educational experience at LeBow. Through the Business Consulting class project, we researched co-living in Philadelphia for a real estate private equity client, analyzing the problem, collecting data and proposing solutions. We were actually tackling a real-world issue, which is something I leverage in my professional life today.
Bullard: As someone who was making a career transition, I relied on my classes to help build my knowledge of general business principles like accounting, finance, marketing and economics. I found that the Lawrie program helped bring that knowledge together and allowed me to apply those business fundamentals in a real-world setting while getting constant feedback from professors as well as advice from Mike and his team. Executing on business strategy and applying the Lawrie value creation method, working in teams, and presenting to the client, faculty and other students prepared me to enter the business world with experience, knowledge and confidence.
Stroup: It was the experiential component and dynamic engagement of the Lawrie program that complemented most of my MBA studies. Whether it was during one of the program residencies or coursework, there was a large emphasis on application in real-world settings. I appreciated this element of the program because it forced us to navigate the boundary where academic theory breaks down and the realities of a real-world setting come into focus.
DL: What parts of the program did you enjoy most or find most rewarding?
Terzis: The most rewarding aspect was the candid conversations we had with Mike, where he would share pearls of career advice and stories about how he turned small failures into success. He would unapologetically tell you that not everyone is made to be a CEO, and I feel that his unfiltered responses are crucial to learning more about yourself.
Jones: Outside of the courses, being able to learn and have conversations with industry leaders was invaluable. We received great advice on growing your career, building effective teams and networking. I also really enjoyed the International Business Residency in Peru. We had the opportunity to work on business problems for Unilever – Peru in collaboration with the company's CFO and COO. This was another example of real-world application, gaining unique learning experiences and forming bonds with our peers and professors.
Bullard: For me, the consulting class was the most rewarding portion, because it provided a healthy competition with my fellow classmates as well as opportunity to work with a diverse group of personalities from different backgrounds on executing on a business strategy.
Stroup: I really enjoyed having the opportunity to form relationships with the C-suite level professionals who led many of our residency sessions. Even though my time as a student in the Lawrie program has ended, many of those relationships still carry on today. For example, Will Forrest, senior partner at McKinsey & Company, and I still connect whenever he finds himself out in Southern California. It was this human-centric philosophy of the program that continues to pay dividends today.
DL: Having taken part in the Lawrie program, how do you view your career or your plans for the future differently?
Terzis: I wouldn't say my plans have changed, but rather my perspective has changed: I'm able to see a pathway into an executive seat thanks to my experiences from the program.
Jones: By participating in the Lawrie program, I understand that career growth isn't always linear and that each opportunity can be leveraged for long-term goals. Constantly building your skillset, knowledge and network can open doors for you in the future that may otherwise be unavailable.
Bullard: The Lawrie program helped me discover what aspects of finance I enjoyed and what avenues were open to me, such as corporate finance and private equity. I liked the analytical decision-making and qualitative strategy and challenge that I was exposed to as we prepared our solutions for a client in private equity. In my day-to-day, I'm evaluating whether an investment is a good fit, and the Lawrie model helps me to determine how to create value. As far as my plans for the future, it narrowed my focus in the finance field, gave me a model for value creation and filled me with a lot of confidence to succeed in a challenging field.
Stroup: The beauty of the Lawrie program was the collective wisdom and life experience the C-Level professionals shared with us. Some of the most valuable sessions were those where they reflected on stories from their careers. Rather than having to work two decades to learn this lesson, we were able to use their triumphs and setbacks to help accelerate growth in our own careers.
DL: What elements of Lawrie's model are you looking to apply in your career or in your day-to-day work?
Terzis: I now know to read between the lines when listening to the vision of upper management. I also have confidence and skill in my communications with upper management, and know that what really matters in building a career is producing and owning positive outcomes.
Jones: Lawrie emphasized that a firm's assets include its people and that relationships are extremely important in conducting business. I am intentional about how I treat people that I work with from junior team members to senior executives. Being kind and respectful and appreciative of others' skills, abilities and time are important for me. You get the most and best out of others when they feel appreciated regardless of title or position.
Bullard: I use the Lawrie model indirectly almost every day. Whether I'm contributing to a strategic thinking session or assessing add-on acquisitions, I constantly reference Mike's value-creation model. I find that having a formula makes abstract and seemingly insurmountable business problems very manageable. Having Mike's model in my business tool kit has been invaluable during my time as a private equity associate.
Stroup: I often find myself applying elements of the Lawrie model during my work as a wealth advisor. Whether I'm developing a strategy to serve as the north star to grow my practice, ensuring I have the appropriate assets to enable a seamless advisor-client relationship, or putting the right team of professionals in place to serve the holistic needs of the client, the Lawrie program has allowed me to hone my entrepreneurial mindset to accelerate the growth of my business.
DL: What should current or prospective LeBow graduate students know about the program, and why do you think they should consider applying to take part?
Terzis: This program is unique to LeBow. I don't know of any other program that allows a student to bounce questions off of an active CEO in multiple lectures, while designing courses that are tailor-made for young leaders. This experience is one that will stay with me throughout my career.
Jones: The program is what you make it; lean into it and maximize it for what you want and need for your career. Whether you have a finance concentration or not, the program provides lessons and guidance that can be transferred across industries and disciplines. Learn from the program leaders and your peers and lean on them as support on your journey to fulfill your career aspirations. I encourage students to apply if they're looking for a holistic experience that brings together coursework and professional development and how this applies to work, life and beyond.
Bullard: Prospective students should know that, if they fully apply themselves, this program can be a transformative experience because it provides the opportunity to have a dialogue with executives that are normally inaccessible and open the door to positions in investment banking, private equity or consulting. I would certainly not be in the position I am now without the Lawrie program and would not be as well equipped for success without it. If you want to prove to yourself that you can be successful in high-pressure business situations, gain experience from industry executives and open additional doors to help further your career you should consider participating in the Lawrie program.
Stroup: Current students should know that the Lawrie program can help take their LeBow experience to the next level. Whether it was the experiential coursework, dynamic engagement with the professional titans the program partners with, or understanding how to focus my entrepreneurial mindset, it accelerated my professional growth so that I could hit the ground running once my time at LeBow ended. I now look back at my time as an inaugural participant in the Lawrie program and think how incredible it was to have that as a cornerstone of my Drexel LeBow MBA experience.