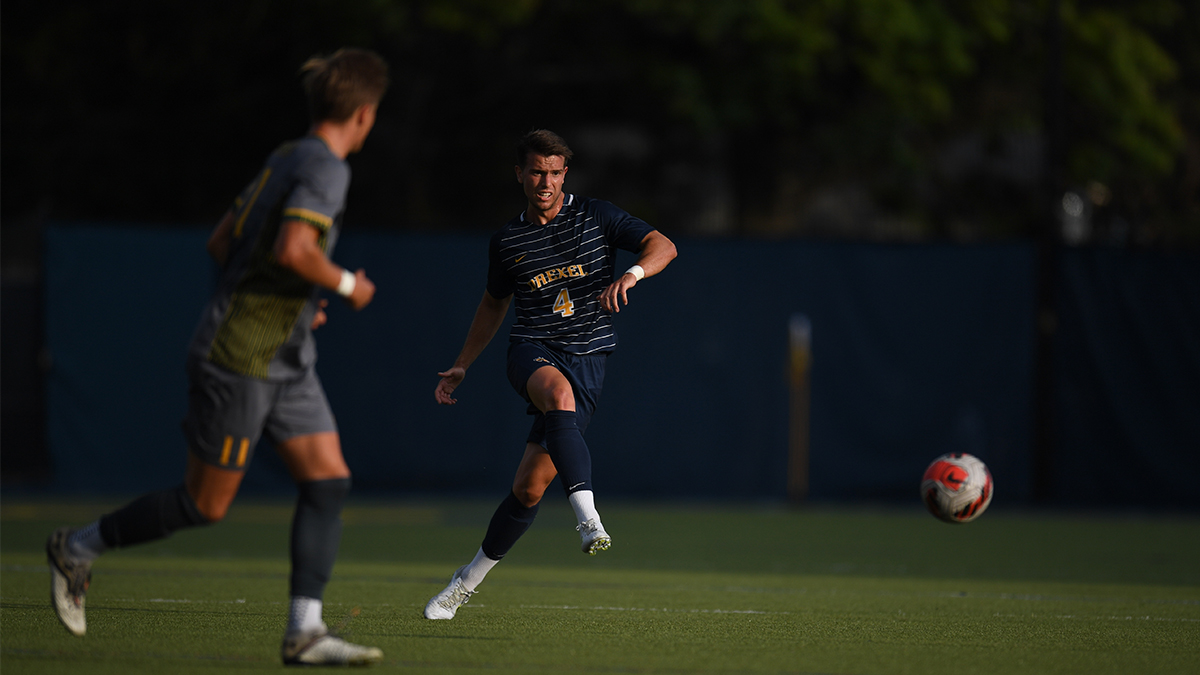 MBA Student Makes the Most of an International Opportunity
A summer internship is standard for LeBow MBA students, with several months to apply business skills at a higher level outside the classroom.
Looking to expand on his first year of studies and accelerate his growth, Daniel Nesseler '23 stacked up two part-time summer internships. By August, when his training with the Drexel men's soccer team started again, he was balancing both internships, twice-daily practices and weekly matches.
For this native of Leverkusen, Germany, former professional soccer player and graduate of the German Sport University in Cologne, it was certainly a challenge, but one that he looks back on as critically important to his development.
"I thought, now that I'm here in the U.S., I have to take the chance to get as much experience as possible."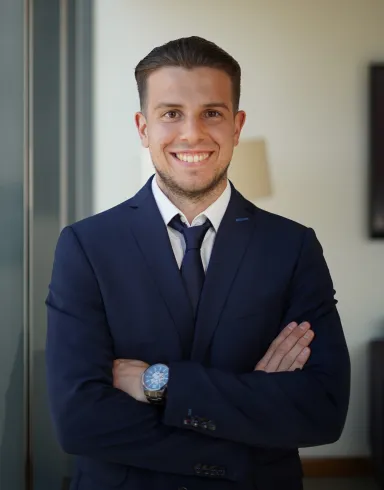 Daniel Nesseler '23, LeBow MBA student and Drexel student-athlete
Nesseler was drawn to Drexel by its combination of academic and athletic strengths. With the support of a talent management agency in Germany, he looked at numerous universities with NCAA Division I soccer programs.
"I played in the highest youth level, and for the national team as well," he said. "That allowed me to talk to some of the top universities."
After weighing all the pros and cons of each school and program, he ultimately chose Drexel because of the strength of the MBA program.
"I'm coming from a sports management background, and throughout my undergraduate program I got more interested in finance, both in sports and in general, as well as business management," he said. "LeBow beat out every other program from the other universities I was looking at."
His soccer background came into play with one of his two internships: working in operations with Major League Soccer's Philadelphia Union, contributing insights to the team's youth training academy, recognized nationally as one of the best in MLS, and to their second team, Union II, which competes in the MLS Next Pro league. His second internship, as an analyst with private equity firm Adelphi Capital Partners, was part of his fellowship in the Lawrie Advanced Global Leadership program, organized by LeBow's Dornsife Office for Experiential Learning.
The world of private equity came onto Nesseler's radar through a graduate Business Consulting course, a prerequisite to being selected for the Lawrie program, taught by George Francis Professor of Finance and Dean Emeritus George Tsetsekos, PhD.
"It was very realistic and very practical," he said. "We dove into industry research on private equity, venture capital, accounting and other services for firms going public."
Excitement from that initial exposure has carried over into Nesseler's work in the Lawrie program, with sessions learning from Drexel Trustee and former CEO of DXC J. Michael Lawrie, MBA '77 and his team of C-suite level colleagues — an experience, only open to Lawrie fellows, that he calls "the biggest benefit of the MBA program so far."
His internship with Philadelphia Union came about through maintaining his international network of contacts: a professor from his undergraduate studies in Germany connected him with Union's sporting director, Ernst Tanner, another German native, who met Nesseler and outlined some opportunities on the operations and finance side of the club.
In collaboration with Ryan Sanders, team administrator for the academy and Union II, and the rest of the operations team, Nesseler assisted in planning a trip for the U-15 team to Austria and with organizing a tournament for the academy's U-15 and U-17 teams, at Subaru Park, the Union's home stadium in Chester.
"The interest in soccer in the U.S. is growing, and the Union want to establish themselves as the top academy," Nessler said. "Their whole model is based on developing youth talent and then either making it to the first team or sending them to other clubs, which is very sustainable compared with other teams."
His internship with Adelphi was perhaps even more valuable: exploring pure finance and private equity in greater depth and working closely with two LeBow alumni: founder and managing partner Joe May '82 and associate Garrett Bullard, MBA '20.
Nessler even found that the dual internships reinforced and supported one another; in particular, Excel skills honed on the job at Adelphi came into play at the Union as he devised a budgeting and cost calculating model for the Union that takes into account events, tournaments and road trips for regular season games.
"I'm always a fan of getting practical experience through an internship, and in Germany, in particular, it's highly valued," he said.
The remainder of Nesseler's MBA studies look to be nearly as busy as his summer: building his skills in finance through courses in business valuation and financial statement analysis, applying knowledge from the Lawrie program to a high-level business topic, manning the defensive backfield for Drexel men's soccer, and looking to the next stage of his career through positions in both the U.S. and Germany.
"I know that if you want to have a position when you graduate, you have to start now," he said. "My goal is to finish both my last soccer season with the Dragons and the MBA program as strong as possible."