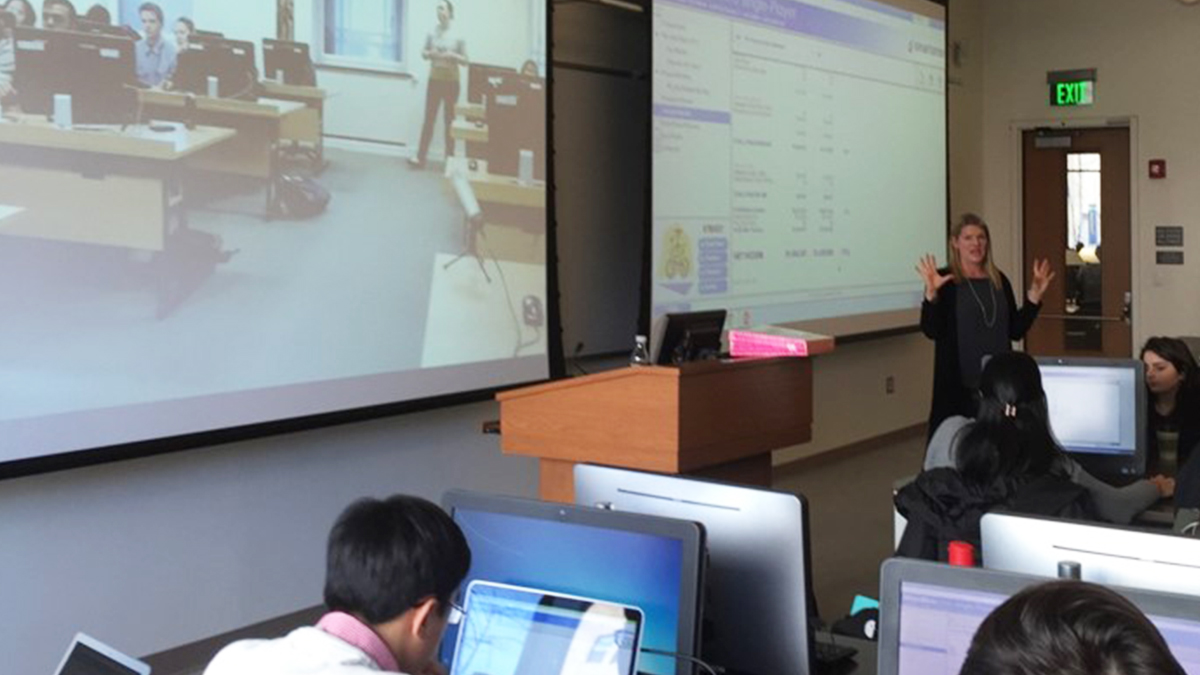 Cutting-Edge Technology and International Connections Lead to Classroom Innovations
During spring term 2023, LeBow's Center for Innovation in Teaching and Learning announced the recipients of its Innovation in Teaching awards.
"It's exciting to hear about great new ideas being implemented in courses at LeBow," says Stacy Kline, CPA, assistant dean for teaching and learning. "Innovations in our courses, our curricula and the way we teach are critical to maintaining a competitive edge and positioning our students for success in a rapidly-changing business world
The honored faculty members, who received a $500 prize along with the award, provided their insights on the courses for which they were recognized and the novel approaches they took in providing valuable skills to LeBow students.
Building In-Demand Skills
Orakwue Arinze, PhD, clinical professor of decision sciences and MIS, dug into a trending IT-based topic, offering undergraduate students the chance to gain hands-on experience in cloud computing.
"I introduced an Enterprise Cloud Computing class using Amazon Web Services (MIS T380) into the Decision Sciences undergraduate curriculum and taught it for the first time in winter quarter of 2022-23. This course introduced students to hands-on cloud computing, enabling them to gain practical skills and understanding of this revolutionary and transformational paradigm for IT deployment and use. According to Indeed.com, cloud computing jobs have the third highest demand in IT, with salaries for cloud engineers at $133,114 on average, and Gartner has forecast worldwide end-user spending on public cloud services to grow 20.7% to $591.8 billion this year, up from $490.3 billion in 2022, so the scale and opportunities are truly huge.
"This content, together with hands-on use of cloud computing and an understanding of how to participate and inform cloud computing deployments in organizations, is both new and novel. Part of the pedagogy enables students to set up real organizations, computing, data, networking and software — not simulations, but actual computing resources in the cloud. This had never been done before at LeBow or at Drexel.
"Drexel prides itself on experiential learning, and this course is exemplary in pursuing this pedagogy. A strong experiential cloud-computing program will be incredibly visual within our region, with only one other university in the area offering a similar course. The course will equip our students with very marketable skills, and potentially AWS certifications, that will improve their value with employers."
Deepening Global Ties and Impact
Dana D'Angelo, MBA, clinical professor of general business, and Jodi Cataline, MBA, clinical professor of general business have led LeBow's Global Classroom initiative for the past 10 years, and the 2022-23 academic year brought both a new partner and a new area of focus to the students' experience.
"During winter term 2023, for the two sections of BUSN 102 that were designated as Global Classrooms, we worked with a new partner, Judith Ford from Amsterdam University of Applied Sciences. Together, we developed a new Global Classroom project: a multi-week project in which students examine various UN Sustainable Development Goals, part of the Principles for Responsible Management Education, to which LeBow is a signatory, and how the goals are applied to or focused on the communities around both institutions in the cities of Philadelphia and Amsterdam.
"Students looked at issues, stakeholders, best practices from organizations and people through secondary research and conducted primary research by visiting sites and talking with both experts and community members. They then discussed findings and shared content with peers at AUAS, and then both groups of students collaboratively presented, across two time zones, about their shared learning experiences.
"Although Jodi and I had collectively developed and run more than 50 Global Classroom projects with partners around the globe over the past decade, this is a new approach for the topic for first-year students. The idea was derived from discussions with our global partners, as well as from a further understanding of the importance of LeBow's PRME report under Assistant Dean of DEI and Sustainability Trina Larsen Andras, PhD. This project should be able to meet current PRME goals as well.
"Through this experience, first-year students are being exposed to the Sustainable Development Goals in depth, using experiential learning to further their knowledge and potentially being influenced to become further involved in global citizenship. Global Engagement is a strategic goal and priority at both the college and university level, and Global Classroom experiences during students' first year lead to higher engagement and also impact retention."