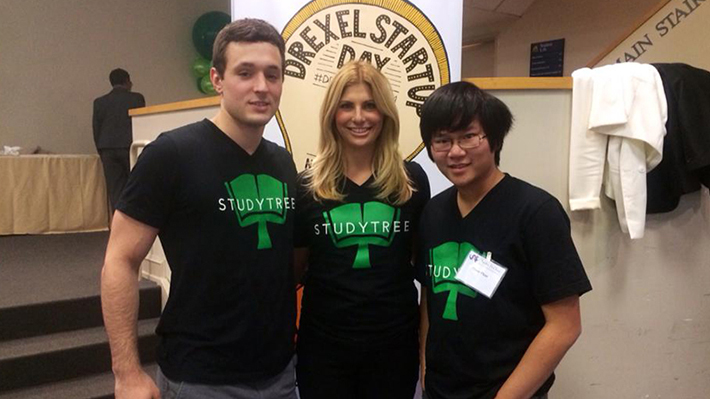 Drexel's StudyTree Reaches Microsoft Imagine Cup U.S. Finals
BY FRANK OTTO
A team of Drexel entrepreneurs has taken its peer tutoring app all the way to the U.S. finals of the Microsoft Imagine Cup, an annual technology competition for college and high school students.
Robyn Freedman, Ethan Keiser and Phuoc Phan took the StudyTree app all the way from Drexel's Baiada Institute for Entrepreneurship to the last national round of the Imagine Cup in San Francisco.
After Thursday's competition, it could be on to the international stage for StudyTree.
"Being one of only four teams chosen for the Imagine Cup U.S. finals, Innovation track, has been so inspiring an experience, and we're not even there yet," said Freedman, a senior marketing and finance major at Drexel LeBow.
StudyTree is a tutor "on demand" app, connecting peers on college campuses. It allows for easy transactions for student-to-student tutoring sessions and also provides a platform to allow universities to better track their tutors.
"We launched our initial minimal viable product in early February. Since then, we've received a lot of feedback from our users, which helps cultivate StudyTree," said Keiser. "We're releasing new updates that make it easier to use and has more awesome features."
The StudyTree team is one of four finalists in the Innovation track of the competition. Eight teams in two other categories, World Citizenship and Games, are also competing to win their categories and move on to the world level.
The winning team in each category receives $4,000, and the winner at the world level will be awarded $50,000.
In the U.S. finals, the StudyTree team will pitch its product to a group of judges well-versed in technology advancement: Tania Rojas, the product manager for GoDaddy; Adeo Ressi, the CEO and founder of the Founder Institute; and Larry Orecklin, the vice president of developer evangelism for Microsoft United States.
Each group has five minutes to pitch to the judges, and then the judges ask questions for another five minutes.
Those interested in watching how the Drexel students fare can watch by registering here. The competition will run from 4:55–8:40 p.m. EST (1:55–4:40 p.m. PST).
It seems like a high-pressure situation, but Keiser feels the judging process is a learning experience.
"While we can practice in front of our friends, nothing is more valuable than pitching to a live audience and a panel of industry-leading judging," he said. "The experience Microsoft offers is a once-in-a-lifetime opportunity."
Whatever happens, though, Freedman, Keiser and Phan are already looking to the future of their venture.
"We've been preparing our demo, expo table, pitch and ensuring our app and website are ready for the traffic we're anticipating," Freedman said. "The experience is invaluable as we enter the next stage for StudyTree, which includes expanding to new universities and seeking funding."