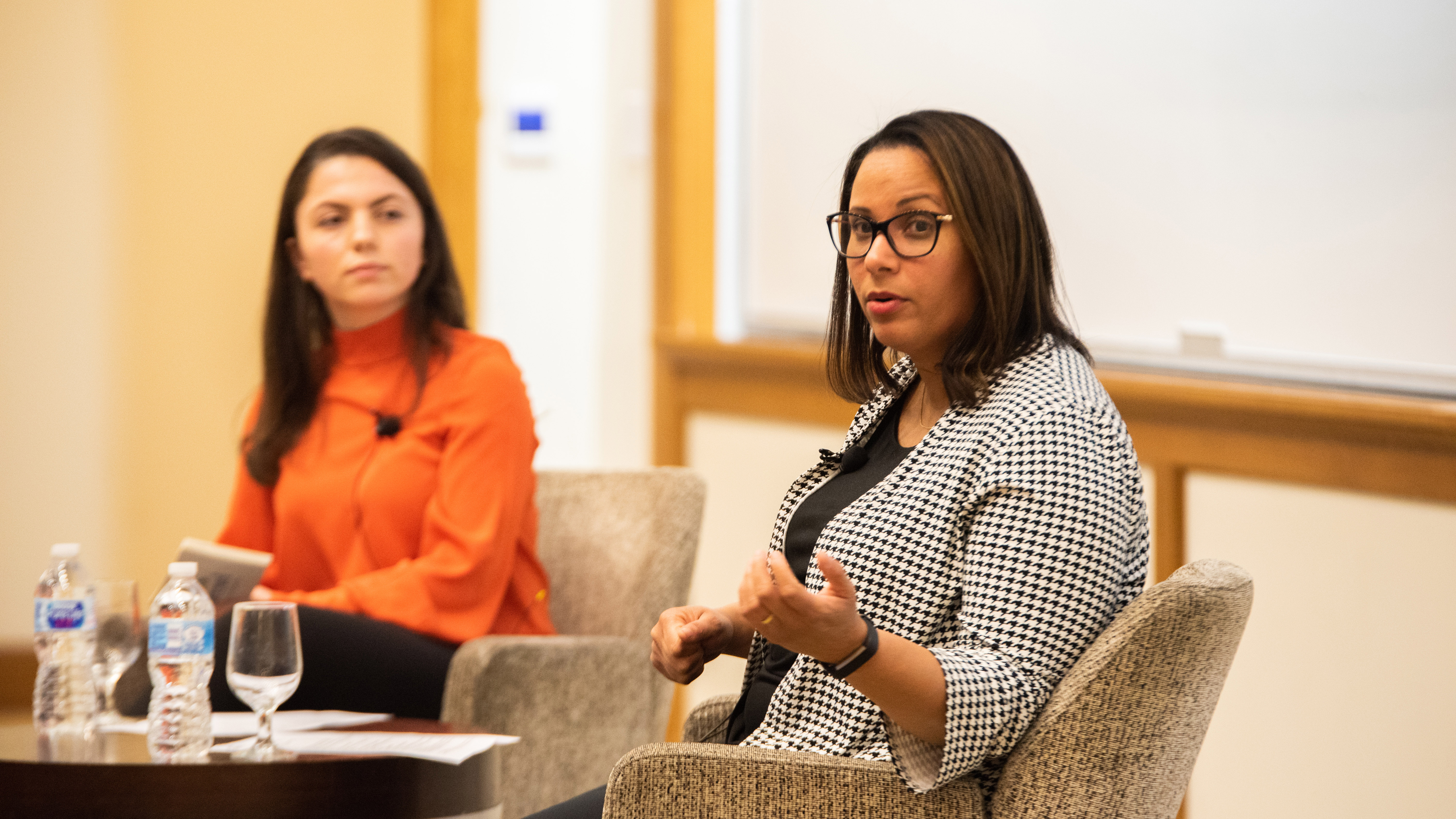 Drexel Women in Business Presents Fall Tea With SAP's Jewell Parkinson
Jewell Parkinson, head of human resources of SAP North America, Latin America and Asia Pacific Japan, spoke with Drexel Women in Business (DWIB) about her successes in her 21-year career at SAP, LeBow's corporate partner of the month for October 2018. She was interviewed by Mirela Hima, accounting and marketing double major and current vice president of DWIB.
Parkinson says she fell in love with psychology during college, and that's what led her into internships in human resources. "Understanding people and human motivation lines up very well with this line of work," she says.
Parkinson just celebrated 21 years at SAP, which she points out is "pretty rare these days, but over the years I've worked in support of many departments, roles that have been more locally focused, and now I have a more global footprint." She says it feels like she's had multiple experiences within one company.
Asked why she's stayed with SAP for so long, she cites a number of reasons. "First, the culture. It's very innovative and inclusive. I always feel respected as a person. I enjoy the people I work with, and I respect the purpose of why SAP exists, which is improving people's lives through technology. This company provides me with many things that matter to me, such as good pay, good promotion opportunities, and people who believe in me."
Asked for advice on how to move up within a company, she suggests volunteering to participate in different projects at work. "This helps you to build-up different skills and experiences and translate them into new roles and opportunities. Once you feel really comfortable, that's an indication that it's a good time to move on to something else. Feeling a little uncomfortable, you know, like a little bit of butterflies, is a good sign that you are pushing yourself."
She also recommends being clear and articulate about your career ambitions. "People can't read your mind," Parkinson says. "If you don't speak up, they may be more comfortable leaving you to the role you have and move onto someone who's more vocal about their ambitions."
What qualities does she look for in a new hire? "Work ethic. A can-do attitude. An innovative mindset. Agility, openness to learning new things, because things are changing faster and faster every day. Today is the slowest day that things will ever change, because tomorrow is going to change even faster."
She says she often reassures students who ask about technology and the future of work: Will AI and IoT replace the need for people? "Machines can do a lot," she says. "But there are certain things machines can't replace, such as grit, emotional intelligence, and having a vision and planning for that vision. The future is really bright not in spite of technology, but thanks to technology. There's going to be a lot of work for you, as long as you're willing to keep on learning."
What's the best advice she's ever received? "Don't sweat the small stuff, and don't let perfect be the enemy of good."