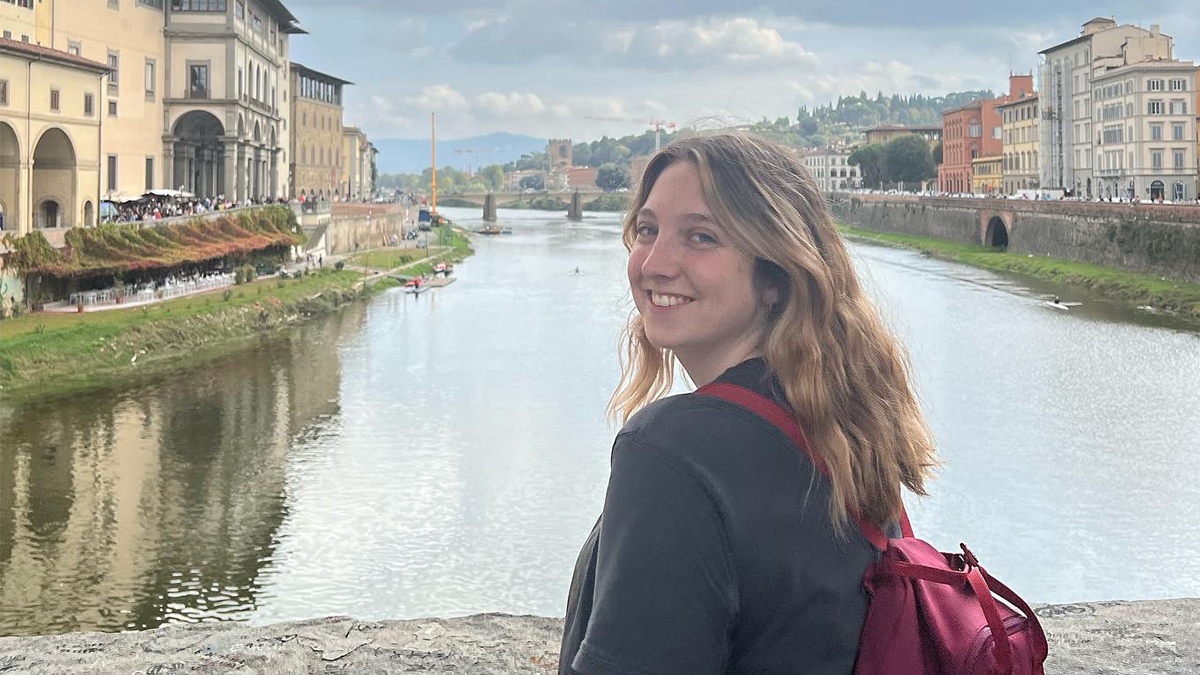 Exploring Economics for Its Real-World Impact
Like many Gen Z students, Nora Mitchell developed a passion for social causes from a young age. In choosing economics as her major, she's set out to gain both big-picture knowledge about the problems in society and the insight to work on addressing them.
A junior originally from Rye, New Hampshire, Mitchell developed an interest in history, politics and social justice during high school and, after performing well in a statistics class, began to see mathematics as an unexpected area of strength.
"I wanted a major that combined those things," she says. "I was interested in law at the time, and I still am, so I wanted something that allowed me to explore all the things I'm interested in.
"Economics is a very versatile major, and the BA in economics program has given me more space to take liberal arts classes in history and sociology."
In her studies, Mitchell has been drawn to the big-picture ideas of macroeconomics and the demonstrations of real-world impact explored in public finance, an area she explored through a course in Dublin while spending fall term abroad.
"In the U.S., we measure growth in GDP, but in Ireland they like to measure growth with a modified version of Gross National Income (GNI*)," she says. "It's a better way to measure their economy based on how globalization has affected Ireland."
Her study-abroad experience reinforced a deep interest in exploring governments' role in improving people's lives and in understanding the root causes of social problems.
"If you want to have a full understanding of why things are the way they are and why they aren't getting fixed, we need to look at how money is involved with different parts of society: how resources are being dispersed, how much people are being paid, how taxes are imposed," she says. "Those are all economic issues, and everything, including political issues, really comes down to money."
Her interest in these topics has been spurred by courses in sociology, which she declared as a minor after taking Sociology 101 in the College of Arts and Sciences during her first year at Drexel.
"Most of the sociology classes I've taken are centered on, or at least bring up, economics, particularly economic inequality and how it's come to be. I think it's so important to look at those connections and that there needs to be more people who go into economics with these issues in mind."
Mitchell sees the two areas as naturally complementary, and cites courses from the School of Economics, including Macroeconomics (ECON 321), which she took with PhD alumna Ina Hajdini, and Game Theory and Applications (ECON 250), which she took with Professor of Economics Roger McCain, PhD, as influential in her thinking.
Her interest in law, on the other hand, has continued to deepen through her involvement in Drexel's Biddle Law Society and through on-the-job activities at her first co-op assignment in Drexel's Compliance and Privacy department.
Then, through a co-op position at the Foundation for Individual Rights and Expression (FIRE), a nonprofit organization that provides educational resources and legal assistance to cases involving the first amendment, some new connections began to form.
"At FIRE, there are people who are of all different political ideologies because they defend people who are of all different ideologies," she says. "There are some cases they've defended that I personally wouldn't have agreed with. That was really great learning experience, because that's how life is, and if you're a lawyer, you're going to have to be able to see both sides of a situation.
"I've always been very firm in my opinions, especially my political ones, and my experience at FIRE really helped me to be more open as a person."
Her time on co-op also coincided with an expansion of FIRE's mission and a name change from the Foundation for Individual Rights in Education.
"They originally just did cases defending students and faculty, but they have expanded to any First Amendment case," she says. "I really enjoyed working for an organization that I felt was making an impact and that has a great social cause."
As a program assistant, Mitchell and another co-op spent time working across numerous areas of the organization, including development, donor research and event coordination. She'll explore development and fundraising in greater depth through a position as a development assistant for her third co-op in 2023.
While working in the nonprofit sector had appealed to her for some time, it's one of many paths open to students at LeBow and the School of Economics.
"Coming into Drexel, I saw a lot of people majoring in economics in order to go into finance and work in banking or private wealth management, and I thought that was what I was supposed to do," she says. "I came to realize there were so many opportunities in economics that I had to not be afraid to do something different from everyone else.
"When I was doing my college search, I wanted a school that felt like it was keeping up with the times and putting current issues at the forefront of education. Through co-op and the other experiences I've had, I really think Drexel is a school like that."