Following Giraffes' Lead
Hubert Glover learned to read by age 3, and by the end of ninth grade had completed geometry, advanced algebra and high school chemistry and biology.
But from his home in Elmira, N.Y., Glover applied to only one college, the University of Southern California. He did so solely on the recommendation of his childhood hero, a comedian who extolled the strengths of USC's cinema and journalism programs on his hit television show.
He graduated with a degree in broadcast journalism, but along the way decided that accounting – "telling stories through numbers" – was more to his liking than being a wordsmith. An MBA (Clark Atlanta University) and a Ph.D. (Texas A&M) in accounting followed.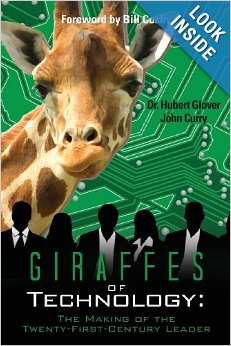 ### Giraffes as Leaders
But the writing bug never disappeared. Which is why this associate clinical professor of accounting and co-author John Curry recently published the book "Giraffes of Technology: The Making of the 21st Century Leader." The book has a cover blurb from Tommy Hilfiger, himself an Elmira native.
Throughout his career, Glover kept asking himself "what makes an organization not only survive but also thrive?" He never found a "neat and tidy answer." But during his years in Atlanta, where Glover oversaw more than 200 people in North America and Europe as CEO of a PwC subsidiary, Glover noticed the predominance of giraffes in paintings, sculptures and even flea markets.
He attributed the giraffes' prevalence to Atlanta's thriving African-American community and the herbivore's role as a symbol of Africa.
Glover writes: "As I became enamored with the giraffe in Atlanta, I toyed with a unique comparison; in the natural world, giraffes have physical traits, habits, and social behavior that are comparable to those of leaders I'd admired in business, government, education, and sports."
For example: Giraffes have "the ability to see further down the plains than most with a keen focus on long-term … problems."
They are "gentle giants" whose leadership style "engages rather than dispirits the herd." As infants, they struggle to rise after the dramatic fall of a violent birth, similar to the early path of many new businesses. By moving forward to feed, giraffes represent "the art of creating much more freedom in work settings to generate creative ideas that help employees adapt to ongoing, messy change."
According to Glover, giraffes understand that the "lions of change endlessly attack… static work environments," and they can blend into new herds similar to bringing diverse groups of people together to deal with complex problems.
Glover concludes: "Giraffes move in and out of herds, forming and reforming into diverse groups without fighting, without interruption of their life-sustaining grazing on the open plans of Africa. Unlike other animals (including humans), giraffes exist without a dominant, ongoing single leader; yet when there's a need for a leader to rise and send out warning signs, the herd accepts any member to risk the momentary role."