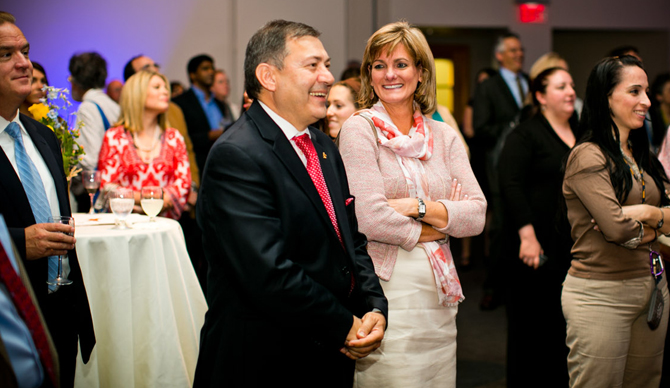 Hundreds Gather in True LeBow Style to Thank Dean Tsetsekos for 10 Years of Service
A packed house of LeBow College faculty, staff and alumni, as well as representatives from the larger Drexel community convened in Behrakis Hall on Wednesday to celebrate George P. Tsetsekos' 10 years as dean.
 
Emceed by Vice Dean Frank Linnehan, Ph.D., who will officially assume his role as interim dean on September 1, the event featured a retrospective video documenting Tsetsekos' decade of service, followed by a heartfelt speech by Kathleen Chimicles '83, president and CEO of GlenDevon Group.
 
A roast of Tsetsekos followed, during which Michael Gombola, Ph.D., department head and professor of finance, Anthony Curatola, Ph.D., '75, Joseph F. Ford Professor of Accounting, and Anna Chrulkiewicz '97, '02, associate dean (with the help of Associate Director Kevin Montgomery '07) took some kindhearted jabs at a man known both for his benevolent and demanding nature.
 
According to Gombola, Tsetsekos was renowned for using the phrase "You're killing me" during faculty meetings. "Well," Gombola said. "He's still here."
 
Throughout the ceremony, during which the dean sat on a stilted throne beneath a placard bearing the likeness of Zeus, Tsetsekos was presented with gifts, including a Flyers jersey, a signed photo from the Phillie Phanatic, a photo album from the Department of Communications and a Lucite gift from LeBow College faculty. In addition, Tsetsekos received an official proclamation from Philadelphia Mayor Michael Nutter.
 
Flanked by two Grecian busts, Dean Tsetsekos closed the ceremony by thanking the Drexel community, LeBow College faculty, staff, students and alumni, as well as his wife, Niki, and family.
 
If the rapturous applause that followed was any indication, Dean George P. Tsetsekos will be sorely missed.