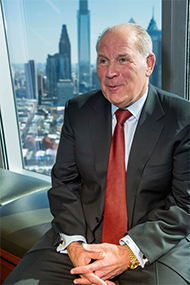 Ira Lubert Shares Top 5 Priorities for Business Success
Nearly 400 people attended the Feb. 27 luncheon at which Ira M. Lubert received Drexel LeBow's Business Leader of the Year award. Lubert, co-founder of Independence Capital Partners, a family of private equity and real estate investment funds, shared with the audience his Top 5 priorities to being successful in business.
One: Be a great listener. You can't learn much when you're talking. When I take over a troubled company, the first thing I do is listen to the employees, not the owners. I promise you there's somebody in that company who knows what went wrong.
Two: Learn to become a great loser. That's the only way you can become a good winner.
Three: Anybody with money can be an investor. Make sure you take smart money. Look to partner with what I call "best of breed people" – people who have demonstrated success on a consistent basis throughout their lives. My business model allows these "best of breed people" to own a majority of their businesses, because I am very comfortable with a meaningful but minority piece of the investment. Among my partners' positive traits they must have these four, the four that I call "Jacks or Better." They must be honest, ethical, committed and capable. Over the years, I have deviated from this principle on a couple of occasions and the result has always been disappointing and stressful.
Four: Cover your downside. Make money when you invest in something, instead of hoping you'll make money when you sell.
And Five: I've learned over the years that "Knowledge is Power." Whatever the task is, learn all you can about it. Study all of the issues.
"These are the five lessons that have worked well for me over the years. And even then, I needed a lot of luck. There are thousands of hard-working people somewhere in the world who could have been me but didn't have the same breaks I did."