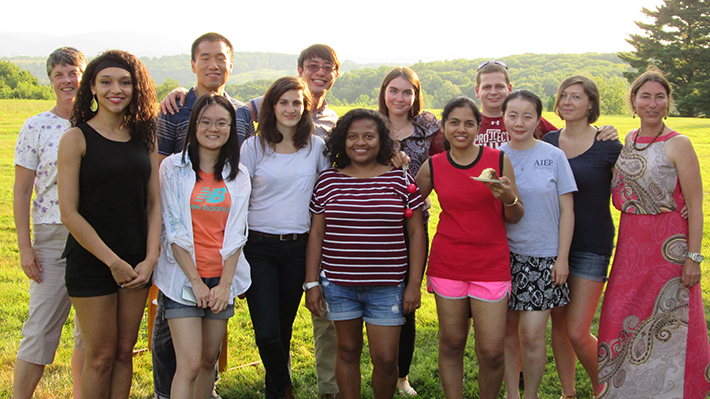 MS Econ Students Complete Summer Fellowship Program
MS Economics students Di Wang and Kristopher Cramer spent their summers completing the prestigious American Institute for Economic Research (AIER) Summer Fellowship Practicum Program.
The Practicum focuses on enhancing Fellows' understanding of economic concepts, theories and real-world applications, and provides an opportunity to develop research, writing and presentation skills. The students work closely with the faculty of the program during their seven-week stay in the Massachusetts-based facility.
Wang's project focused on building a portfolio rebalancing model for the investment advisors who work for Portfolio Advisor Services – a for-profit subsidiary of AIER.
He focused on determining an optimal strategy – balancing frequency, risk, co-efficient models and threshold/rebalance for a fund worth $700M.
Wang, who also holds an MS in leadership from Northeastern, says: "The experence was really great. We had lots of opportunities to talk to advisors and senior researchers and get their opinions, and to exchange ideas with other graduate and PhD students."
He emphasizes that his fellowship advisor, research fellow Luke Delorme, taught him a lot. "I learned how to build a finance investment portfolio model in Excel; how to present findings to clients/potential customers; and how to modify a model based on feedback. Most importantly, I learned there is only so much you can interpret from data. The most important thing is how to present your findings to your client to sell your investment strategy. The best way to do this is to tell them a story, not just show them the data."
Cramer's fellowship at AIER concentrated in a much different area than Wang's. He spent his summer looking at what methods are currently being used to teach economics. He says it's widely acknowledged that economics tends to be lacking in new teaching methods, and there is "not a lot of active learning."
"In economics, there's a lot of chalk talk, as we call it. Now, there's a push to move beyond that and do some different things, such as using mnemonic devices or finding entertainment examples of economics concepts into the classroom."
His project required a lot of review of research literature, in both economics and education. He also looked at examples of how economics is taught globally. Cramer hopes to work in the public sector at some point, and plans to earn a PhD in economics.
His advisor was Natalia Smirnova, a senior research fellow and director of education at AIER (she's coming to Drexel for a Econ career panel at LeBow Oct. 15.)
"It was an awesome experience, especially considering the connections I made with my advisor and all of the talented fellows. I learned a lot, and the experience reinforced my love for conducting research"
Established in 1933, the American Institute for Economic Research is well known for its Everyday Price Index (EPI), which includes the price of food, gasoline, utilities and personal care products and is an extension of a subset of the more commonly used Consumer Price Index (CPI).
This program is ranked among the top 10 summer fellowships available for graduate students, this program allows students and recent graduates to work in an economic research-based environment per the Institute's mission.
Photo: The AIER 2015 Summer Fellows. Wang and Cramer appear third and fifth in the back row, respectively.