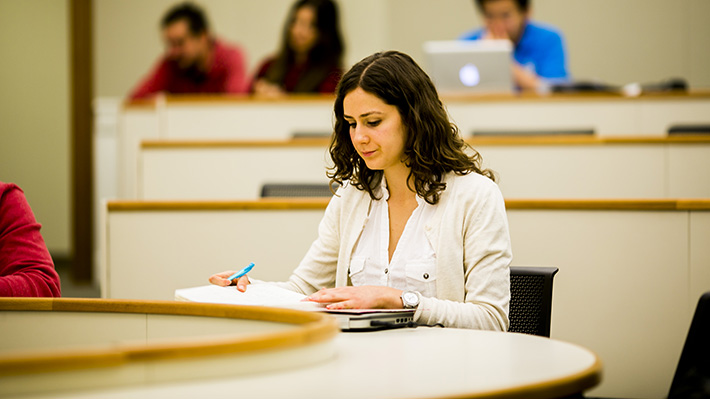 Student's Research Sheds Light on Apple's Privacy Stance
Apple is making news as the company has refused to cooperate with a judge's order to help the FBI unlock an iPhone used by the perpetrators of the San Bernardino terrorist attacks. The company's position, laid out in a letter by CEO Tim Cook, is that creating a back door through iPhone security would ultimately endanger the privacy of millions of iPhone users. It's a precedent, they believe, that shouldn't be set.
The topic is of special interest to Drexel LeBow pre-junior Irina Nedelcu. In the summer after her freshman year, she conducted research through the STAR Scholars program that looked at the differing mindsets of Android and iOS users in relation to cybersecurity. "iOS users believe that their phone is protecting them for cybercrime and they don't need to take any other actions. They feel that their privacy is valued by having this type of operating system," she explains.
She suspects that consumers' belief in the superior security of an iOS device could be a factor in Apple's refusal to unlock the phone. "Apple knows that their competitive advantage is the high security that they have on their phones. If Apple allows the state officials to have access to private information, then Apple will lose customers and its market share will decrease," she says.
Irina suspects that the ultimate outcome of the dispute between Apple and the FBI will have a ripple effect on the tech industry. If Apple prevails in court, other companies may see this as a sign that they are clear to defy the government and increase phone security.
Irina's research in the area of phone security has continued beyond the completion of her STAR Scholars project. Working with Professor Murugan Anandarajan, she has developed a paper that is currently being reviewed. Upon completion, she intends to submit the paper to the Information and Management Journal.