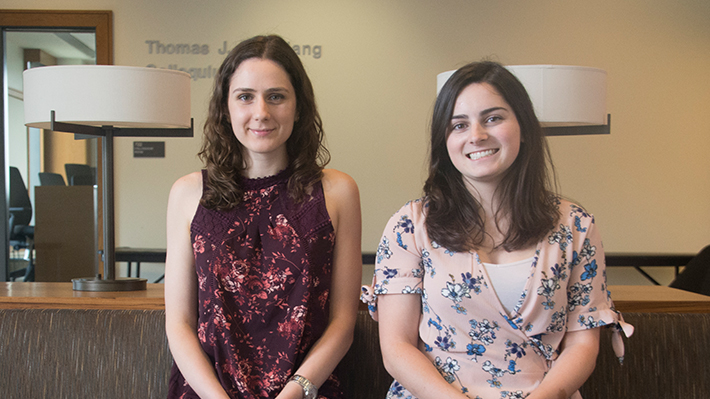 New Book on the Internet of Things Features Two Student Authors
Two Drexel LeBow students have each contributed a chapter to a newly released textbook on the Internet of Things and its applications in the modern workplace.
Irina Nedelscu, a master's student in business analytics, and Erika Pleskunas, a junior majoring in management information systems (MIS), contributed to "The Internet of People, Things and Services: Workplace Transformations". The book, part of the Routledge series "Studies in Employment Relations," was published in March and was co-edited by Murugan Anandarajan, professor of MIS and head of the management and decision sciences & MIS departments.
Nedelscu, who majored in MIS and business analytics as an undergraduate and graduated in 2017, and Pleskunas began on the work that later appeared in the book while working as STAR summer researchers under Anandarajan.
Pleskunas spent summer 2016 as a STAR researcher, built on that research over the following year and eventually received revisions to prepare it for publication. "I looked at creating a security framework for IoT and, from a management perspective, how it can be implemented safely and in a way employees feel comfortable with," she says.
Pleskunas has found her work in business analytics inspiring; after working on analytics projects during her co-op at SAP, she changed her major from international business to MIS.
Nedelscu's work on her chapter dates back even further – to summer 2014. Her chapter concerns the use of smartphones, data privacy and the adoption of self-protective practices, and she continues to explore this area in her research as a master's student.
Her background in research also helped her to land a data science internship this summer with Merck, where she will use customer-level data for machine learning. "I didn't know very much about research or statistics until I started working with Murugan on the STAR project," she says. "By being involved in this research, I started to like it."
Anandarajan, who is listed as co-author for both chapters, hopes that both students will continue to pursue this research. He says that having students contribute to such a high-level project is rare, and he envisions prospects for them publishing their work in academic journals.
"They are both exceptional students," he says. "Working with them has been a pure pleasure."