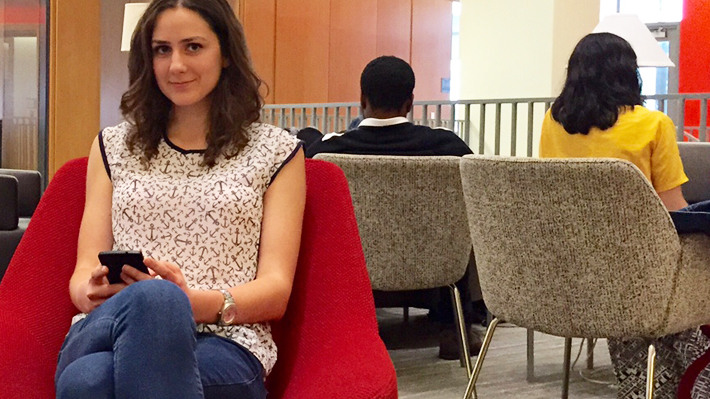 STAR Research Project Investigates Motivation to Protect Smartphones
Does your smartphone battery drain too quickly? Are your photos deleting themselves? Is your phone operating more slowly these days? If the answer to any of these questions is yes, Drexel LeBow sophomore Irina Nedelcu says that might mean your phone has been hacked.
Nedelcu learned a lot about smartphone security while completing a STAR research project last summer that tasked her with studying which factors influence people to take self-protective actions with their smartphones, such as obtaining antivirus protection.
Drexel's STAR Scholars Program provides opportunities for selected students to spend the summer after their freshman year employed by the University as researchers acting under the mentorship of top faculty members. "I wanted to join the STAR program to find an opportunity to do research, to see what it's like to be a professor. I liked it, and I learned a lot." She says her advisor, Murugan Anandarajan, head of the management department, was a great mentor who went beyond his duties. "He taught me step-by-step the process of doing research. He was very interested in my learning, not only conducting research properly, but fully understanding it."
Irina, a management information systems major, is currently working on turning the results she obtained via a carefully researched survey of smartphone owners into an academic-format research paper. She has already presented her results at a poster session of the International Conference of Management.
Originally from Constanta, a small city in Romania, Irina came to Philadelphia for the exceptional opportunities and an American education. She joined BLC (Business Learning Community) her freshman year and says it was a great experience. "It helped me adjust to college life and to be part of a group. My best friends are from BLC."
Irina says that with iPhones, people don't protect themselves as much because they don't feel vulnerable. "And while it's true that most phones being hacked are Android, everyone should protect their smartphone."
She admits that her own smartphone did not have a protective app before she started this project. She has since downloaded one called Lookout Security Antivirus.