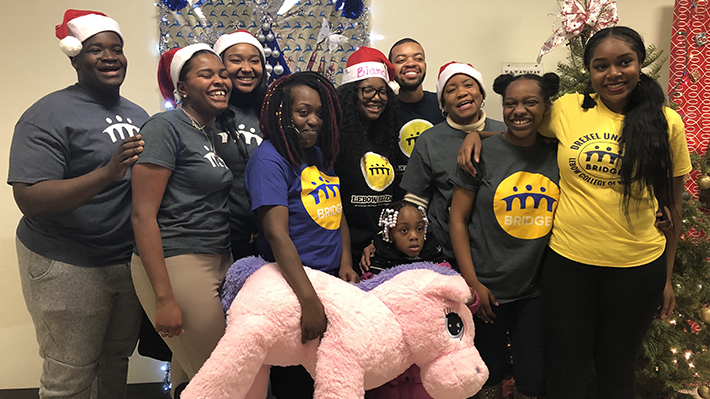 LeBow BRIDGE Adopts Family for Holidays
LeBow BRIDGE students adopted a family in need for the holidays, collecting more than 50 gifts including toys, clothes and gift cards to make their season a little brighter.
This was the first year that BRIDGE adopted a family. The group worked through a local nonprofit called Families Forward Philadelphia. Associate Director Porsche Johnson, who oversees BRIDGE, says it was so successful that they plan to make this an annual event.
Lotus Barron, a Drexel LeBow junior majoring in Marketing and Business Analytics who serves as BRIDGE's Director of Community Service, says community service is one of the LeBow BRIDGE Program's four guiding pillars "because we believe in the impact that giving has on creating a better world."
"We as BRIDGE students are empowered every day by the resources the program has put in place, and it is our obligation to affect change as we strive toward success," she says. "This year our theme is 'community empowerment,' and we have also participated in Dornsife Community Dinners and a Feminine Hygiene Drive to impact families in Ghana."
She credits multiple Drexel communities for BRIDGE's success in this endeavor. "We received outstanding support from Drexel entities including the School of Education, DUBAC, Drexel's Board of Governors, and Vice Provost Koren Bedeau. BRIDGE scholars themselves played a tremendous part in encouraging donations via social media and individual outreach."