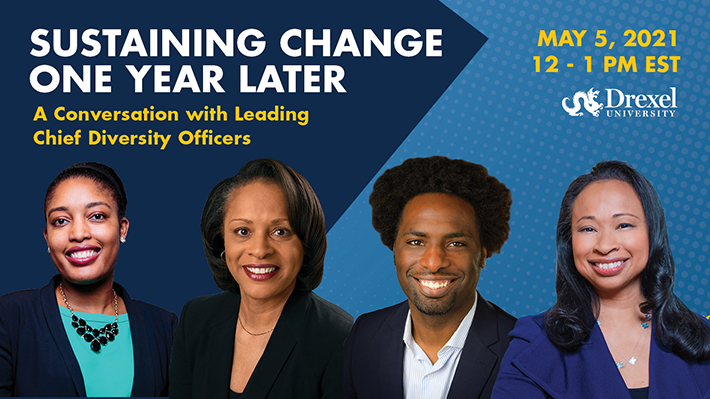 LeBow Convenes Chief Diversity Officers for Conversation on Sustaining Change in the Workplace
The LeBow College of Business is proud to present a discussion with Chief Diversity Officers from four major organizations: Comcast, Merck & Co., Vanguard and The Philadelphia Inquirer. In a May 5 discussion held via Zoom and presented by LeBow's Diversity, Equity and Inclusion Action Group, the panel of leaders will reflect on a year that brought much pain but also numerous opportunities to usher in transformative change.
Over the last year, many organizations around the world made a commitment to renew investments and strengthen advancements related to diversity, equity and inclusion and to address the need to uplift underrepresented communities. It was also a year that saw an outpouring of support for what may be the largest social movement in U.S. history and accelerated actions by corporations to dismantle unjust systems.
Join us as these diversity leaders, in conversation with Raquel Arredondo, examine lessons learned and discuss how they will continue to chart the course for deeper organizational change and a more just and equitable workforce.
The featured Chief Diversity Officers will be: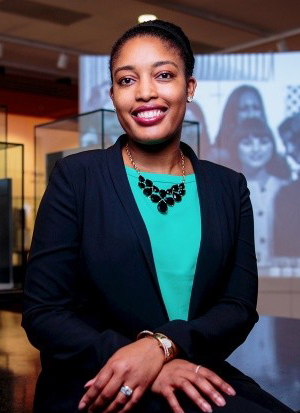 Crystal Hardie Langston
Principal, Chief Diversity Officer – Vanguard
Crystal Hardie Langston is a principal at Vanguard and serves as the company's chief diversity officer. Prior to taking on her current role, Langston was chief learning officer and head of Vanguard's specialty rotational programs, as well as head of Vanguard Institutional Sales Small Market, where she had responsibility for Vanguard Retirement Plan AccessTM, a comprehensive suite of 401(k) retirement plan services for small businesses.
Langston began her Vanguard career as a relationship manager and her previous roles at the company include serving as a leader in Corporate Strategy, leading the relationship management team and internal sales organization in Vanguard Financial Advisor ServicesTM, and serving as chief of staff for the Institutional Division. She is a cofounder of the Vanguard Black Professional Network and a former board chair for Urban Tree Connection, an organization focused on community-based urban greening in Philadelphia.
Langston earned a B.S. from the University of Virginia and an M.B.A. at Duke University's Fuqua School of Business. Prior to her roles at Vanguard, she was an analyst with Banc of America Securities' debt capital markets department.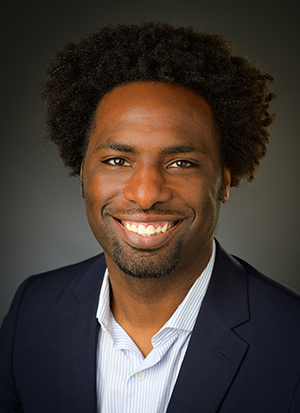 Jameel Rush
Vice President of Diversity, Equity, and Inclusion– The Philadelphia Inquirer
As vice president of Diversity, Equity, and Inclusion (DEI) at The Philadelphia Inquirer, Jameel Rush, PHR, SHRM-CP, helps to lead DEI initiatives impacting the organization's culture, coverage and community efforts. He has over 15 years of global talent management and human resources experience having worked in leadership development, organizational development and talent management roles across several public and private organizations.
Rush has a passion for strengthening the community and serves on the board for several non-profits including the Philadelphia Society for Human Resource Management, People for People Inc., Leadership Philadelphia, The Workshop School and Research for Action. He has been recognized numerous times for his work in the Philadelphia and HR community, including being nominated as an HR Rising Star of the Year by the Delaware Valley HR Person of the Year Awards, receiving the HR Rising Star Award from Temple University, being named as one of Philadelphia's Top 55 Connectors and Keepers by Leadership Philadelphia, and being placed on Philadelphia's Top Professionals under 40 list by the Philadelphia Business Journal. Rush also serves as an adjunct professor at Temple University and Villanova University and participates in Temple's HR Roundtable, which uses local professionals to help guide the curriculum of their Human Resources Program.
Rush earned his M.S. in Organizational Leadership and Development from St. Joseph's University and his bachelor's in business administration focusing on Human Resource Management and Management Information Systems from Temple University.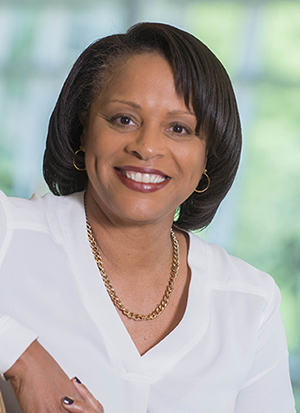 Celeste Warren
Vice President, Global Diversity and Inclusion Center of Excellence - Merck & Co.
Celeste Warren is vice president, Global Diversity and Inclusion Center of Excellence. As the leader for Merck's Global Diversity and Inclusion Center of Excellence, she is responsible for working with Merck's global leaders to advance and embed diversity and inclusion as a strategic approach to maximize business performance and create a competitive advantage.
Warren joined Merck in 1997 and has held numerous positions of increasing responsibility within its Human Resources organization. Most recently, she was Vice President, Human Resources of Merck's Global Legal, Compliance, Communications, Population Health, Patient Health and Global Public Policy Organizations. Prior to that, she held the role as Vice President, Human Resources for Merck's Manufacturing Division and Global Labor Relations and US Employee Relations Center of Excellence.
Prior to joining Merck in 1997, Warren worked for nine years in Human Resources at Kraft Foods, Inc. and General Foods and held several positions of increasing responsibility including such roles as Training & Development Leader, Diversity leader, Labor Relations Director and Human Resources Leader for several organizations within Kraft and General Foods. She has been honored with many awards, including Black Enterprise's "Top Executives in Global Diversity and Inclusion," Savoy Magazine's "Most Influential Women in Corporate America," "21 Leaders for the 21st Century" and Diversity Global's "Influential Women in Global Diversity." She serves on the board of RWJBarnabas Health Systems and is also a member of CNBC's Workforce Executive Council.
Warren attended the University of Kentucky where she earned her B.S. degree. She received her Master's Degree from Carnegie Mellon University. She is the wife of John Warren and the mother of two children, Christina-Celeste and John Steven, Jr.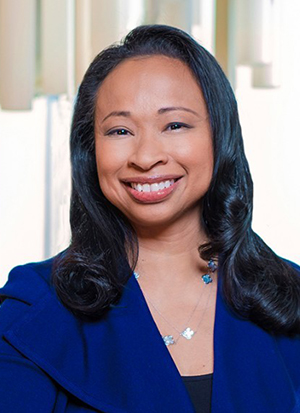 Dalila Wilson-Scott
EVP and Chief Diversity Officer - Comcast NBCUniversal
Dalila Wilson-Scott serves as Executive Vice President and Chief Diversity Officer of Comcast Corporation and President of the Comcast NBCUniversal Foundation. In this role, she oversees all Diversity, Equity, & Inclusion initiatives and philanthropic strategy for the corporation, including the company's $100 million commitment to advance social justice and equality.
Wilson-Scott also leads Comcast's community impact initiatives, working across the organization to provide strategic leadership throughout all aspects of its corporate social responsibility programs, including employee engagement and volunteerism. In addition, Wilson-Scott oversees efforts to utilize Comcast's world-class media platforms to bring greater attention to the work of our philanthropic partners. In 2020, Comcast provided nearly $500 million in total support to 4,500 nonprofit partners sharing Comcast's commitment to creating a more connected and equitable world.
Wilson-Scott joined Comcast in 2016 after more than 16 years at JPMorgan Chase & Co., where she served as Head of Global Philanthropy and President of the JPMorgan Chase Foundation. She led the firm's philanthropic and economic opportunity initiatives, including the firm's $100 million commitment to Detroit's recovery, while helping to set the company's overall corporate responsibility strategy. Prior to joining the Office of Corporate Responsibility, she served in the firm's Corporate Merger Office as an integral member of the team managing the integration of JPMorgan Chase and Bank One.
In addition to serving on the boards of Welcome America, Inc. and Box.org, Wilson-Scott is a member of the Executive Leadership Council. She previously served as a member of the Committee for Economic Development, and the Advisory Council of My Brother's Keeper Alliance. Wilson-Scott has been named one of the "Most Powerful Women in Cable" by Cablefax Magazine, receiving the 2019 inaugural "Wave Maker" Award; one of the "Most Powerful Women in Business" by Black Enterprise; and an "Innovative Rising Star: Building Communities" by Forbes magazine. She speaks regularly on philanthropy and equity issues, most recently at the Aspen Ideas Festival, Social Innovation Summit, MIT Solve, USC Center on Philanthropy and Public Policy, and the Women's Philanthropy Institute's Annual Symposium.
Wilson-Scott earned an MBA in Finance and Management from New York University's Leonard N. Stern School of Business and a B.A. in Economics from New York University's College of Arts and Science.