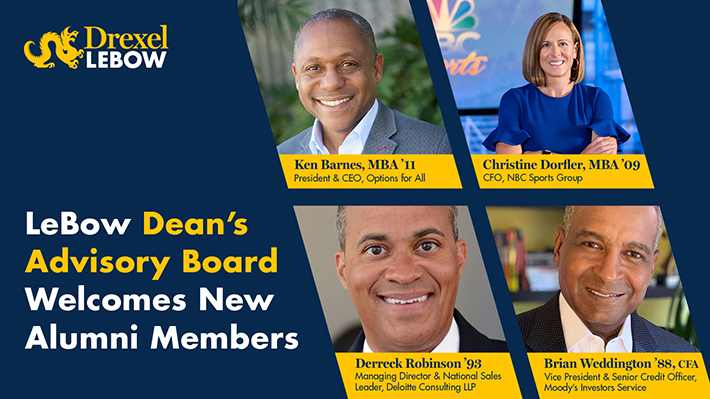 LeBow Dean's Advisory Board Welcomes New Alumni Members
The Drexel LeBow Dean's Advisory Board welcomed four distinguished LeBow alumni as new members in May. The Board provides valued guidance to the Dean and other administrative leaders of the College on strategic planning, corporate partnerships, alumni engagement and other key priorities.
Along with their professional bios, the new members shared their perspectives on how Drexel LeBow has shaped their lives and careers, and the impact they hope to have through their service on the Board.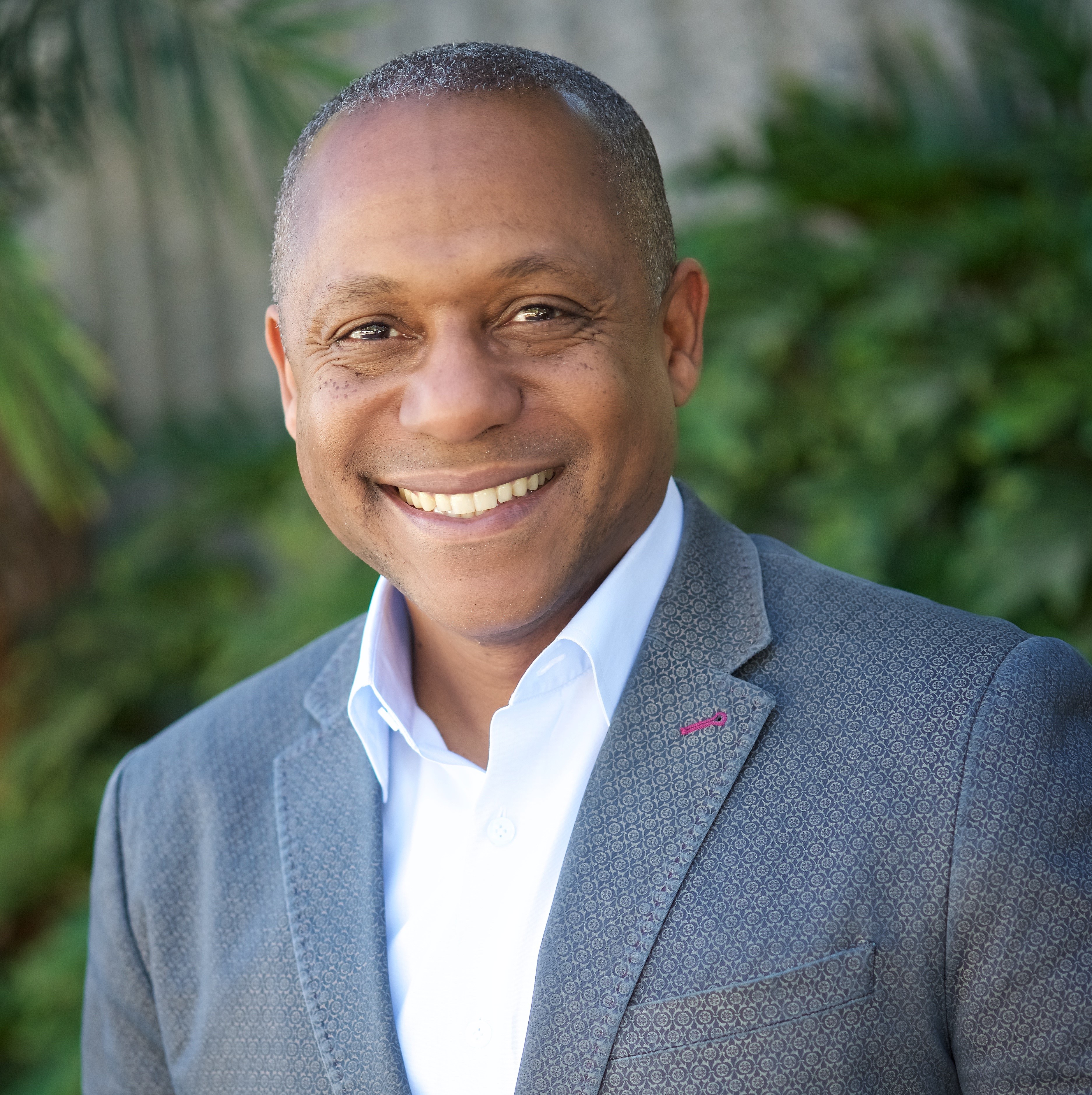 Ken Barnes, MBA '11
– President and CEO, Options for All
Ken Barnes has served as the President and CEO of Options For All, a California-based not-for-profit organization serving individuals with intellectual and developmental disabilities, since February 2020. Ken is no stranger to OFA, as he gave his time as a volunteer in several capacities since 2014, including service on the finance committee, programs committee, and the board of directors. For his outstanding efforts, he was named the 2019 "Volunteer of the Year" by the organization. Prior to committing himself to the nonprofit space, Ken owned and operated a public affairs and business development firm, specializing in issues management, strategic planning and business turnaround services. He holds a bachelor's degree in political science and international relations from Columbia University and an MBA from Drexel LeBow. Ken previously served on the Advisory Board for LeBow's Institute for Strategic Leadership.
"It was an honor to be asked to join the Dean's Advisory Board, as Drexel LeBow holds a special place in my heart," said Barnes. "Returning to school later in life to earn an MBA is a tough decision, but the quality of learning at LeBow is obvious on day one. I've enjoyed a great return on the investment in my education, and I want to ensure current and future students do as well."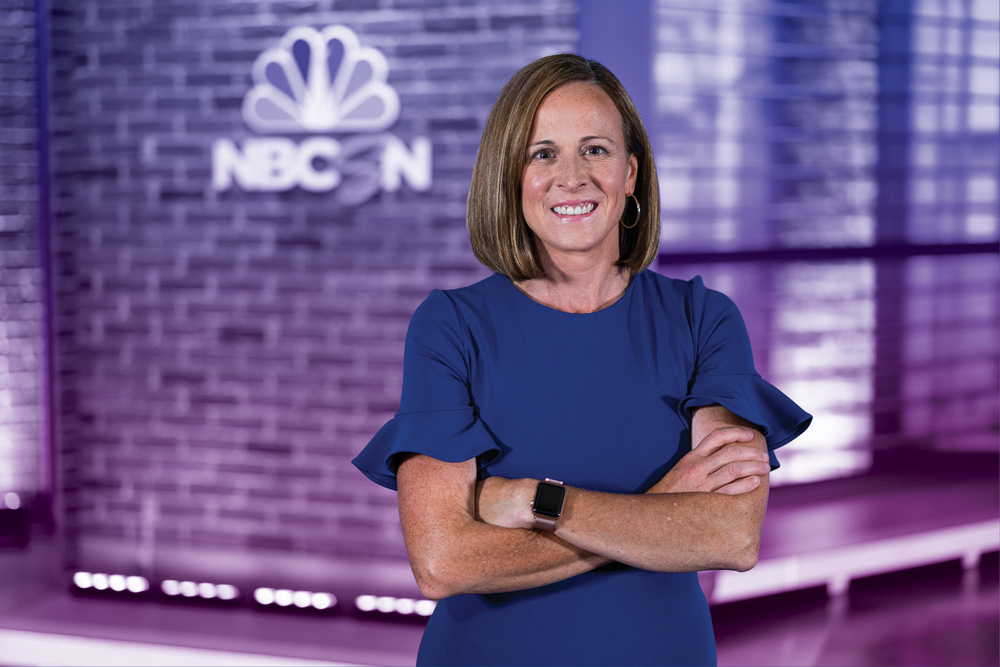 Christine Dorfler, MBA '09
– CFO, NBC Sports Group
Christine Dorfler was named CFO of the NBC Sports Group, the division of NBC Universal responsible for NBC Sports' media properties, in 2019. Prior to her move to NBC Sports, she was CFO of the NBCUniversal Owned Television Stations division of NBCUniversal, where she managed the financial operations of the company's 40 NBC and Telemundo local television stations. She has worked at NBCUniversal for more than a decade, and her prior roles included vice president of finance for NBC 4 New York / WNBC and Telemundo New York / WNJU; director of finance for NBCUniversal's Digital Media Group; director of programming finance for the USA Network and SyFy Channel; and manager of financial planning and analysis in NBCUniversal's Corporate Finance Department. She also worked at General Electric, where she was a member of the Junior Officer Leadership Program with GE Energy. After graduating college, she went into military service and served four years in the United States Army as a military intelligence officer in Europe. She is Vice Chair of the Villanova School of Business Dean's Advisory Council.
"I am both honored and thrilled to join the LeBow Dean's Advisory Board," said Dorfler. "LeBow is a special place to me, having helped me tremendously with my transition from the military into the business world. I am thankful for the education, perspective and foundation that LeBow provided me and am excited to reconnect with and give back to Drexel and LeBow in this way. Under Dean Madan's and the Board's leadership, I hope to contribute to LeBow in any way possible, especially in the areas of Women in Business and DEI efforts."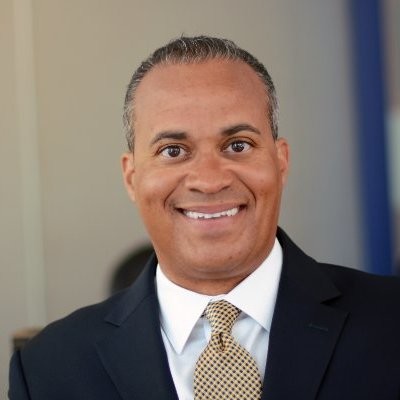 Derreck Robinson '93
– Managing Director and National Sales Leader, Deloitte Consulting LLP
Derreck Robinson is Managing Director and National Sales Leader at Deloitte Consulting LLP. He is responsible for leading teams that bring Deloitte's breadth of differentiated capabilities to the market to drive growth and client value. During his career, he has focused on leadership, culture creation, team unity, sales excellence, management operations, client success, and measuring results with an unwavering commitment to diversity, equity, inclusion, collaboration and community. He previously served as National Sales Director for the Deloitte Consulting Technology Practice. Prior to joining Deloitte in 2007, he held several leadership positions at IBM Global Business Services, CSC Consulting and PricewaterhouseCoopers. In 2019, Derreck joined the Breakthrough Urban Ministries Board of Directors after serving 10 years as the Deloitte-Breakthrough executive sponsor and volunteer. In 2021, he was appointed Board Chair of Breakthrough. He earned a Bachelor of Science in Business Administration with a major in finance and concentration in economics from Drexel University.
"My mom, Anita Robinson, always said, 'the greatest equalizer to socioeconomic disparity is education.' Drexel LeBow has had such a tremendously positive impact on me, my wife (and fellow Dragon) Melanie and our children. I would like to do my part in enabling the very same experience for future generations of leaders," said Robinson.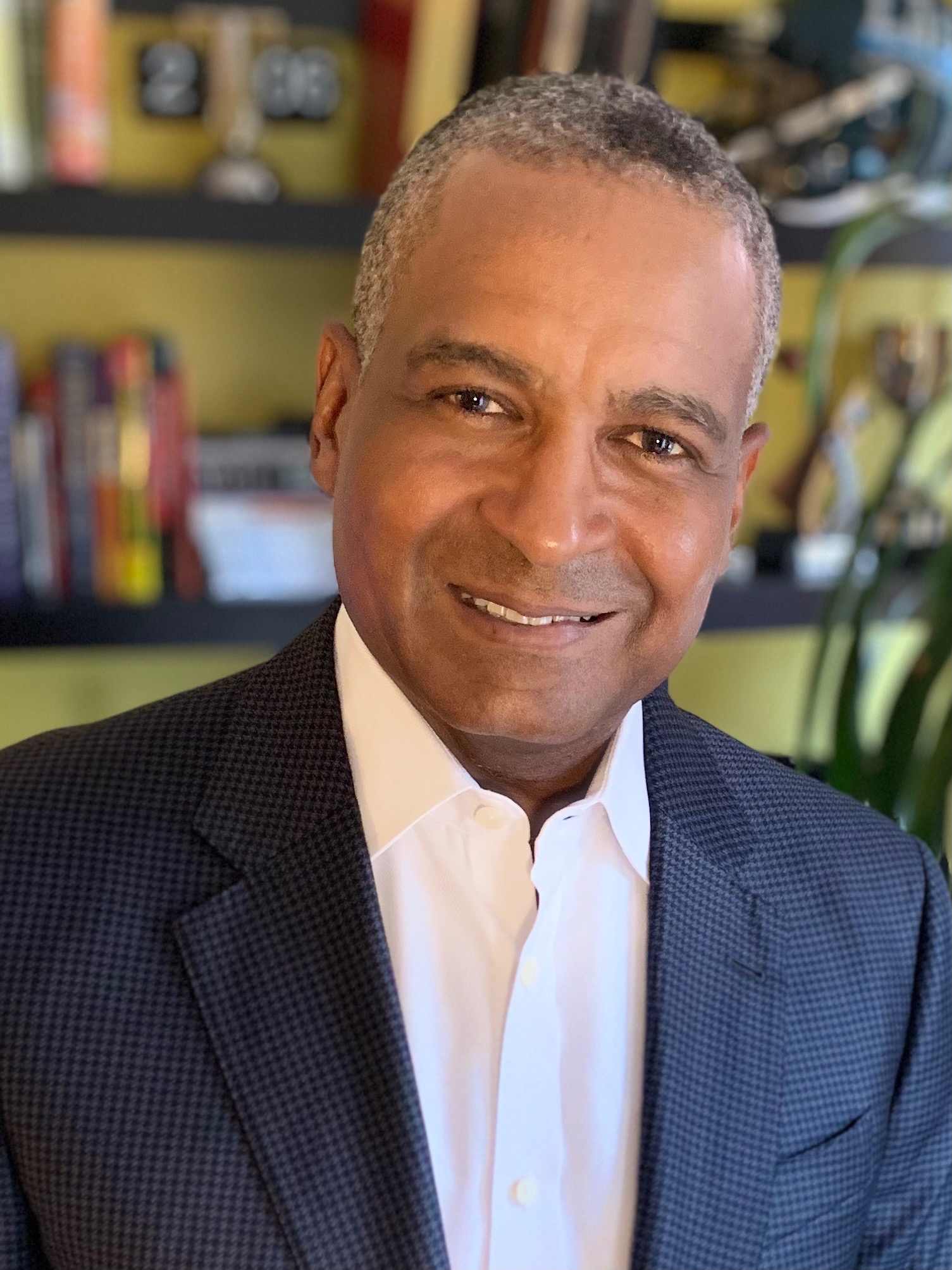 Brian Weddington '88, CFA
– Vice President and Senior Credit Officer, Moody's Investors Service
Brian Weddington, CFA, is Vice President and Senior Credit Officer in the Corporate Finance Division of Moody's Investors Service, where he is a Consumer Products sector specialist. In addition to producing detailed sector and issuer research, he is responsible for providing and managing credit ratings for US Food & Beverage companies that represent in aggregate over $200 billion of rated debt. Prior to joining Moody's in 2005, he was Co-Founder and Managing Partner of Diamond Tree Partners, LLC, a private equity firm specializing in middle-market media companies. Over the span of his career, Brian has held various senior roles in banking, finance, and investments where he has drawn on his deep industry expertise in consumer products, protein and agriculture, media and telecommunications, and real estate. Brian earned a Bachelor of Science in Management of Computerized Information Systems from Drexel University in 1988. He later earned an MBA at The Wharton School of the University of Pennsylvania and a Chartered Financial Analyst (CFA) charter. He is a lifetime member of Kappa Alpha Psi Fraternity, Inc. Continuing his Drexel legacy, his son Perrin is a pre-junior at LeBow, majoring in supply chain management and organizational management.
"Since my days as an undergraduate student, Drexel LeBow has been so important to me throughout my life and career," said Weddington. "Now that my son is a current LeBow student, it's taken on even greater significance to me and my family, and I have a renewed perspective on the College and the many opportunities it provides. Through my service on the LeBow Dean's Advisory Board, I hope to ensure that the high-quality education that I received is available to future generations."