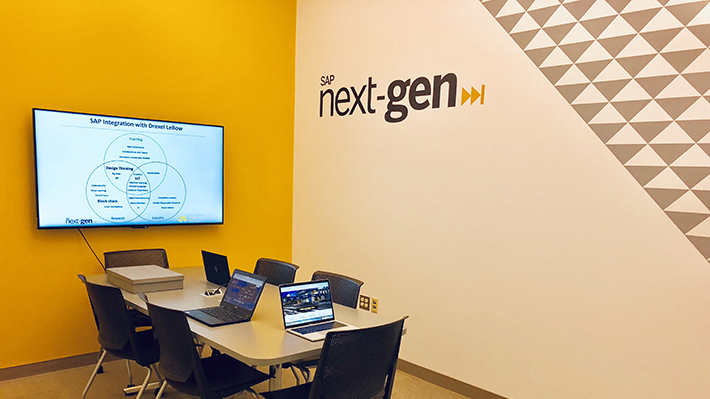 LeBow Opens SAP Next-Gen Lab to Explore Digital Transformation
Aligned with Drexel University's foundation in academic-industry partnership, the LeBow College of Business opened the University's SAP Next-Gen Lab, a platform for collaboration in disruptive technologies. The opening of the lab marks a new phase of Drexel's decades-long partnership with SAP that has spanned from co-op and the SAP University Alliance program to classroom instruction incorporating SAP modules.
The addition will advance the college's heightened focus on the intersection of business and technology, connecting faculty, students and organizations to the research, technologies and methodologies driving digital transformation. The partnership introduces the only SAP Next Gen lab in Philadelphia and connects the college to a broad network of SAP's university partners across the world.
Housed on the first floor of Gerri. C. LeBow Hall, the lab supports various research and project collaborations in IoT, design thinking and blockchain, serving as a knowledge center for organizations and the University, and an avenue for multidisciplinary exploration. As part of LeBow's commitment to educating youth in science, technology, engineering and math (STEM) fields, the lab will also support the SAP Young Thinkers community, helping future generations understand and apply technological concepts.
"Business processes within organizations will radically change in the coming years because of disruptive technologies," said Murugan Anandarajan, PhD, professor of management information systems. "The lab's focus areas in IoT and blockchain will have significant impact for industry, while design thinking can be used as a communication tool to align the business and technological sides of organizations."
"We're fortunate to have a longstanding relationship with SAP," said Paul Jensen, PhD, dean of the LeBow College of Business. "Our continued collaboration through the lab will ensure that we remain forward-thinking in our partnerships, research and curricula, preparing our students for future roles in technology while connecting organizations with the next generation of leaders."
To learn how organizations can get involved in research and collaboration opportunities, contact Jane Kuntz at jtk92@drexel.edu.