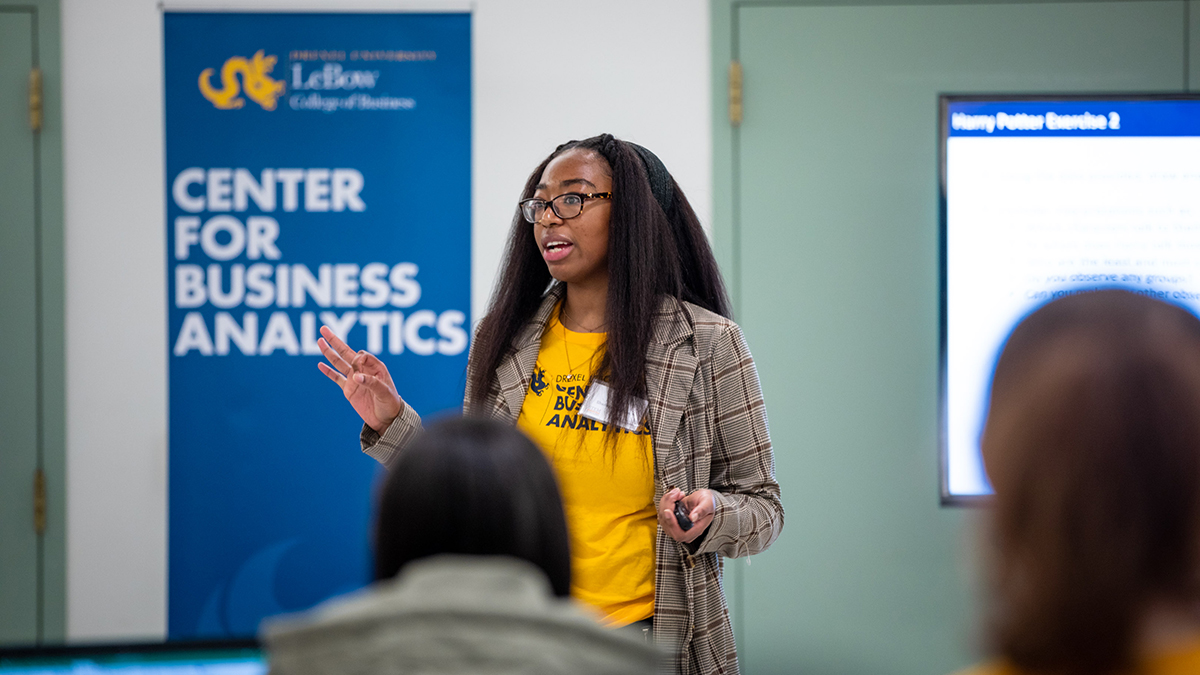 A Magical Partnership: Center for Business Analytics Shares Expertise with The Franklin Institute's STEM Scholars
The Drexel LeBow Center for Business Analytics traveled a short way up the Schuylkill to share their expertise with local high school students eager to learn more about science, technology, engineering and math (STEM) subjects. With the magic and history of The Franklin Institute as the backdrop to their classroom, the students were introduced to data analytics via the world of Harry Potter.
In partnership with The Franklin Institute's STEM Scholars Program, Murugan Anandarajan, PhD, senior associate dean of academic programs and faculty affairs and professor of decision sciences and MIS; Diana Jones, executive director for the Center for Business Analytics; and four undergraduate business analytics students, Rachel Bathurst '24, Ananya Jain '26, Will Madden '26 and Shanique Williams '23, taught the group about social networks and how to analyze them.
Studying a scene from "Harry Potter and the Sorcerer's Stone," the scholars looked at which characters were featured and who they interacted with. Using NodeXL, a network analysis software package, the students were able to create a visualization map showing information like which characters communicated the most and which characters had the most connections. This led to a discussion on real-world implications for the data: Who should appear on the movie's poster? Which actors should be paid the most?
"Through the workshop, we were able to show the students that there were many things you could do with analytics, like building visualizations and trying to recognize patterns in the data that we were given," said Madden.
As the students began to understand the structures and relationships among the fictional example and how the data informed decisions, it jump-started a lively discussion of real-world examples. The group touched on everything from social media and word-of-mouth advertising to gerrymandering and protestors.
"I was very surprised how many of them picked up on creating connections of social analysis outside of the Harry Potter example and started to use real-life examples," said Williams.
The partnership with The Franklin Institute reflects the Center's dedication to educating and inspiring youth through analytics education. The Franklin Institute's Youth Education programs offer a community where middle and high school students can explore their curiosity for science and develop a positive STEM identity, through hands-on engagement and mentorship.
"Our STEM Scholars program is built on partnerships — from workshop presenters and internship hosts to program mentors and funders. The collaboration with Drexel LeBow is particularly important to fill a gap in program content," said Director of Youth Programs for The Franklin Institute Danielle Marino. "Students expressed an interest in learning more about data analytics, particularly the role data plays and the way it is represented in social media. The LeBow team was able to offer specific expertise in a way that made data relevant to our STEM Scholars."
In addition to offering access to a forward-thinking topic typically not taught at the high-school level, the workshop also provided the scholars new insight into potential career opportunities. So much so that Drexel LeBow will be hosting a STEM Scholar intern this summer, providing them with even more in-depth knowledge into business analytics and furthering their interest in STEM.