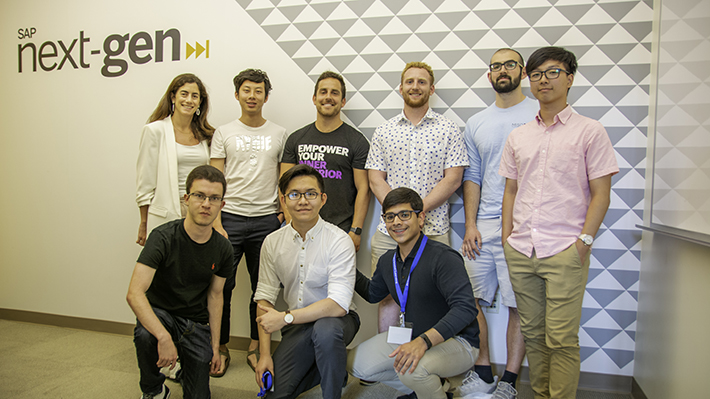 Students Explore Technological Disruption Through Inaugural Blockchain Competition
To understand how technology drives transformation, Drexel LeBow students participated in the college's inaugural Disruptor Games, a one-day competition that challenges student teams to improve a traditional business process through the integration of disruptive technologies. With its first iteration focused on blockchain, Disruptor Games highlights the college's focus on the intersection of business and technology and its commitment to equipping students for forward-looking roles.
Offered through the Dornsife Office for Experiential Learning, the competition was held in conjunction with the college's SAP Next-Gen Lab, a platform for collaboration in disruptive technologies. With areas of emphasis such as blockchain and Internet of Things, the lab connects faculty, students and organizations to the research, technologies and methodologies driving digital transformation.
To prepare for the competition, students participated in an introductory blockchain workshop, instructed by Murugan Anandarajan, professor of Decision Sciences and MIS. Students learned about the technological advancements propelling digital marketplaces through the use of blockchain, including digital currency, cryptography and smart contracts, and explored the impact of blockchain across industries such as finance, healthcare and energy.
Undergraduate and graduate students divided into two teams, combining knowledge and interests across areas such as operations and supply chain management, business and engineering and business analytics. The competition's challenge examined digital transformation within the fresh produce industry, tasking teams with disrupting a traditional fresh produce supply chain using blockchain to improve efficiency.
Drexel LeBow welcomed Mike McCoy, Blockchain Implementation Manager for Accenture, who shared insights about the application of blockchain technologies across industries and joined Anandarajan in judging the competition. Students delivered presentations illustrating how their proposed solutions overcome the weaknesses of a traditional supply chain, including areas such as traceability, compliance, flexibility and stakeholder management. Teams were judged on their ability to improve the supply chain, their application of blockchain concepts and the clarity and presentation of their solutions. "It was a rewarding experience to learn about blockchain and try to think of ways to apply it to a specific industry such as produce," said Rita Santos, MBA '20.
The winning team comprised four business and engineering students: freshmen Tyson Phan and Alex Hwang and juniors Brian Thomas and Brian Milenki. "Disruptor Games showed me how blockchain could be the key to supply chain optimization," said Phan. "The competition was a very constructive experience for me."