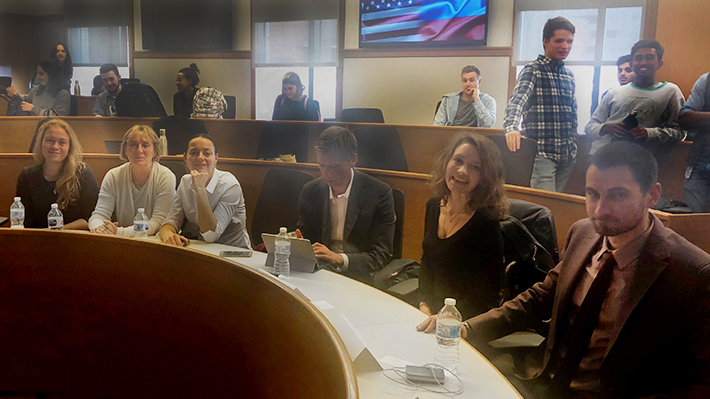 Management Students Get a Lesson in Diplomacy
During a visit sponsored by the Management Department, LeBow Business Group and The Open World Leadership Center, five journalists from Russia broke boundaries in the classroom, discussing the state of Russian journalism and key differences between American and Russian reporting practices.
Speaking to a group of students, faculty and staff, the five journalists spoke in Russian and English, touching on a variety of topics including: international relations, the role of independent news in Russia and the 2016 United States presidential election.
The event began with an introduction in Russian from Professor Stanley Ridgley, PhD, IMBA, welcoming the journalists and students to the forum and remarks from Dean Paul Jensen who highlighted the importance of sharing ideas across cultural boundaries.
Program Officer for Citizen Diplomacy International Philadelphia Lissa Morinsky introduced the group, sharing her excitement about the program and stating, "The more you meet people from around the world and from different cultures and people who have different views from you, the more you learn about the world and the more you learn about yourself and that's why I'm passionate about this program."
Each journalist then presented on their professional background, personal views on the state of journalism in Russia and their ideas on how to improve international relations, especially between the United States and Russia.
Larisa Svetlichnaya, chief producer of the special projects department at Dozhd TV Channel – the only television news professional in the group – presented first, focusing on the importance of online platforms and social media in allowing citizens to express their opinions online and process current events.
Svetlichnaya was followed by Vladimir Kostyrev, special reporter for ITAR-TASS, the state-run news outlet, who focused on his role as a foreign policy reporter and the importance of maintaining positive relations between the United States and Russia and journalists' role in maintaining that relationship.
Yekaterina Katkova, business and finance reporter for the Gazeta.Ru Online Newspaper, discussed censorship and the difference between working for an independent news organization and the state-run news outlets and how independent news plays a role in providing a different perspective in Russia.
Echoing Katkova's sentiments, the editor at Kommersant Radio Station Ivan Yakunin shared that from his perspective, being a reporter – especially at a news outlet that is not state-run – can be dangerous but is what he believes to be important work.
Presenting last, Tatyana Kukushkina, special reporter for Russia Today of the International Information Agency, highlighted the importance of diplomacy and understanding across cultural boundaries stating, "I think we just should be more unified and open with each other because parliaments run parliament and it rarely has anything to do with the people. People's connections are truly different from what's going on in our administrations and we should remember that."