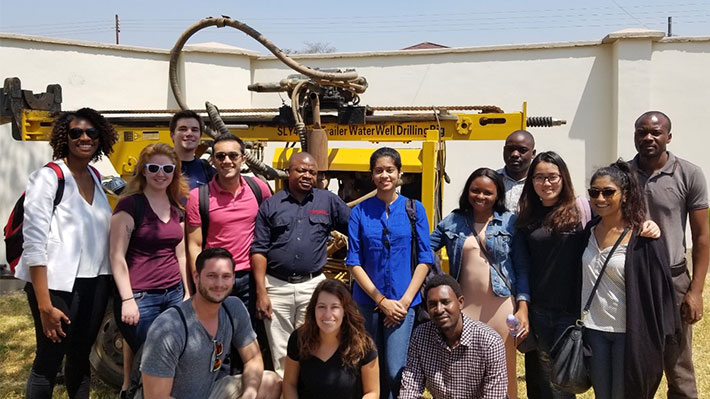 Students Seek Solutions for World Vision in Zambia
Eleven undergraduate students from the LeBow College of Business, the Dornsife School of Public Health and the Westphal College of Media Arts and Design spent their summer tackling business challenges for World Vision International, a humanitarian aid, development and advocacy organization, during their international consulting residency course. Undertaking the roles of student consultants, the group was tasked with providing recommendations and business solutions for the organization's WASH (Water, Sanitation and Hygiene) program, a worldwide effort to increase access to sustainable and safe water supplies and improved sanitation for poor and vulnerable communities.
The international consulting residency course is offered semi-annually through Drexel LeBow's Dornsife Office for Experiential Learning and combines 10 weeks of real-world consulting on campus with one week of international travel. The course's consulting projects for World Vision International focused on the sustainability of running borehole drills, which access clean water for rural communities. Co-instructors David Kurz, assistant clinical professor of management, and Stanley Ridgley, associate clinical professor of management, guided three student teams in their pursuit of a cost analysis, maintenance strategies and commercialization opportunities.
Within their course, students had the opportunity to connect with Mandela Washington Fellows, a group of 25 young civic leaders from the sub-Saharan regions of Africa during their visit with Drexel LeBow. Several fellows shared personal insights into Zambian culture, communities and government.
At the conclusion of the summer quarter, the students, along with Ridgley; Porsche Johnson, assistant director for LeBow's BRIDGE program; and Marcia Henisz, director for International Health, Safety and Security, traveled to Lusaka, Zambia to meet with World Vision International, experience local culture, and witness the impact of WASH programs on local communities. As Taniya Maithy, a junior majoring in international business and operations and supply chain management explained, "Being able to meet with the World Vision staff in person was amazing. They were eager to hear our ideas and answer our questions. As a result, our team could formulate a strategy that would fit World Vision and their mission for clean water, hygiene, and sanitation." During their time abroad, students gathered additional data and insights that shaped their final presentation and recommendations to the organization.
A day spent in Monze, Zambia was a favorite of the group. At this World Vision International Area Development Program site, the students witnessed a borehole drill as it first struck water. "Interacting with the community, seeing the drilling rig find water, and the children's reactions as the mist hit their faces made everything that we were doing so much more real," said Mathiy. "This wasn't just a project for a class, but a project that impacted real communities and people." Students spent their final morning in Zambia presenting their project recommendations to World Vision executives.
Upon the group's return to Philadelphia, Paul Jensen, interim dean for the LeBow College of Business, joined students, staff and faculty for a conversation about their interdisciplinary experience, allowing students to reflect on their time spent consulting for an organization and traveling abroad. "The skills that I learned in this class are transferable across all fields," said Kallie Dorland, a senior entertainment and arts major. "I like to think that I brought a different perspective to my team that helped us tackle these issues."
"These international consulting opportunities have a transformative role in the professional, personal and academic growth of our students," said Jensen. "We're proud of Drexel's interdisciplinary student consultants, who provided business solutions that will potentially bring significant benefits to the people in the communities they visited."
The existing relationship between Drexel's Dornsife Global Development Scholars (DGDS) program and World Vision International provided the opportunity for LeBow to extend its global footprint to Zambia. Through the DGDS program, Drexel students and faculty travel to 10 countries in Africa to work on various World Vision International WASH projects. In May 2017, President John Fry traveled to Zambia with DGDS staff and Dana and David Dornsife to witness the impact that Drexel students are making in this area and to meet with World Vision executives.
Shannon Márquez, Drexel's vice provost for Global Health and International Development and Director of Global Health Initiatives, works closely with World Vision International on the university's partnership. "It is becoming increasingly critical to bridge gaps between scientific research and applied problem-solving in the context of improving water, sanitation and hygiene (WASH) and addressing the global water crisis in sub-Saharan Africa; one of the most vulnerable populations in one of the most hard-to-reach places," she said. "Against this backdrop, and with a transformational gift from philanthropists Dana and David Dornsife, Drexel University has partnered with World Vision — the largest NGO provider of clean water in the developing world, reaching one new person with clean water every 10 seconds — to help build capacity and train the next generation of leaders with the overall goal of addressing complex challenges related to the global water crisis in Africa. By working together — and with other institutional and organizational partners — we believe the global water and sanitation crisis can be solved within our lifetimes."