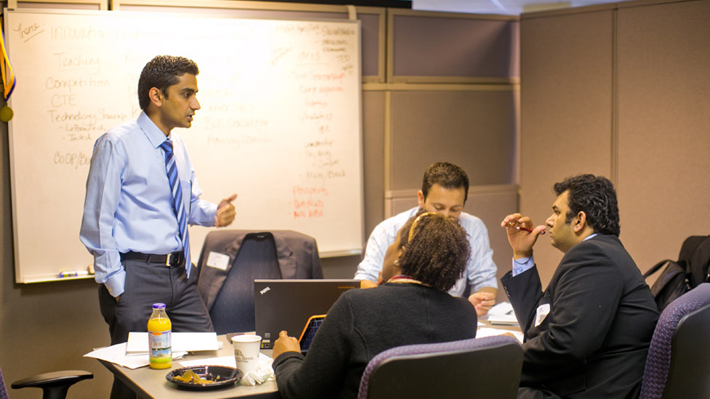 MBA and MS students: ACG Cup May Lead to Cash Prizes, Job Offers
Drexel LeBow took first place in the ACG Cup case competition in 2011 and 2012, and we'd like to continue our winning streak and make it three-for-three.
There are several great reasons to participate, including the $25,000 in cash prizes that will be awarded at the regional competition, as well as terrific experiential learning and networking opportunities. Finance professor Michael Gombola, Ph.D., says several prior competitors have received job offers as a result of their participation in the event. "The ACG Cup competition provides an opportunity for students to demonstrate their analytical skills and knowledge to the members of the investment banking community in the Delaware Valley. Every competitor has the opportunity to learn as much from the experiential learning in analyzing the complex case as could be gained from experience in an actual investment banking firm."
Jie Cai, Ph.D., associate professor of finance, says "The ACG Cup case competition is a great opportunity for students to put what they learn in classrooms to practice and to build networks with industry leaders."
The registration deadline is Feb. 1, so please sign up at the ACG Cup website soon.
ACG will host a workshop for registered teams on "Mastering a Winning Presentation," which you can attend in person or remotely via conference line, on Monday, Feb. 11 from 6 - 7:30 p.m. at the offices of Drinker Biddle & Reath LLP, One Logan Square, Suite 2000, in Center City.
Donna Ferrari, director of special projects and research, says former winning teams have received valuable information about the competition and what is expected at this event. "I highly recommend that our teams attend in person to get the most out of it. It's also a great networking opportunity."
Additional information on the competition can be found in the ACG Philadelphia Cup University Handbook, which can be downloaded from the ACG Cup website. The rounds for the competition are as follows:
• Round 1: February 27 - Internal completion, three tracks – judged by finance faculty and LeBow staff; narrow to 6-8 teams.
• Round 2: March 1 – 6-8 teams compete in front of ACG judges, 1 track – Drexel representative to be selected to compete in Round 3.
• Round 3: April 11 – Drexel team competes against other schools.