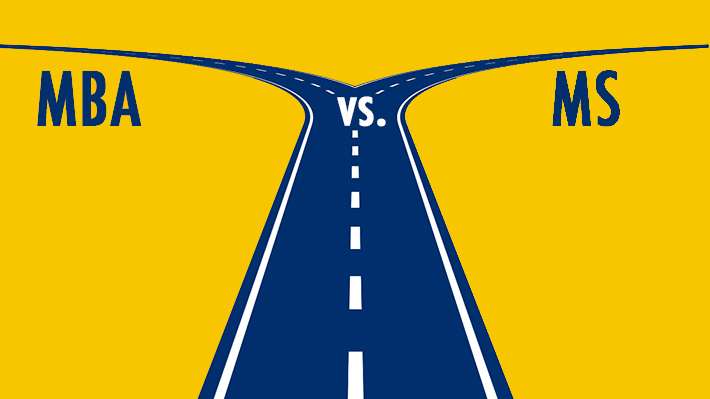 MBA vs. MS: Which Degree is Right for Me?
Drexel LeBow offers a customizable MBA and specialized master's programs, available in full-time and part-time plan of study options. Learn more about our graduate programs today.
Many prospective students are often quick to check the MBA box when applying for a graduate business degree. But what about a master of science (MS) degree? Which one is a better fit? While both are a good fit for working professionals, they each offer a unique educational experience and program features that can fit your personal goals and outcomes.
Below, I'll outline some of the major differences between the two degrees to help you decide which aligns best with your career aspirations.
Master of Business Administration Degree Program (MBA)
An MBA degree program provides students with general business knowledge across many disciplines, including accounting, finance, marketing, management and organizational behavior. Students will often take a few classes across several subjects and topics, becoming experts at seeing the "big picture." They are often the ones managing a team of people and making decisions that affect an entire organization. This is a great option for someone with professional work experience looking for career advancement.
Master of Science Degree Program (MS)
On the other hand, a master of science degree program is much more specialized and allows students to focus entirely on one particular specialization area. At LeBow, we offer MS programs across six different fields: MS in Business Analytics, MS in Economics, MS in Finance, MS in Marketing, MS in Sport Management and MS in Supply Chain Management. Students in MS programs become masters in their particular field of interest, making them a valuable asset to many different business operations. Those with an MS degree are seen as experts in their particular field. This is a great option for someone early in their career with minimum work experience or someone looking to change careers.
Still not sure which is the best fit for your goals?
Consider the following:
| MBA | MS |
| --- | --- |
| Generalized and big picture-focused | Specialized and detail-focused |
| Covers a range of subject areas | Focused on one specific area of business |
| Ideal for career advancement | Ideal for career changers |
| Requires some professional work experience | Typically requires limited or minimum work experience |
Now that you know which is best for you, find out more about Drexel LeBow's master in business administration (MBA) program delivery options and our master of science degree programs.