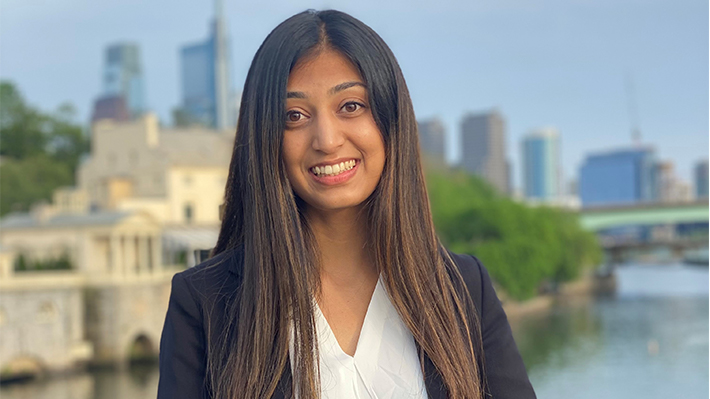 Meet Hiral Patel, Undergraduate Student Speaker for the LeBow Class of 2021
A native of Bucks County, Pennsylvania, Hiral Patel received her Bachelor of Science in Business Administration, majoring in finance, management information systems and business analytics from the LeBow College of Business. During her time at Drexel, she was a member of the Pennoni Honors College, Kappa Phi Gamma Sorority, the Drexel University Dragon Fund and the Drexel Finance and Investment Group. Since graduating in March 2021, she has worked as a relationship associate with the Private Wealth Management team at Brown Brothers Harriman, a role she secured prior to graduating.
Patel shared with us some highlights from her time at LeBow, expressed her thanks and appreciation for the faculty and staff who helped her attain her goals and related the path she took to academic and co-op success and to her current role in the finance industry.
Q: What accomplishments are you most proud of?
Hiral Patel: During my time at LeBow, I am most proud of being a Peer Leader for first year LeBow students, winning 3rd place in the Starbucks' Financial and Marketing Case Competition, receiving two well-respected co-op opportunities with Susquehanna International Group and Brown Brothers Harriman and being selected for the Drexel University Endowment Dragon Fund. LeBow has always provided the necessary resources for me to find my place within the College community.
Q: What are some highlights or memorable moments from your time as a student at LeBow?
HP: As a Peer Leader, I loved being a part of Welcome Week and planning fun events for first-year students. Some of my best moments at LeBow were within the classroom and collaborating with my peers during group projects. I have met such a variety of personalities which made learning and completing the work more fun. It was always great running into other students to catch up and working together late into the night in the LeBow lounge. It is these little moments that I will forever remember!
Q: Who are some of the individuals from LeBow's faculty and staff who have helped and supported you during your time here, and what impact did they have on you?
HP: Without the faculty and staff at LeBow, I would not have been able to make it to where I am today, so thank you to everyone that I had the opportunity to work with during my time in the College.
First, I would like to sincerely thank Shawna Morse, who was not only my academic advisor but also my UNIV101 class faculty partner and, more recently, my sorority's faculty advisor. Through these three relationships, Shawna has truly become someone I look up to as a mentor, a respected staff member and a professional on campus whom I can depend on with full confidence. Shawna always welcomed me with a radiant smile during every advising visit and provided the best advice to make the most of my time at LeBow.
Additionally, I would like to thank Clinical Professor of General Business Jodi Cataline, with whom I had the pleasure of taking my first two honors business classes during my first year. Due to the knowledge and experience she brought into the classroom, Jodi started the strong foundation of business and life skills that I was able to apply throughout the rest of my college career. She taught me the importance of networking with my peers and other professionals and was always a friendly face around LeBow.
Lastly, I would like to thank Associate Clinical Professor of Finance Diana Sandberg, with whom I had the honor to work on the Dragon Fund, one of my favorite classes at Drexel. Diana quickly became someone I truly admire due to her positive energy, supportive nature and assistance in establishing connections with industry professionals. She always knew what was best for each of her students and motivated us to achieve the best results.
Q: Looking back on your time at LeBow, how would you say you have grown or changed from when you first arrived?
HP: I came to LeBow knowing I wanted to pursue a major in finance and gain all of the necessary knowledge, skills and professional experience in that area, as well as be an active member of the Drexel community. Within the first two years, the immense number of opportunities at LeBow inspired me to add two more majors which interested me: MIS and business analytics. I feel I have grown to be confident, well-spoken, proactive and determined to achieve my short- and long-term goals. These are the values that LeBow motivates every student to closely follow to have the best, most dynamic experience.
Q: How did your time at LeBow prepare you for your current job role?
HP: In the collaborative classroom environment at LeBow, I gained an integrated, application-based perspective to all topics: not just the theory behind the topic, but how it applies to the real world. The group projects I worked on with my peers or with students from universities abroad taught me how to collaborate, showed me my strengths and weaknesses and added real-world understanding to the necessary topics behind all of my academic majors.
Additionally, the Drexel co-op program prepared me in the best way possible to succeed in my current job role. I was able to gain two six-month job experiences in the finance industry, and through these roles, I was able to discover what I wanted to pursue after graduating instead of figuring it out later. Learning the importance of hard work and the willingness to overcome steep learning curves were key to receiving my full-time offer from Brown Brothers Harriman, where I worked for nine months prior to the offer while still a full-time student, as a relationship associate in Private Wealth Management. Looking back on this experience, the support and preparation from LeBow's faculty and staff were essential and unmatchable.
Q: What are you planning to share in your message to your fellow graduates?
HP: I can't wait to address our Class of 2021 on our big day and celebrate this milestone together. I want to remind my fellow graduates that each one of us fulfills a piece of a larger puzzle. Now that the college puzzle is completed, it's time to start the next masterpiece as we all go our own ways.