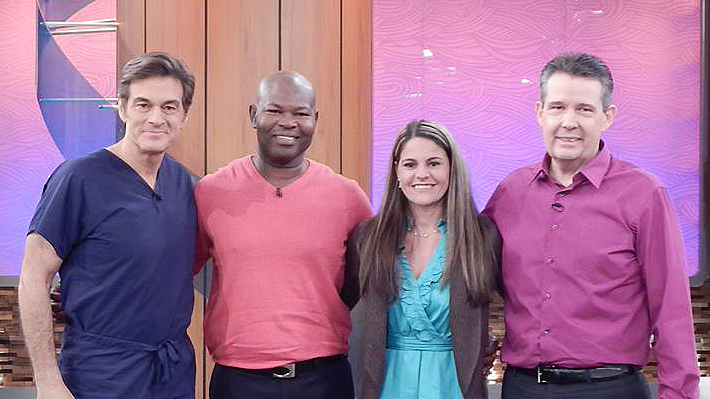 LeBow Alum Saves Life By Donating Kidney
Chris Carroll had taken risks before. After earning his Drexel LeBow Executive MBA in 2008, he changed careers and co-founded HMS, a healthcare management company, during the worst years of the Great Recession. He admits, however, that donating a kidney to a man he hadn't met was unlike anything he had done before.
While browsing news online, Chris came across a photo of young women holding a sign that read, "Our Daddy Needs a Kidney!" The photo, reposted thousands of times on social media, was a plea by Raleigh Callaway's daughters for an organ donor. Their father had been diagnosed with Stage 5 kidney failure and there was tremendous pressure to find a donor quickly.
Chris was moved by the family's plea. "I had donated blood in the past, but a kidney is a much bigger deal than blood," he says. "But I just felt like I was being told that I needed to make a phone call." He called a pre-screening number at Emory Hospital, where Mr. Callaway was being treated and left his contact information. After a return call and a series of pre-screening questions, he was sent a test kit and determined to be a likely match.
Chris travelled from his home in Texas to Emory Hospital in Atlanta to undergo further testing. When it was determined that he was a definite match, he reached out to Mr. Callaway and his family. They became fast friends and found that though their lives were separated by hundreds of miles, they shared values and a faith that quickly bonded them.
The kidney transplant was a success. Chris was able to return to work within weeks, but most importantly to him, the transplanted organ put Mr. Callaway on his way to a full recovery. "I felt blessed with good health, and it was a blessing to give someone a kidney so that he could raise his young daughters," says Chris.
The story of Chris' selfless act made news locally and nationally. Both families resolved to use the exposure to bring awareness to the need for living kidney donation. They've been able to spread their message through appearances together on The Dr. Oz Show and were featured on ABC News and USA Today, among other outlets.
To learn more about the importance of living kidney donations, visit The National Kidney Foundation.
Photo (from left): Dr. Oz, Raleigh Callaway, Kristi Callaway, Chris Carroll