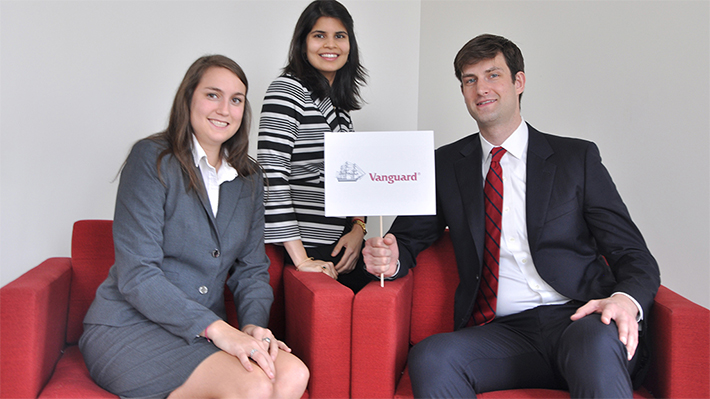 MBA Co-ops and Internships Become Full-Time Jobs
Over the summer, LeBow's full-time MBA students embarked on experiential opportunities including C-Suite Co-ops and internships. Several students' experiences turned into full-time jobs. Below, a few of them shared with us where they are heading and why they are excited.
Matthew Weisbrot Financial Analyst Vanguard
Matthew interned within Vanguard's corporate financial services group, where he assessed internal investments, profit and loss analysis and general corporate financial strategy.
He says he's really excited to have landed at Vanguard because the company offers a great work culture. "They stand for a lot at Vanguard – the right things like good work-life balance. And they have loyal employees because people genuinely like working there. I had a great team and a great manager who was really bright."
As for his position, he says likes the problem-solving aspect of his line of work. "I also liked the projects and the independence they gave me. That was definitely something I was looking for."
Emily Riggins Associate Product Manager Agile Therapeutics
Emily landed a competitive C-Suite Co-op position with Agile Therapeutics. As a summer co-op there, she worked on developing a market landscape report on digital marketing for the launch of a women's health product including competitive analysis, recommendations for key influencers, and discussion of tools and tactics for implementation.
One of her biggest projects involved writing and coordinating the production of a 3-D animated video about the product technology and manufacturing process for that product, for use in investor presentations and the brand website. "People at Agile really valued my unique background. I was afraid I'd be a square peg in a round hole," referring to her recent change in careers (she is a former costume designer), "but I fit right in," she says.
In her new role there, she will support the development and execution of strategies and tactics to support commercialization of the company's products, including various public relations, investor relations and marketing activities.
Emily says that as an MBA student at LeBow, she found the support provided by Graduate Career Services to be especially helpful. She especially enjoyed the Career Panels they presented. "The panels featured guests from different industries who spoke about their careers and professional interests. Being a career switcher, these panels were helpful for learning about the options available to me, understanding the true nature of different industries and making networking connections."
Chris LeBlanc Financial Analyst Drexel University's Office of the Comptroller: Research Accounting Services
Chris also landed a competitive C-Suite Co-op, as a summer associate within Drexel's Investment Office and Comptroller's Office.
"In this role, I held a range of responsibilities. One of my primary responsibilities in the Investment Office was to assist Drexel's Investment Manager with assembling the investment footnotes for the 2015 Drexel University Financial Statements. I was also responsible for conducting a due diligence analysis of the 2014 Financial Statements of the funds included in Drexel's endowment, and for corresponding with managers of Drexel's endowment funds to provide updated reports and feedback on their investment strategies."
Following his summer position, he was hired as a financial analyst in Drexel's Office of Research Accounting Services within the Office of the Comptroller. "This role differs somewhat from my summer role given its research funding focus, but my experiences working alongside senior staff in the general accounting wing of the Comptroller's Office provided me the framework needed to thrive in my current role."
He says he really enjoyed the camaraderie of the full-time MBA program. "Courses are small, so active, critical discussions are common in the classroom and professors are always available to explore issues further."
Joshua Elmer MBA Leadership Development Associate PPL Electric Utilities
Josh, who left the non-profit sector to join LeBow's full-time MBA program, landed a spot within PPL Electric Utilities' MBA leadership development internship program. While this was technically an internship and not a C-suite Co-op, he nonetheless reported to, and interacted with, C-Suite level managers.
His supervisor, the vice president of customer service, assigned him several projects within that segment of the company. "I enjoyed the work environment and the challenging projects presented given to me during the internship," he says.
He says his favorite aspects of LeBow's MBA program are "the diversity of students and the cohorted experience."