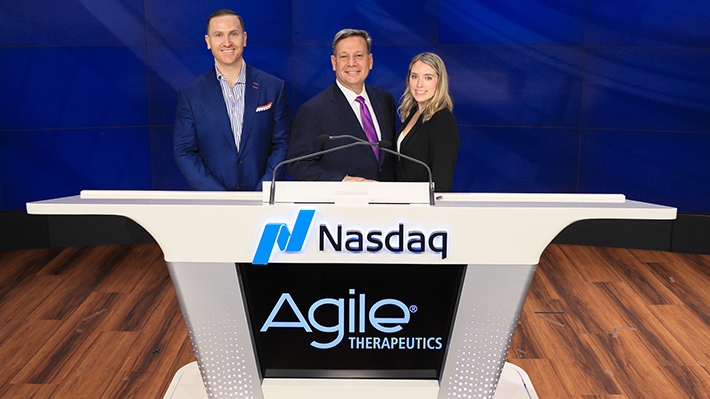 At a Company on the Rise, LeBow Alumni Climb Higher Together
At Agile Therapeutics, a small pharmaceutical company based in Princeton, N.J., Chairman and Chief Executive Officer Alfred Altomari '82; Senior Product Manager Emily Santaspirt, MBA '15; and Head of Investor Relations and Corporate Communications Matt Riley, MBA '16 have steered the company through the approval and launch of their first product — Twirla, a contraceptive patch for women.
Though it's no coincidence the three LeBow alumni find themselves at the center of Agile's operations, they made their way there by varied paths. Al joined the team as a director in 2004 after over 20 years at Johnson & Johnson. More than ten years later, he recruited Matt and Emily when they were still LeBow students through the co-op program.
Early Career Exposure
Matt and Emily came to LeBow with different experiences and different visions, but both had the same goal: to re-focus their career paths. Emily entered LeBow as a career-changer, previously working as a theatrical costume designer in New York City, while Matt had more of a traditional business background, with several years of advertising agency experience before his MBA studies.
During their time at LeBow, the two applied their academic studies in a real business environment through the College's C-Suite Co-op, an experiential-learning opportunity that positioned full-time MBA students alongside top executives at a range of companies.
The opportunity to build relationships and make key contributions to a smaller company's operations drew both Emily and Matt to Agile. Once there, they found a willing leader, mentor and partner in Al, who also serves on Drexel's Board of Trustees and as chair of LeBow's Dean's Advisory Board.
"Al truly wants to get the most out of people and make sure they're successful," Matt says.
Matt's co-op found him leading an agency search for Agile: The company had never worked with an advertising agency previously, and Matt drew on his own industry experience to identify a right-sized firm with the accessibility and flexibility to work effectively with a small, pre-revenue company. He recommended Philadelphia-based LevLane, and that relationship continues today.
During her Agile co-op, Emily led a video project promoting the company's product to both an investor audience and the general public. Collaborating extensively with the company's medical and scientific teams, she also worked with an animation company and voice-over artist to produce a video on the product's underlying technology and manufacturing process.
"That project touched nearly every department," she says. "I've never learned so much in such a short period of time."
From Co-op to Leadership
Their co-op experiences gave both Emily and Matt exposure to all facets of the company, including significant access to company leadership. After their co-ops ended, they proceeded on different paths: Emily stayed on in a full-time marketing role, and the following year, Matt ventured back into the ad agency realm, working for LevLane and managing the firm's relationship with Agile. He recalls seeking out Al a year or so later and meeting for lunch to lay out his desire to return.
"After spending time and contributing on the client side of the business at Agile, I had the itch to get back and carve out a career path I perhaps wouldn't find working at an agency," Matt says. 
Al welcomed him back, first as a consultant and then in a full-time marketing role, and most recently, into investor-relations— a role critical in building Agile's reputation on Wall Street and in boosting the company's stock price.
As two of the company's only ten employees at one point, Matt and Emily have been a significant part of Agile's growth and success, Al says, and even inspired him to make a critical change to the company's structure during its leanest period.
"I was being pulled in a lot of different directions, and they came to me with other senior management and said, 'You need to find us a boss, and it can't be you,'" Al recalls. "They told me, 'We need you to be successful as CEO, and we need someone who can get into the weeds with us.' They changed my mind — I had no intention of having someone in between me and them, but they were right. How's that for courage?"
That level of openness and commitment to hard work was essential in navigating the challenges of gaining approval from the Food and Drug Administration approval of Agile's debut product.
In advance of a high stakes hearing in Washington, DC, in October 2019, everyone in the company worked long hours in areas outside their typical roles, with Matt handling media relations and Emily managing partnerships with the women's health community. They made their case successfully and received FDA approval in February, with manufacturing and company growth following throughout 2020.
The Future of Agile Therapeutics
What does the next phase for Agile look like? Matt's focus is on building the company's reputation on Wall Street and among investors, while also working to build the company's brand and make it a desirable employer — not only for business-school graduates, but for scientists, researchers and other science-side roles.
"We're looking for people who are willing to wear multiple hats and go beyond their job description," Matt says. "That's really the Dragon spirit, and that's encapsulated in the three of us."
Emily is getting back to fundamental marketing principles, putting the finishing touches on consumer education and advertising plans that have been in the works for several years awaiting Twirla's approval.
"It's exciting to see all the hard work come to fruition. Now that we've launched, I can take another look at my plans and say, 'Does this check out? What can we optimize?'" she says.
As head of the company, Al is playing a more strategic and less operational role, identifying new technologies and potential acquisitions while building a pipeline of new products and talent. Though he says Agile feels like a different company compared to its lean, start-up phase, he wants it to stay true to its roots.
"At smaller companies like ours, senior management has a bigger role in the day-to-day work, and they're part of the culture, too," he says. "New employees sign up for both, and when they can find the right mix, it's magic."
A Note About the C-Suite Co-op program: In 2017, new experiential-learning opportunities were incorporated into the curriculum for LeBow MBA and MS students, taking the place of the C-Suite Co-op. These opportunities include internships, residency courses and consulting projects offered through LeBow's Dornsife Office for Experiential Learning. Current students interested in pursuing these and other opportunities should contact their advisor or Stephanie Johnson, director of Graduate Career Services. Alumni and partners interested in hiring current LeBow students or recent alumni should contact Anna Koulas.